These soft, light pumpkin cookies resemble muffin tops in texture. Perfect for any holiday party with a drizzle of caramel over the top and a glass of apple cider on the side.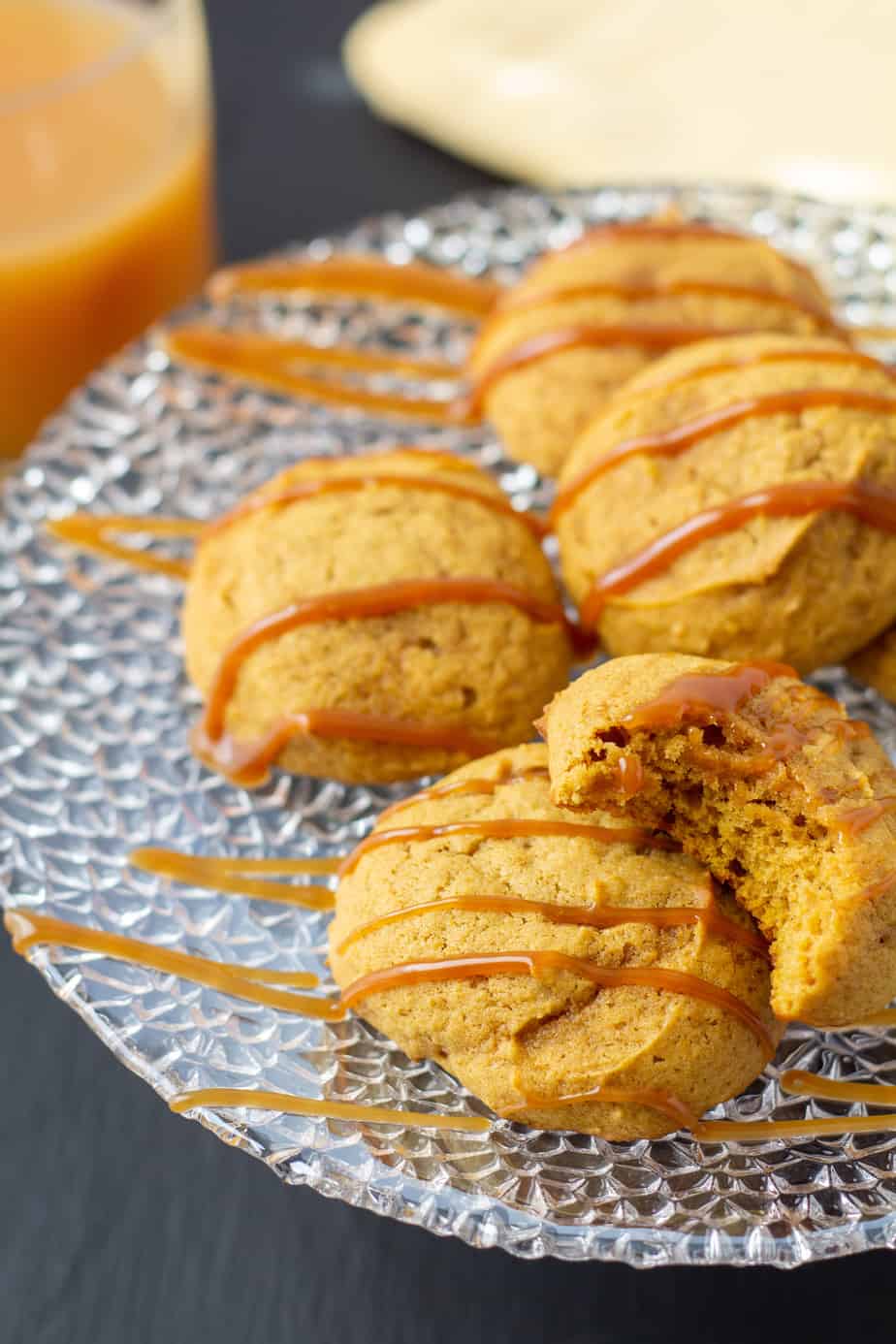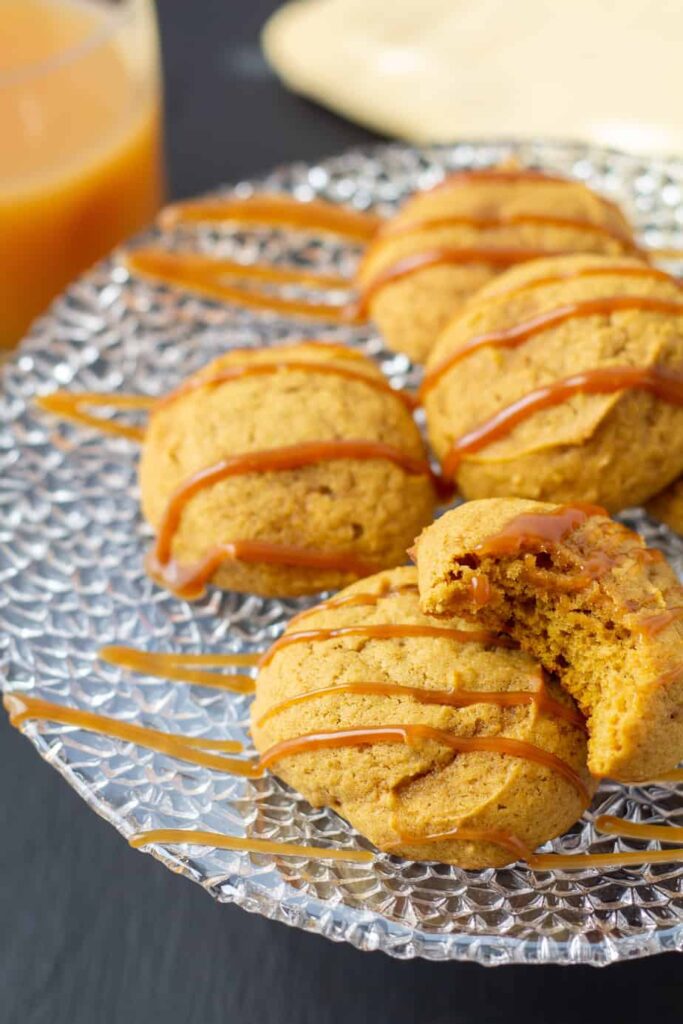 Pumpkin is a popular ingredient this time of year. While pumpkin pie is a staple at Thanksgiving dinner, this versatile vegetable doesn't have to be relegated to the outdated category anymore. There are so many things you can do with pumpkins that can bring out their sweet and unique flavor.
Pumpkin is the star!
Cookies (of course)
Pie (duh)
Cakes
Sticky buns
Oatmeal
Muffins
Bread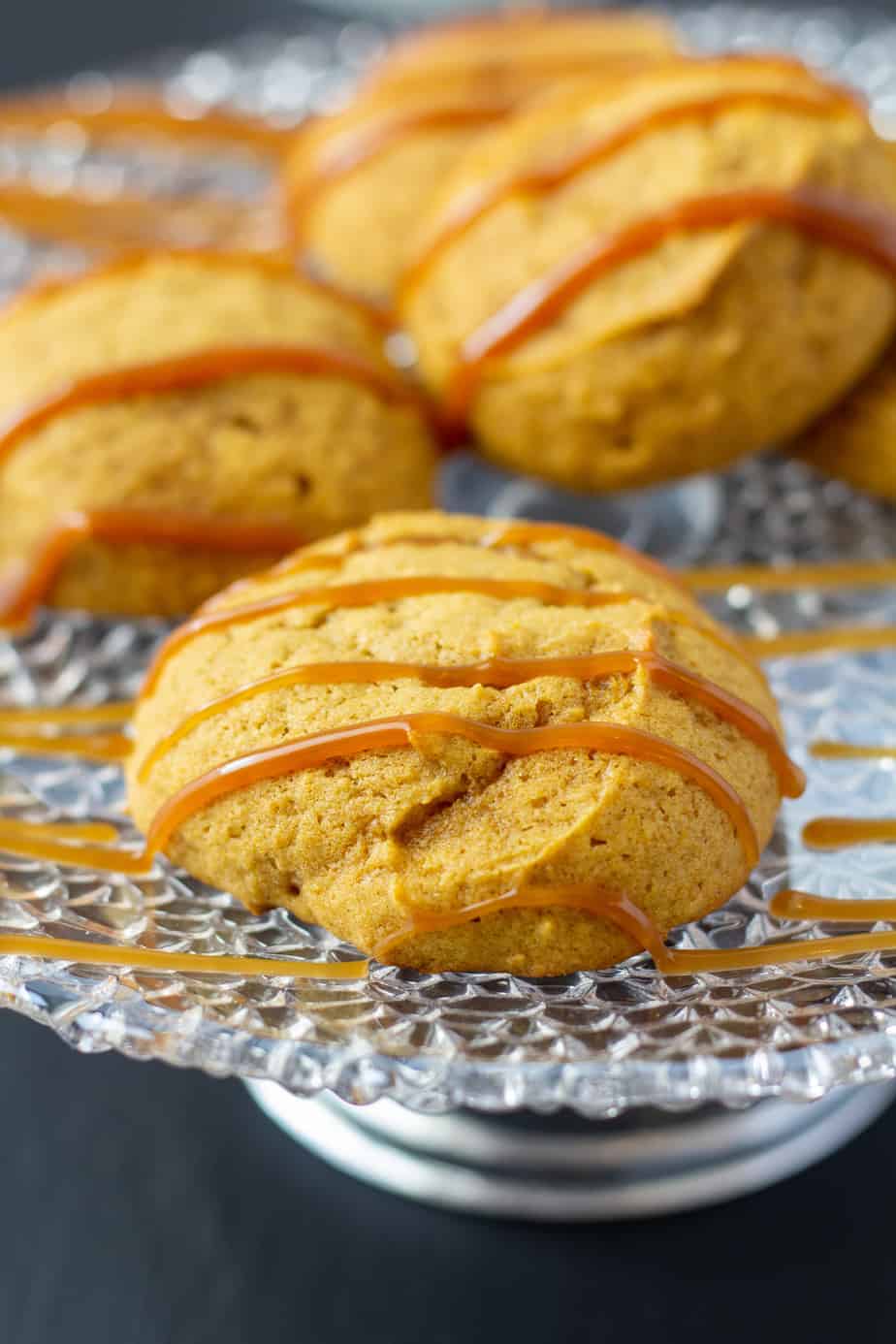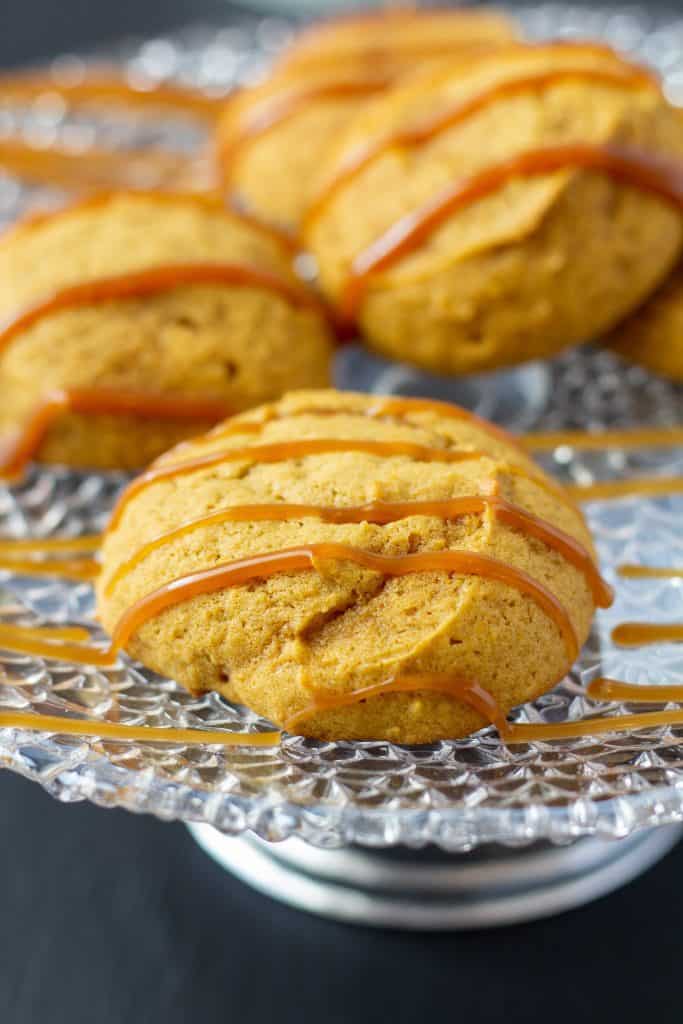 After making this pumpkin cookie recipe you won't be able to stop popping them in your mouth 2 or 3 at a time. I sure couldn't. A tiny bit of heavy whipping cream and cup of pumpkin puree makes such a fluffy cookie that you won't even notice you've eaten half the batch before your kids get any at all.
Of course, you can't get these awesome caramel spiced pumpkin cookies to be top-notch if you don't have any caramel with which to drizzle! You can buy this tasty sauce at the store, or you can make your own. I prefer to make my own (like you couldn't guess). I tried a couple of different recipes for this and decided Sally at Sally's Baking Addiction has the best method. She says stirring the sugar while it cooks allows it to brown evenly. I found this to work well for me and I think it'll work great for you too. The only thing I changed was removing most of the salt (I still included a dash). You can find the whole recipe here: https://sallysbakingaddiction.com/homemade-salted-caramel-recipe/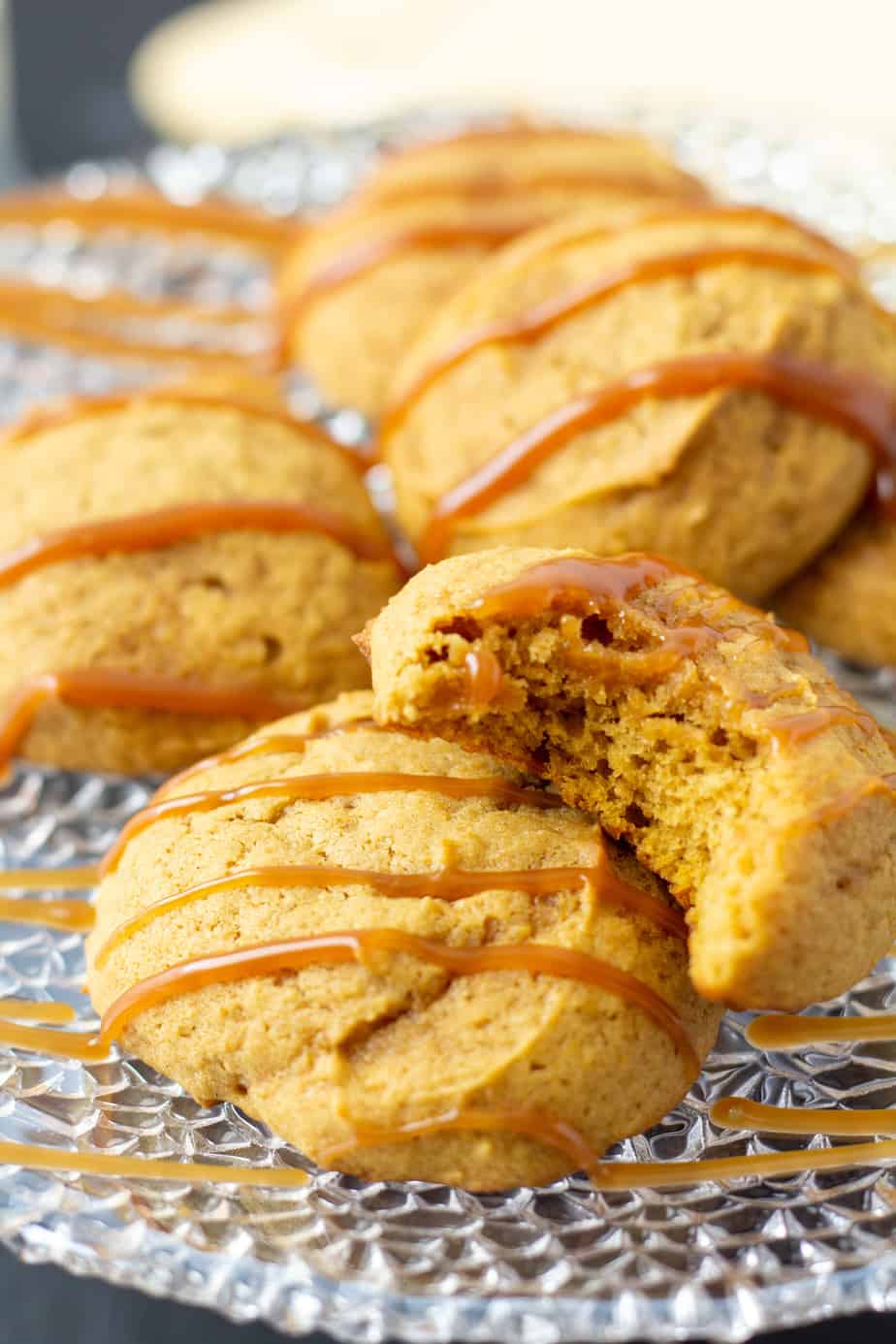 You can also find all different kinds of whole pumpkins at most supermarkets this time of year. I just love seeing all the varieties. There are big ones, blue ones, mini ones, warty ones, and a whole slew of others. Here's a brief look at some of the most popular ones from The Spruce.
If you try it out, let me know how it goes in the comments or on Instagram, Facebook, or Pinterest.
Caramel drizzled Pumpkin Cookies
Soft pumpkin cookies drizzled with caramel.
Equipment
mixing bowls

measuring cups & spoons

silicone mat or parchment paper

baking sheets
Ingredients
2 ½

cups

flour

1

teaspoon

baking soda

1

teaspoon

baking powder

½

teaspoon

salt

½

teaspoon

pumpkin pie spice

1

teaspoon

cinnamon

½

cup

butter

softened

¾

cup

granulated sugar

¾

cup

brown sugar

2

eggs

1

teaspoon

vanilla

1

cup

pure canned pumpkin

2

tablespoons

heavy cream

drizzle of caramel
Instructions
Combine the flour, soda, powder, salt, pumpkin pie spice, and cinnamon together in a mixing bowl.

In a stand mixer, using the paddle attachment, blend the softened butter and both sugars together until creamy. This will take about 5 minutes.

Add the eggs one at a time, then the vanilla. Don't over mix.

Gently pour in the flour mixture and mix until just combined.

Take the bowl out of the stand mixer and fold in the pumpkin and heavy cream.

The batter won't be thick and that is to be expected. This is what gives you that muffin top texture.

Using a 1 tablespoon measuring spoon, place the batter on the mat-lined baking sheets.

Bake in the oven for 7 - 8 minutes.
Notes
** These cookies are soft and light due to the amount of moisture from the pumpkin and heavy cream. They resemble muffin tops in texture.