These food safety rules and tips will prepare you to make healthy and smart decisions about keeping your food and family safe with easy to remember steps.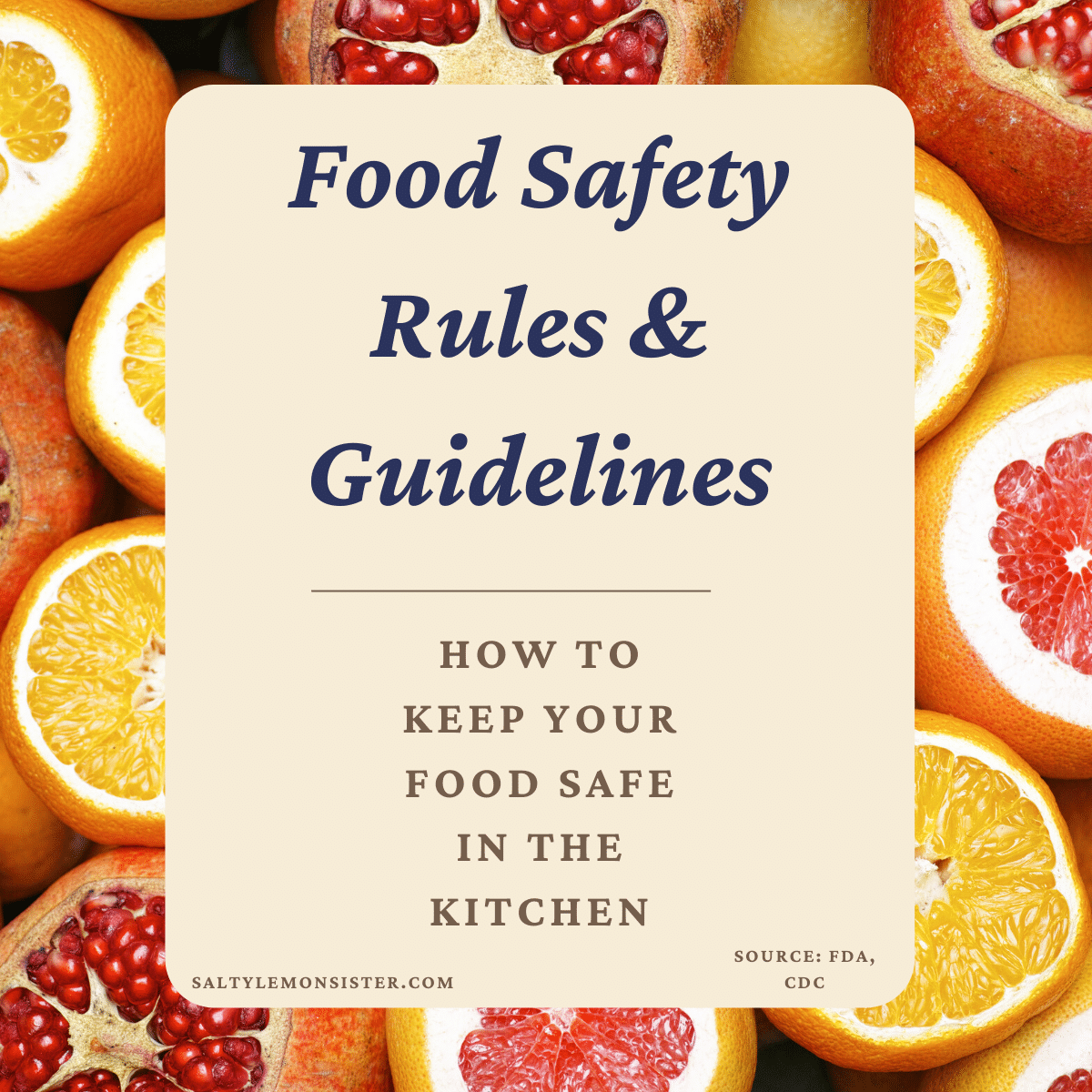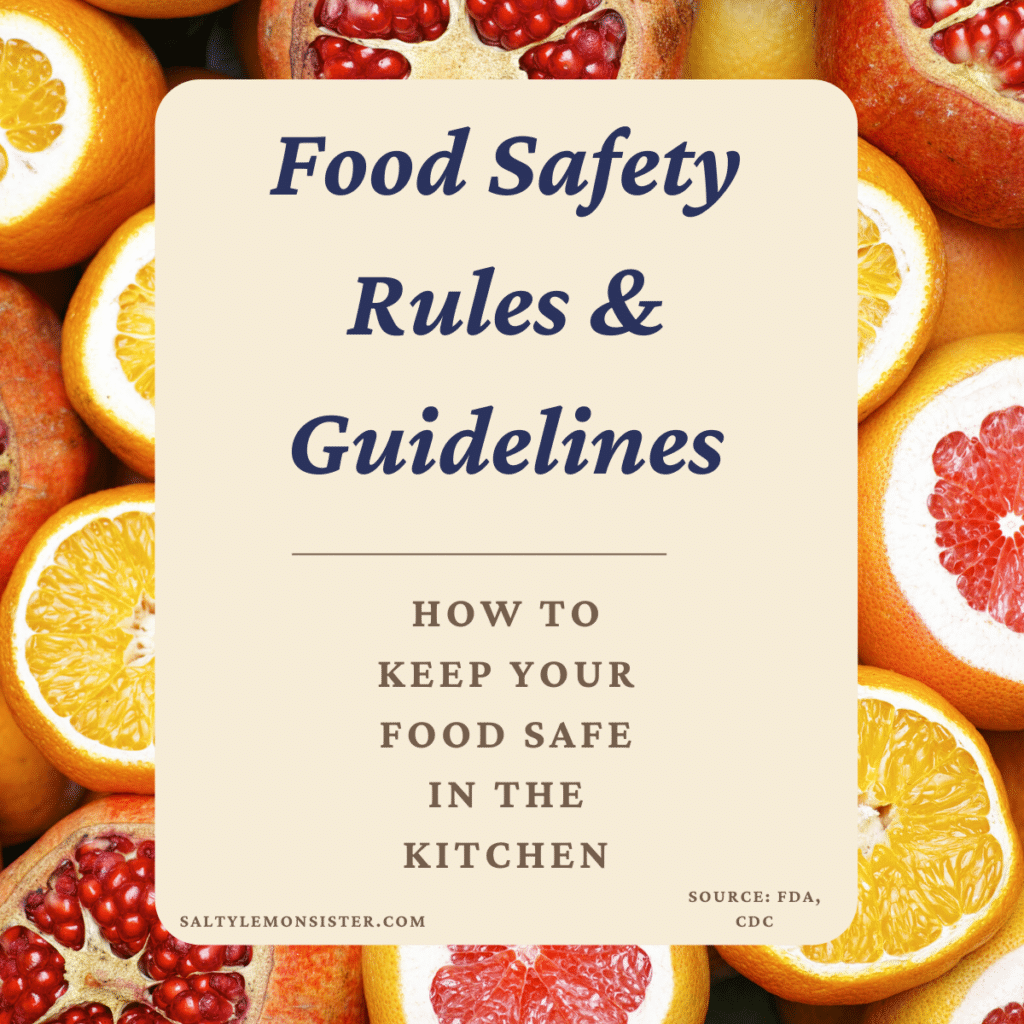 Some of the links below are affiliate links, meaning, at no additional cost to you, I will earn a small commission if you click through and make a purchase.
I've always been a rule follower, especially when it comes to keeping safe. So when I learned there were things I could do in the kitchen to stay healthy, I read everything I could about it. I wanted to make sure I wasn't going to unknowingly poison my family one day. Since then, I got a degree in Hospitality Management at Colorado State University and took many classes on food safety. I know it's not feasible to take a college accredited course like this yourself, but I still think it's incredibly important to know. I want you to be confident in the kitchen in all areas.
According to the World Health Organization, 1 in 10 people, or 600 million people worldwide, get sick from contaminated food each year. This results in 420,000 deaths every year. This proves how important it is to know how to properly handle food to keep yourself and your family safe.
The steps you need to know are simple, straightforward, and easy to remember. I've broken it down into 4 sections: Wash, Separate, Cook, and Hot Food Hot/Cold Food Cold (HFH/CFC).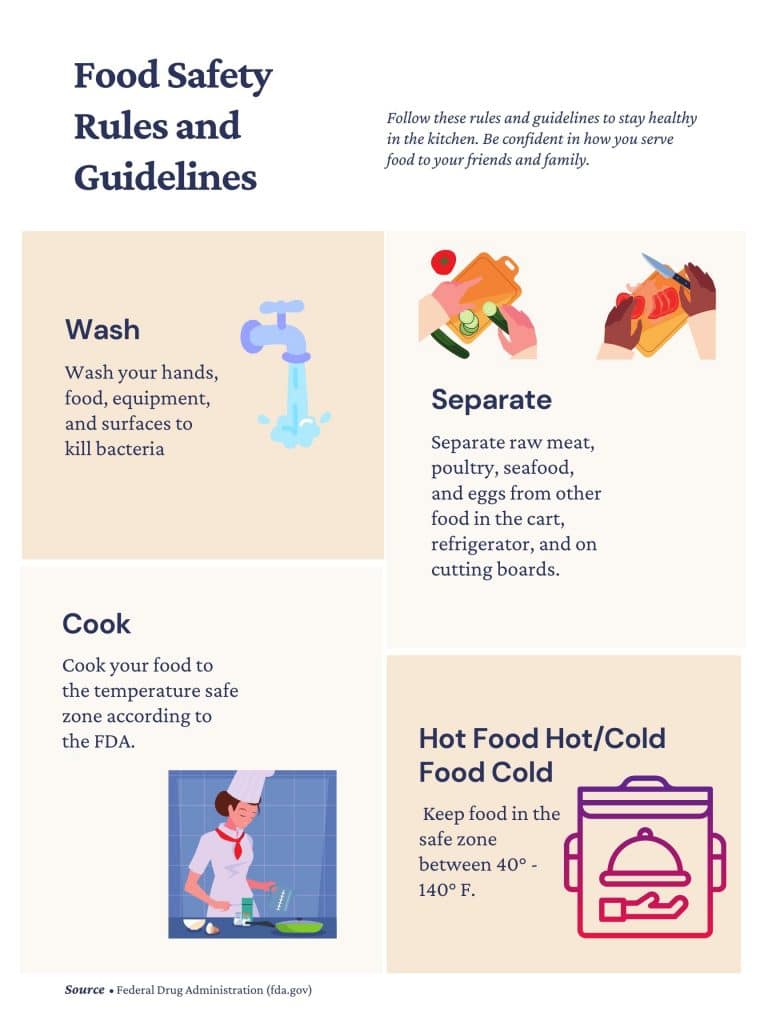 Food Safety Rules
Wash
Keeping your food, counters, equipment, and hands washed and clean is the first step in food safety. Bacteria spreads by contact. This means you need to wash your fruits and veggies when you get home from the store or before you use them. You also need to wash your counters before and after you start cooking, your equipment, like knives and bowls, after you use them, and your hands before, during, and after cooking.
According to the FDA, the type of soap you use to wash your hands doesn't matter so much as to how you do it. There's no need to buy specially labeled anti-bacterial soap. You can use any hand or dish soap and water, and scrub for at least 20 seconds before washing the soap away. This can be especially handy as anti-bacterial soap is a commodity and sometimes hard to find.
Separate
There are certain types of foods that can spread bacteria more easily than others. This includes raw meat, poultry, fish, and eggs. Some grocery stores provide plastic bags in this section of the store and I suggest you use them. If you don't have bags for your meats, try to separate these in your cart and your refrigerator from your other foods, especially produce or anything you will eat raw.
It's also important to use separate cutting boards for the meats, poultry, and fish and the raw produce. I bought a pack of cutting boards that come in different colors. Red is for meats and green is for veggies. Some people like to separate it even further but I find that I really only separate it that far. Every other color gets used for fruits and veggies generally. It's really only important to keep at least one for raw meats, poultry, and fish separate from the others.
Keep in mind that washing the cutting boards requires separation as well. Use separate a scrub brush for anything raw and another one for everything else. Keeping everything separated up until this point would be pointless if you used the same scrub brush on a dirty red cutting board and then used the same brush on your cake pan or cereal bowl. I can just see the bacteria jumping around now. Eeek!
Cook
The next food safety rule is to make sure you cook your meats, poultry, fish, and eggs to a hot enough temperature to kill the bacteria that are living there. Here's a chart with information from FoodSafety.org:
Poultry: 165°
Beef: 145°
Pork: 145°
Eggs: 165°
Seafood: 145°
Leftovers: 165°
Hot Food Hot / Cold Food Cold (HFH/CFC)
This is a standard saying in the restaurant industry. It means any food that's meant to be served hot, keep it in warmers or prepare it to order. Don't allow it to sit on a counter and come to room temperature. The same goes for cold food. Make sure to keep it refrigerated or frozen until it's ready to be eaten. Basically, the goal is to avoid letting your food stay in the temperature danger zone between 40 - 140 degrees Fahrenheit for longer than two hours. Bacteria start to multiply in as little as 20 minutes and the closer your food gets to room temperature the more those bacteria thrive. This is why it's important to refrigerate any leftovers as soon as possible, and don't leave hot/cold food out at parties for longer than two hours. Refresh them if needed instead.
Did you skip to the bottom? I gotcha!
Remember to follow the 4 food safety rules: wash your food, hands, equipment, and surfaces; separate raw meat and cutting boards; cook food to its safe temperature; keep hot food hot/cold food cold after cooking and when serving.
Have any questions or comments? Let me know here or on Instagram, Facebook, or Pinterest.
You might also be interested in...