This basil pesto is beautifully soft and creamy and has the perfect bite. It's a great topping for grilled chicken, fish, steak, or mixed-in pasta salads.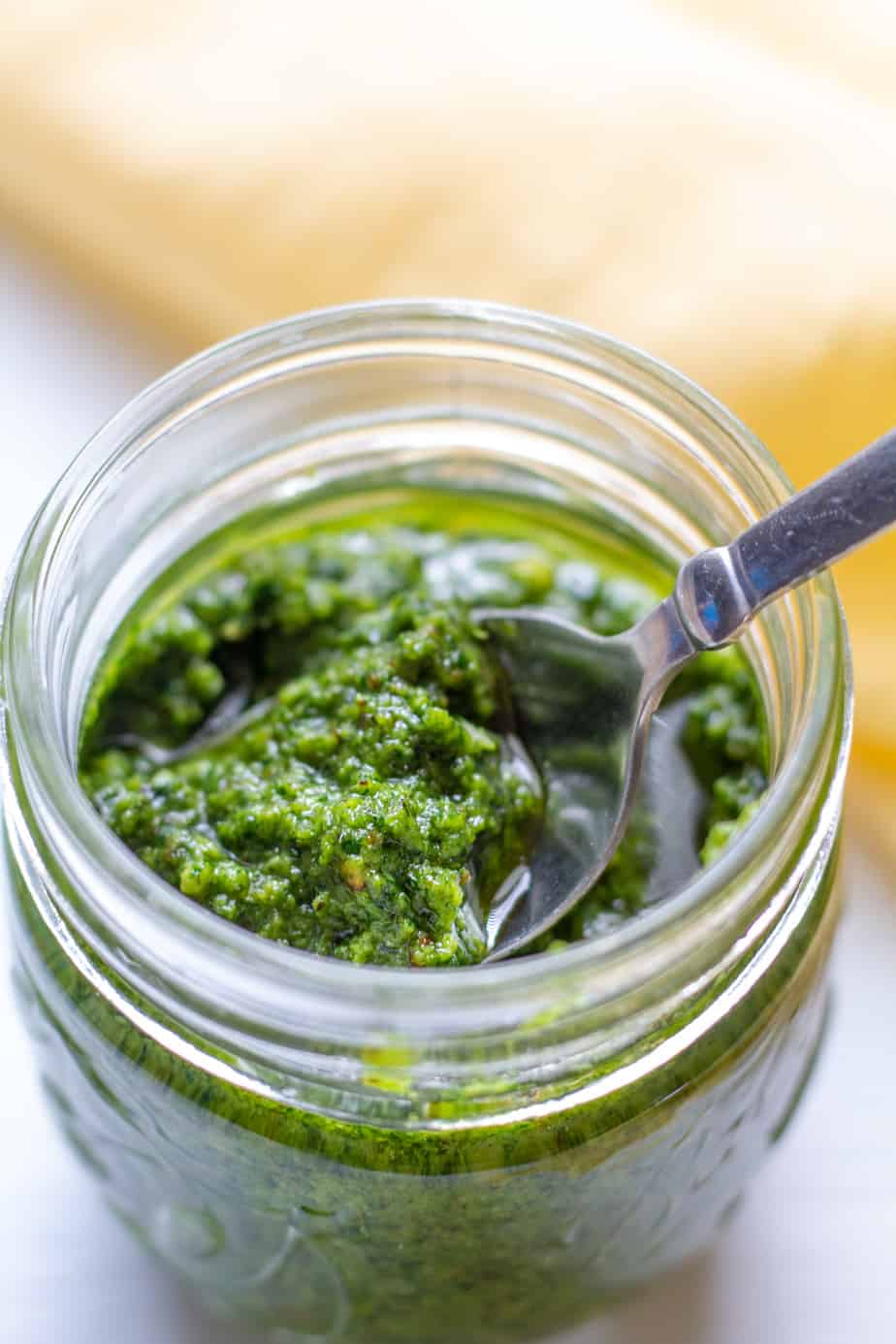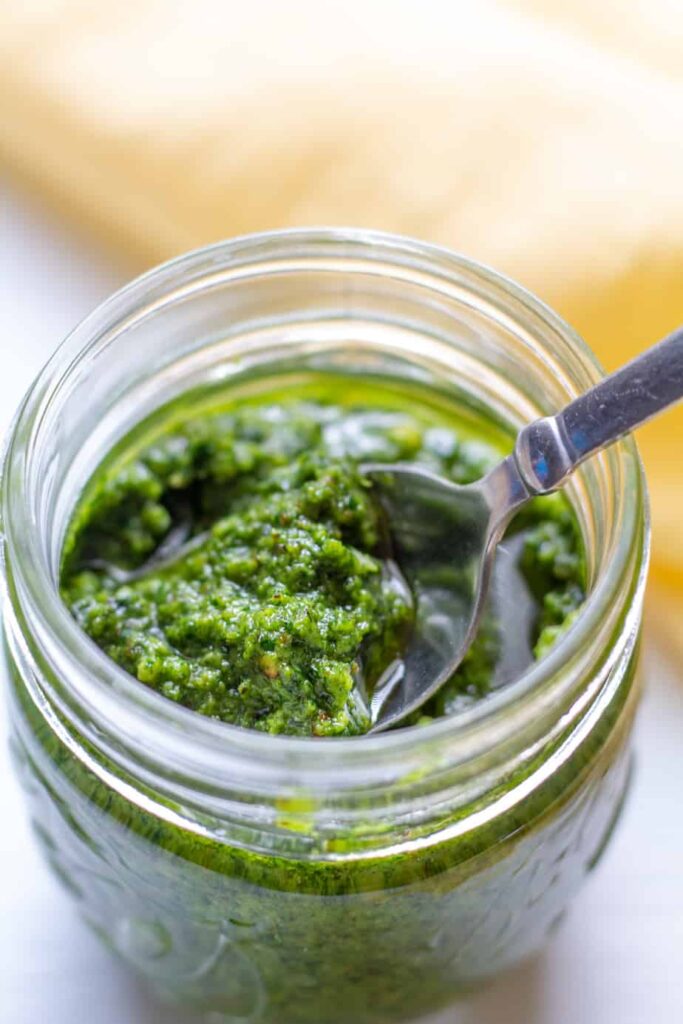 The first time I tried pesto, it wasn't great, I'll be honest. I know now that I'm allergic to pine nuts, which is a basic ingredient in pesto, so when I got all itchy, I put it aside and didn't try it again until years later. I just thought it wasn't for me, and I'll take the marinara sauce, please. It wasn't until recently when I saw a cooking show where they made pesto by hand with an actual mortar and pestle, that I thought, "You know what, that looks delicious. No reason I can't try it again!" And, oh man, I'm so glad I did.
This time I made it myself and tried different variations until I came up with some great options. I'm so excited to share these with you and turn those marinara lovers into pesto lovers! If you're already a pesto aficionado, you'll find some fun changes to what you might already be used to.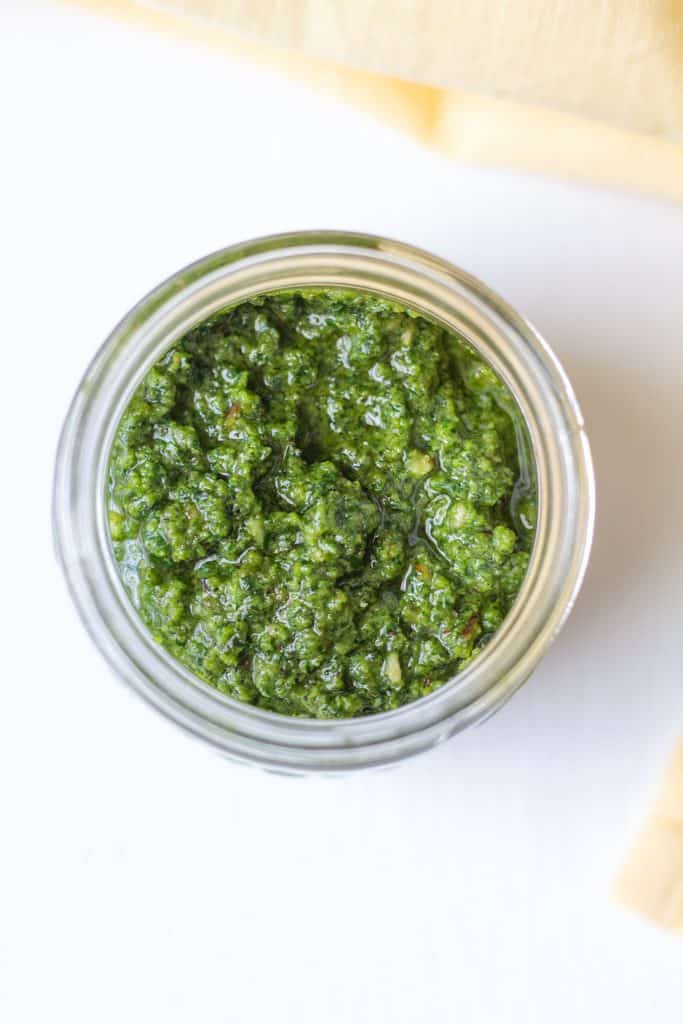 How to make pesto
This is one of the easiest things to make, seriously. I'll go through it with you.
Gather your ingredients
Blend them up
Eat!
It's literally that simple. There's no reason why you can't make this today.
Ingredients
This is where it gets fun. There are so many different variations, and at some point, they start turning into other sauces all together. Here are some of my favorite combinations. This makes about 1 cup. * Remember to loosely pack the leaves.
4 cups basil, 2 cups parsley, ½ cup parmesan, 3 garlic cloves, ½ toasted walnuts, ½ cup olive oil, ½ teaspoon kosher salt * This one is a bit more temperate with the addition of the parsley and it happens to be my favorite
6 cups basil, ½ cup parmesan, 3 garlic cloves, ½ cup toasted pine nuts, ½ olive oil, ½ teaspoon kosher salt * This is a classic version that you'll find most commonly
6 cup parsley, 1 roasted red pepper, ½ parmesan, 3 garlic cloves, ½ toasted walnuts, ½ roasted jalapeno, ½ cup olive oil, ½ teaspoon kosher salt * This is my favorite spiced up version!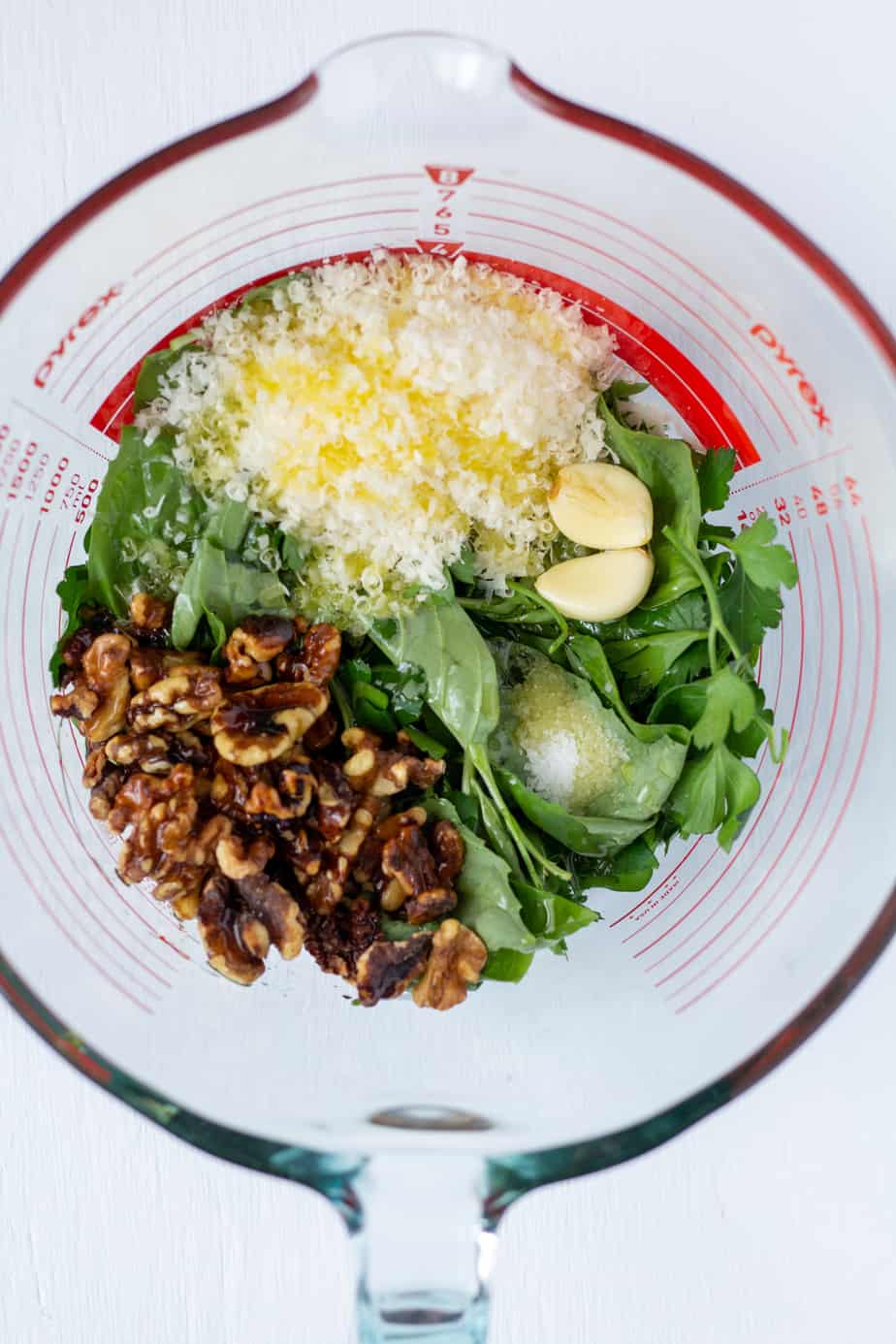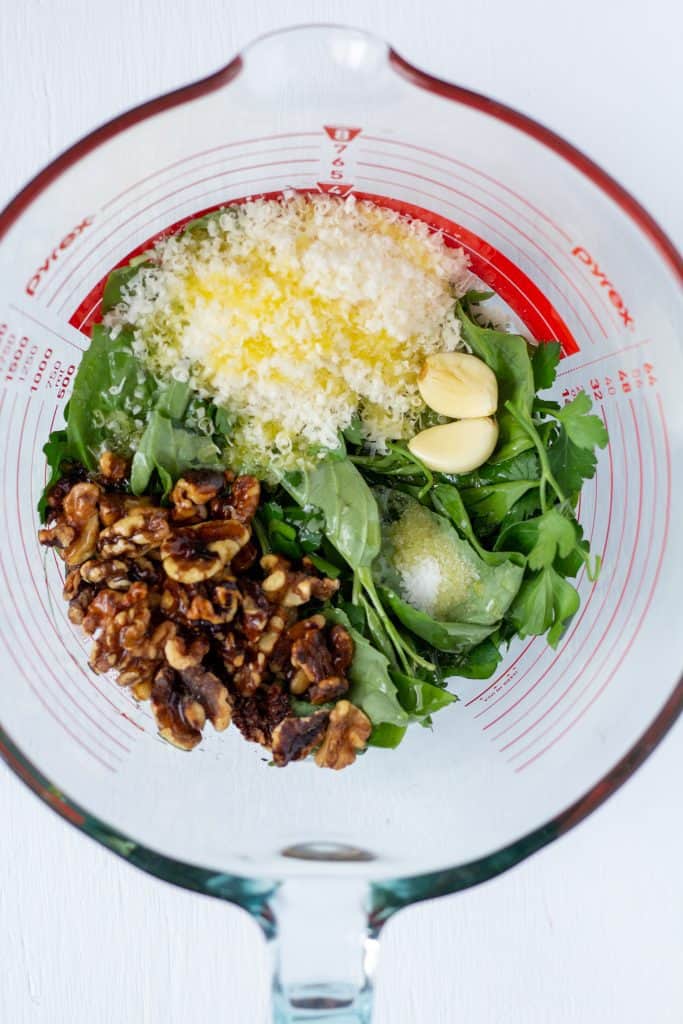 Even more pesto variations
Greens
Basil
Parsley
Mint
Cilantro
Kale
Spinach
Nuts
Pine nuts
Walnuts
Almonds
Pepitas
Pecans
Oil
Olive
Canola
Vegetable
Coconut
Avocado
Yummy Additions
Artichoke hearts
Roasted red peppers
Roasted jalapeno
Sun-dried tomatoes
Avocado
Summer squash (zucchini, yellow squash)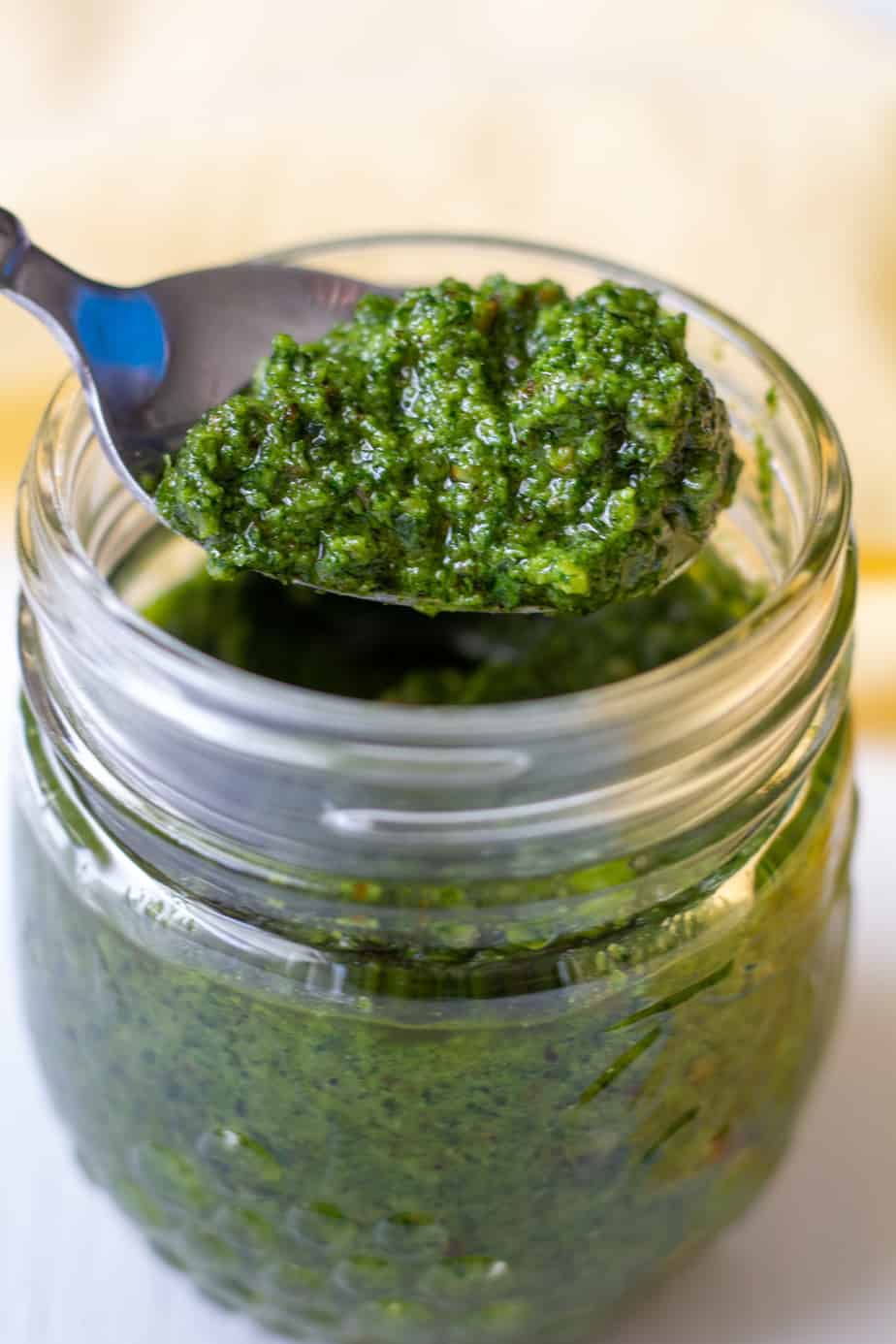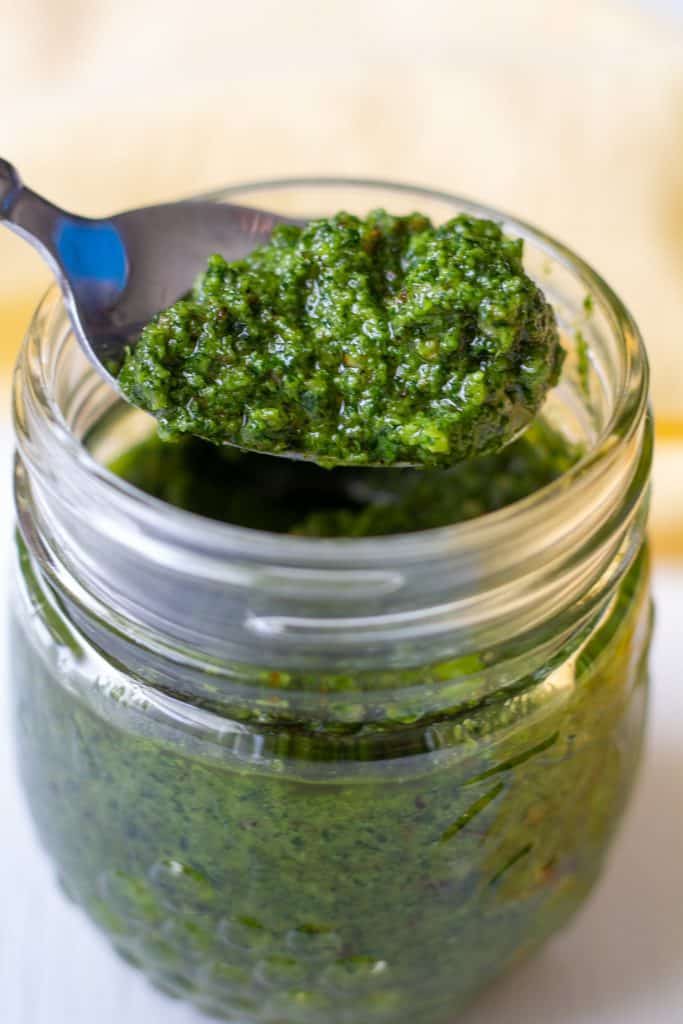 Tools
There are a few different options for blending these ingredients all together. Here are my notes for each.
Immersion blender: This needs to be done in a taller cup or bowl so the blade can reach everything and mix it all together
Food processor: Start by doing a couple of pulses with everything but the oil, then add it slowly through the hole in the top while continuing to pulse. This will create a smooth sauce.
Blender: A good old-fashioned blender will work here, but make sure to pulse the greens until roughly blended before adding anything else. The greens tend to get stuck at the bottom if you don't do this first.
Mortar and pestle: This may take slightly longer, but man, is it worth it! The sharp scent of the basil and garlic being crushed together and then smoothed out with the oil is amazing and, honestly, pretty cathartic.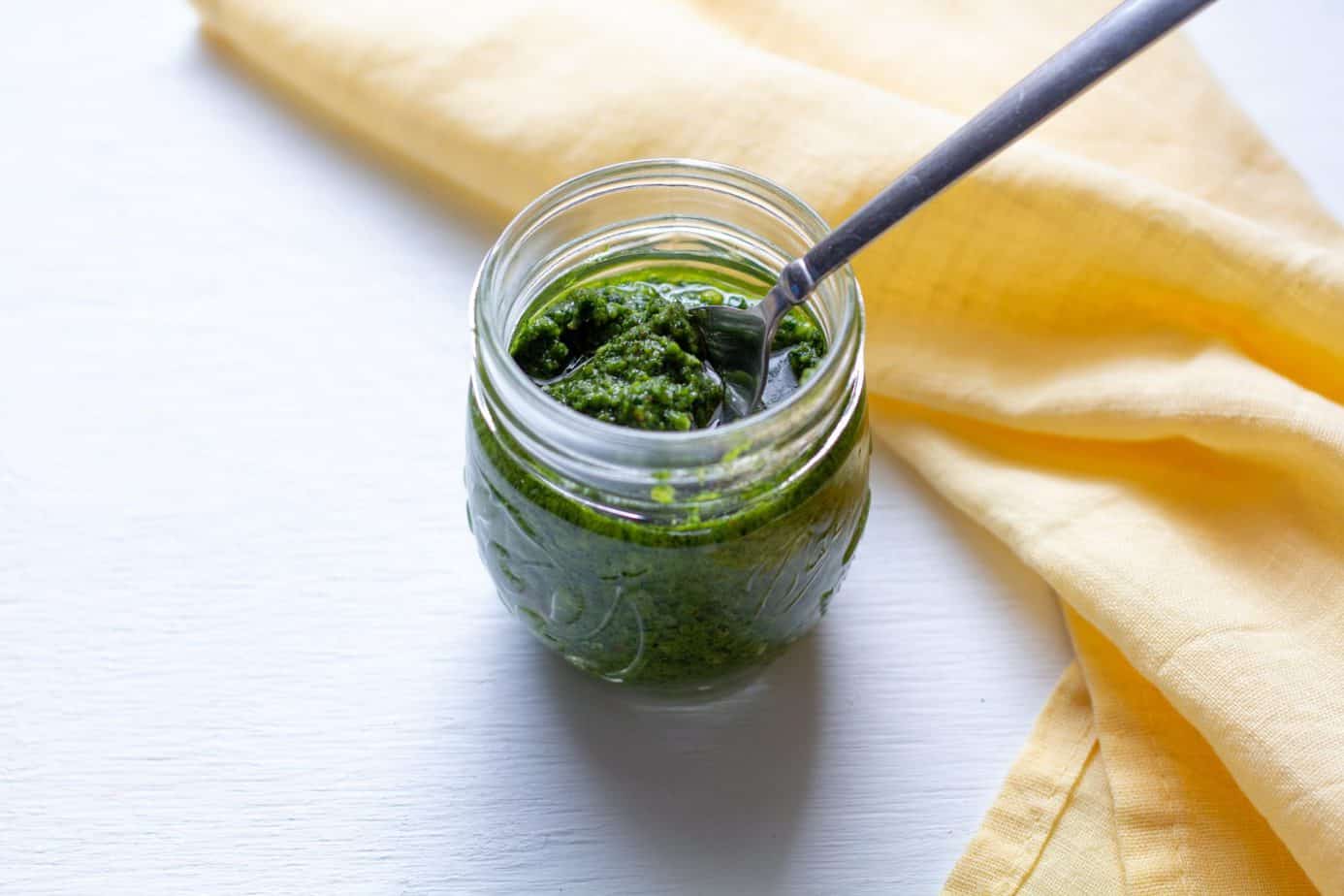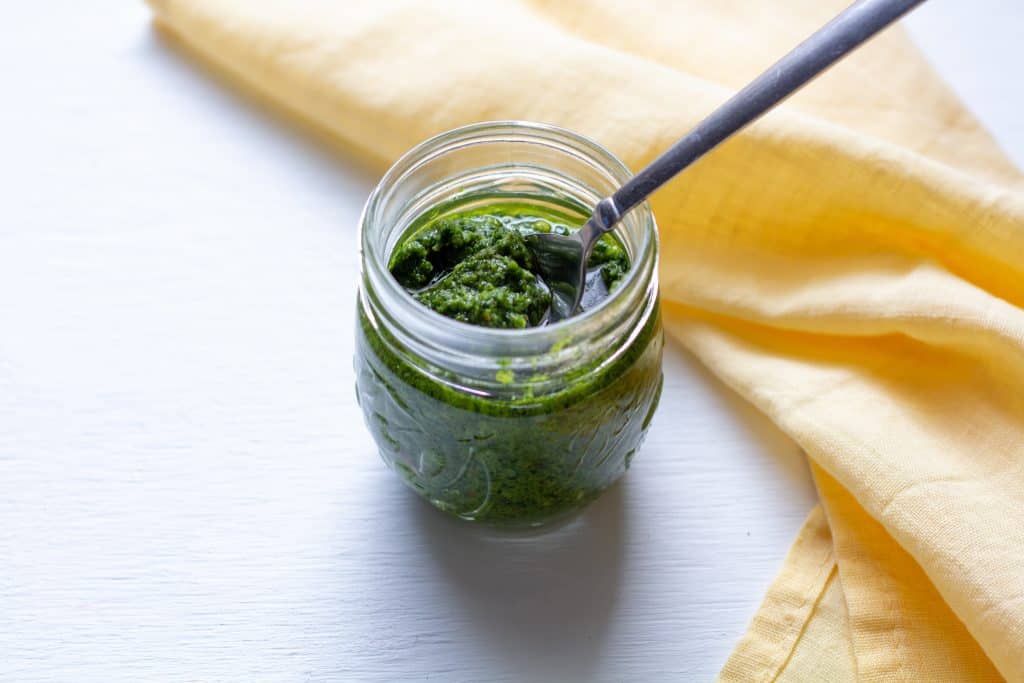 How to store pesto
Refrigerate: Put your pesto in an airtight container in the fridge for up to 5 days. I recommend letting it come to room temperature before adding it to your meal.
Freeze: Pesto freezes beautifully. I hate wasting good food, so I like to freeze everything I can. Pesto is perfect for this. I make a large batch, put it in the freezer, take out a big scoop, and let it come to room temperature whenever I need some. Voilá
Pesto recipes
One of my family's favorite meals is grilled chicken, rice, and a veggie. My kids will barely eat anything else right now. Except pizza. I recently convinced my 4-year-old that pesto is his new favorite sauce because I was tired of eating the same meal all the time. (I'm honestly not sure how I did this, but I expect he'll hate it again in a few months.) Now, though, I can put pesto on our chicken, steak, pasta, and their favorite - pizza!
There really isn't a limit on the variations you can create and the food you can top it with. Your imagination is the limit!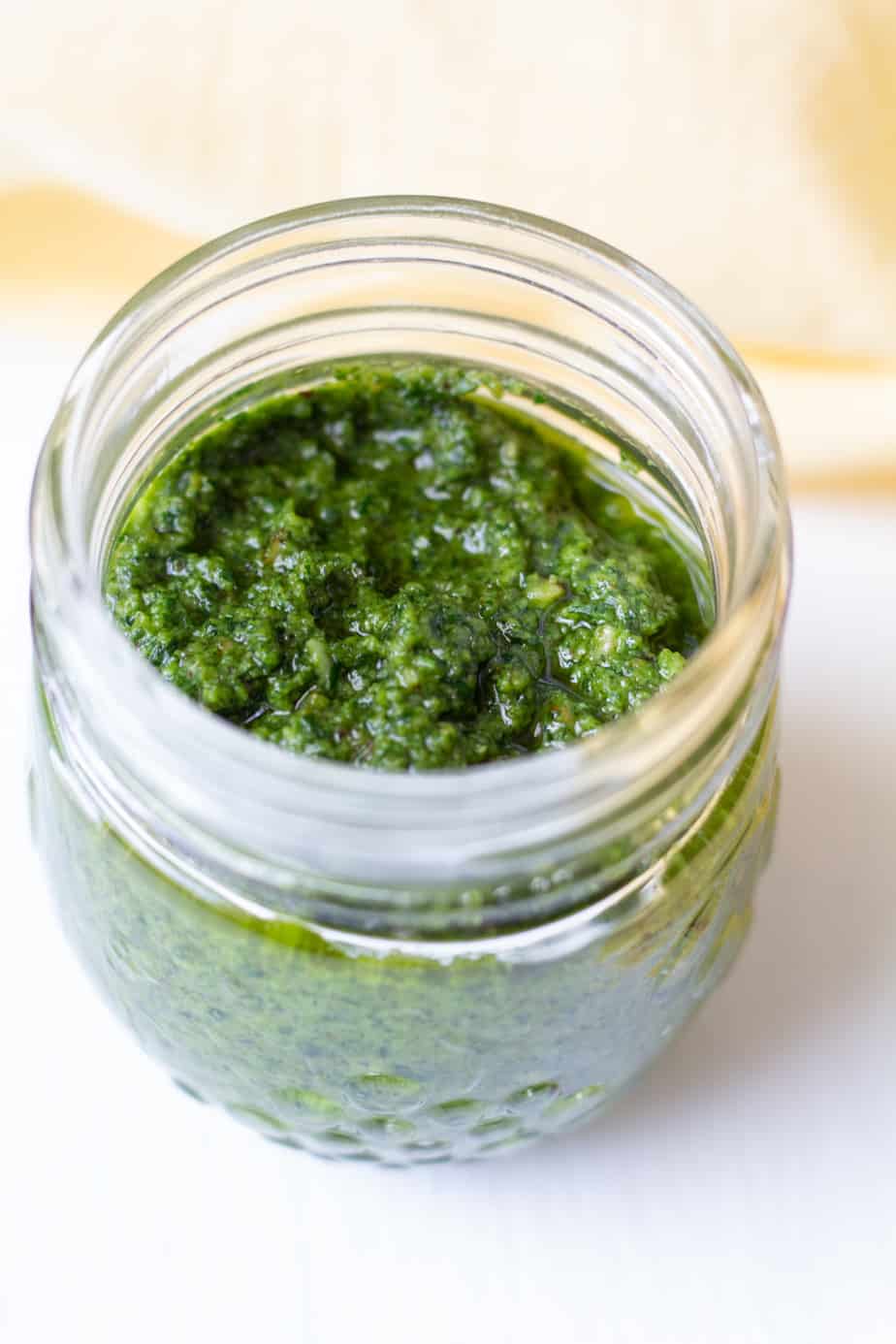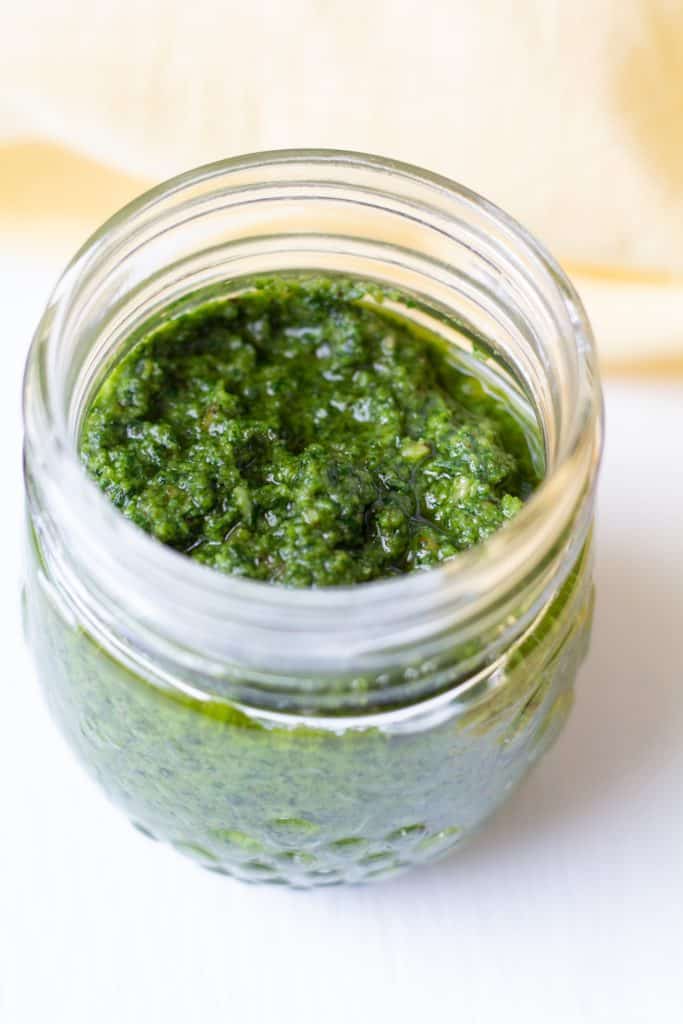 If you try it out, let me know how it goes in the comments or on Instagram, Facebook, or Pinterest.
How To Make The Perfect Pesto
This basil pesto is beautifully soft, creamy, and has the perfect bite. It's a great topping for grilled chicken, fish, steak, or mixed in pasta salads.
Equipment
blender: immersion, food processor, blender, mortar & pestle
Ingredients
2

cups

loosely packed fresh basil

4

cups

loosely packed fresh parsley

½

cup

toasted walnuts

½

cup

freshly grated parmesan cheese

½

teaspoon

kosher salt

½

cup

olive oil
Instructions
Toast the walnuts, peel the garlic, prepare the salt and oil, and grate the cheese.

Combine the greens, nuts, garlic, cheese, salt, and blend. Drizzle in the oil slowly while mixing.

Top your dish with deliciousness!
Notes
**Variations** 
Greens
Basil
Parsley
Mint
Cilantro
Kale
Spinach
Nuts
Pine nuts
Walnuts
Almonds
Pepitas
Pecans
Oil
Olive
Canola
Vegetable
Coconut
Avocado
Yummy Additions
Artichoke hearts
Roasted red peppers
Roasted jalapeno
Sun-dried tomatoes
Avocado
Summer squash (zucchini, yellow squash)