A garlic press is a safe and simple way to crush garlic without using a knife. Perfect for cooking with kids or breezing through weeknight dinner prep.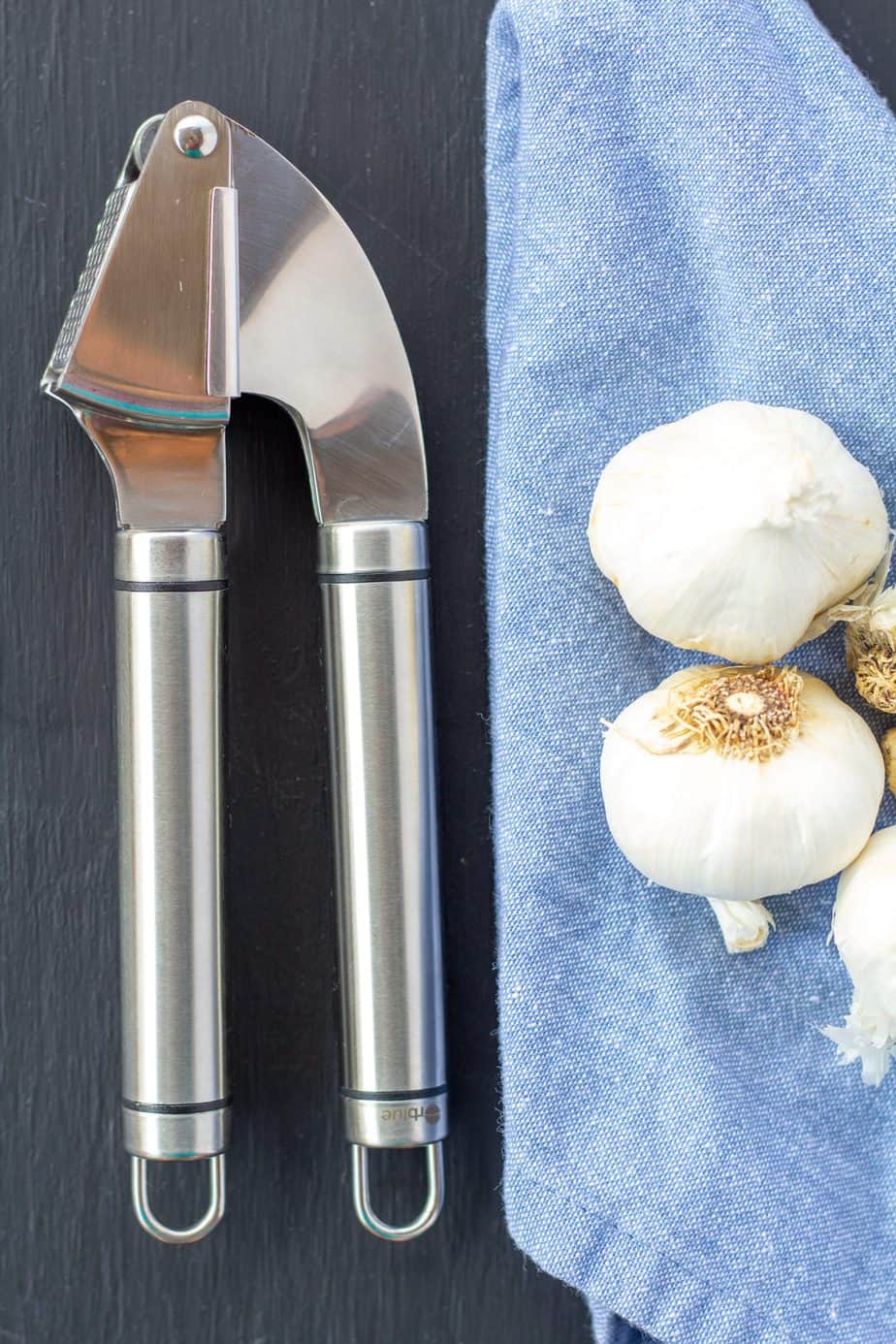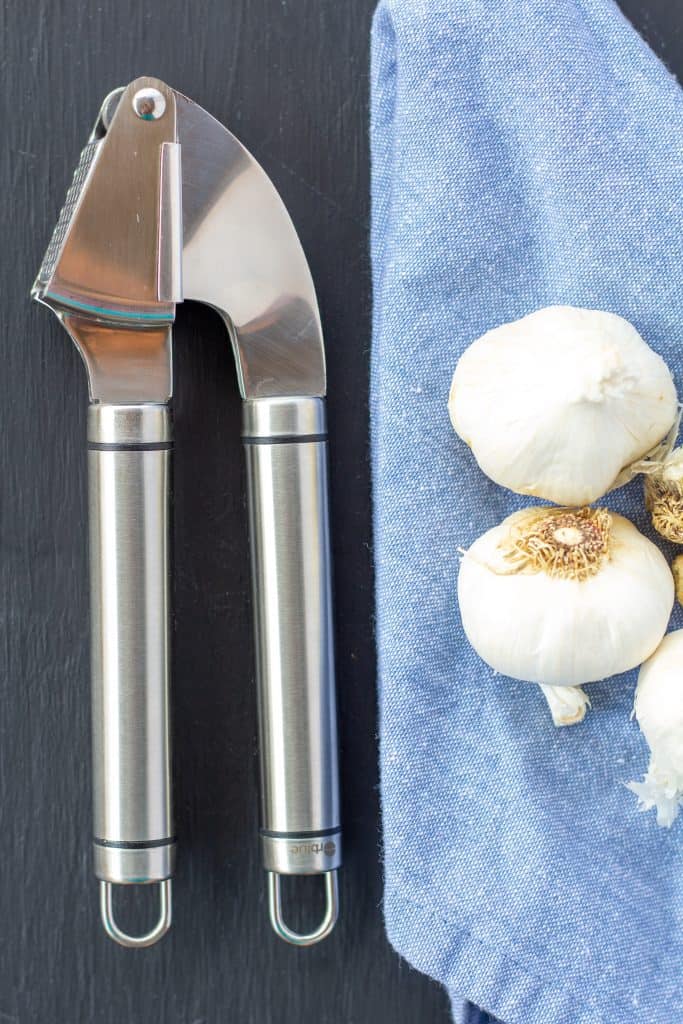 Some of the links below are affiliate links, meaning, at no additional cost to you, I will earn a small commission if you click through and make a purchase.
Garlic is one of my favorite additions to almost any meal. I'm constantly peeling, mincing, and roasting the small cloves. When I heard about a handy (and hand-held) tool that could make my life just a little easier, I went right online and bought a garlic press to try it out. Turns out it's straight-forward and easy to use.
Pros of using a garlic press
Simple. There are just two steps to using it. Peel the garlic and squeeze the handles. Some presses don't even require you to peel it first. It's so much more efficient than using a knife to mince it. I hate doing tasks that seem to take a disproportionate amount of time to what you are getting from it. To me, peeling and mincing garlic is exactly that. Using the crusher is working smarter, not harder.
Kid-friendly (no knife needed). When you want to involve the kids in making dinner, mincing garlic is now a task they can take on. It's so much fun to squeeze the garlic through the little strainer. It's instant gratification (like they need more of that, I know). They can take pleasure in contributing to the meal, and you will feel proud of them learning new and productive things.
... and the cons
One more kitchen tool. If you don't have much storage space, this tool might not be worth taking valuable kitchen real estate. You can accomplish your goal using a knife and cutting board even if it takes a couple of minutes longer than using the crusher.
A little gets left behind. Since the garlic is going through tiny holes, not all of the clove is going to make it through. That's to be expected, but that little bit that's left behind needs to be cleaned out of the press, and ultimately doesn't make it into your meal. This can be said about almost every tool of this nature, so it's not surprising. I'd say, it's just something to be aware of.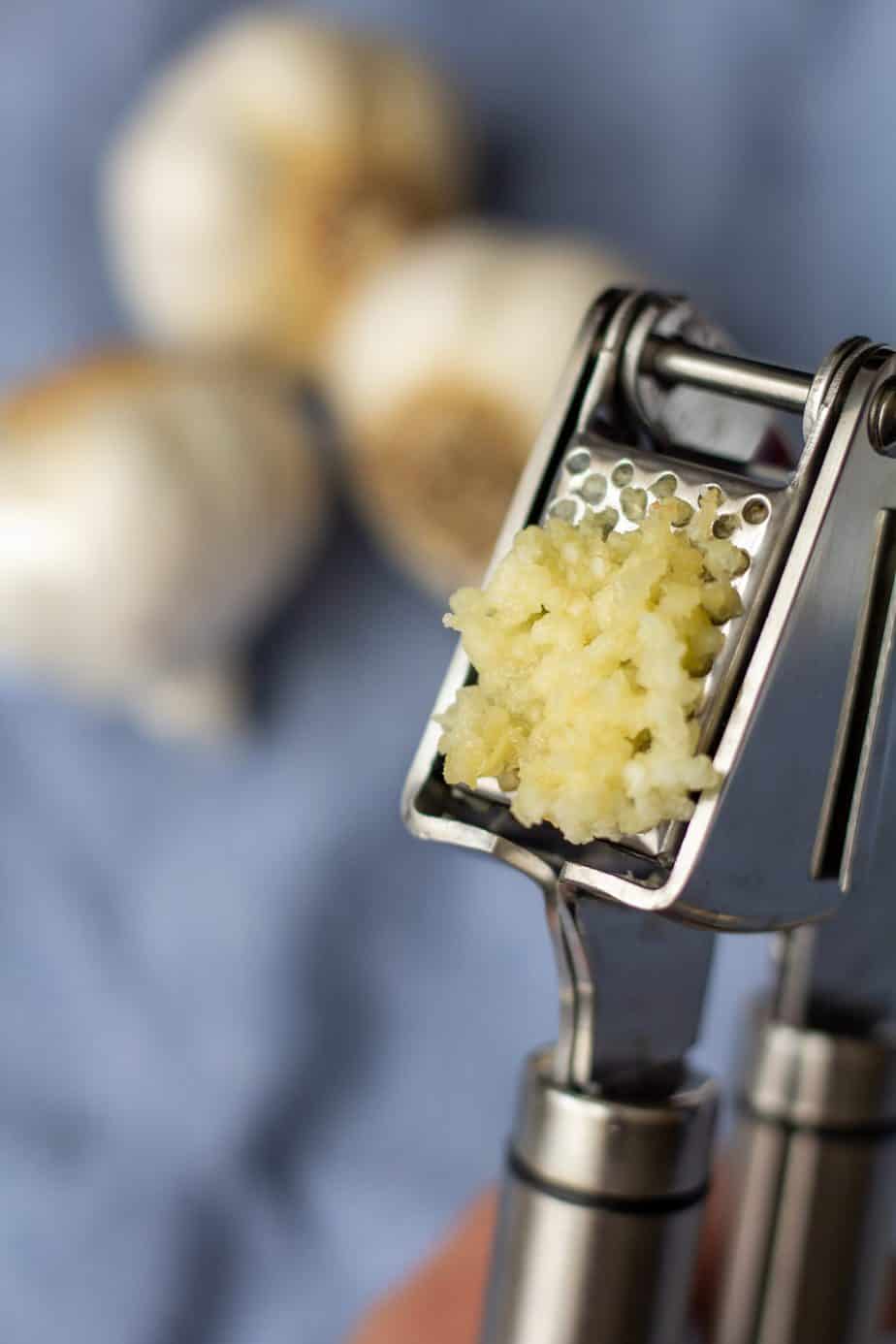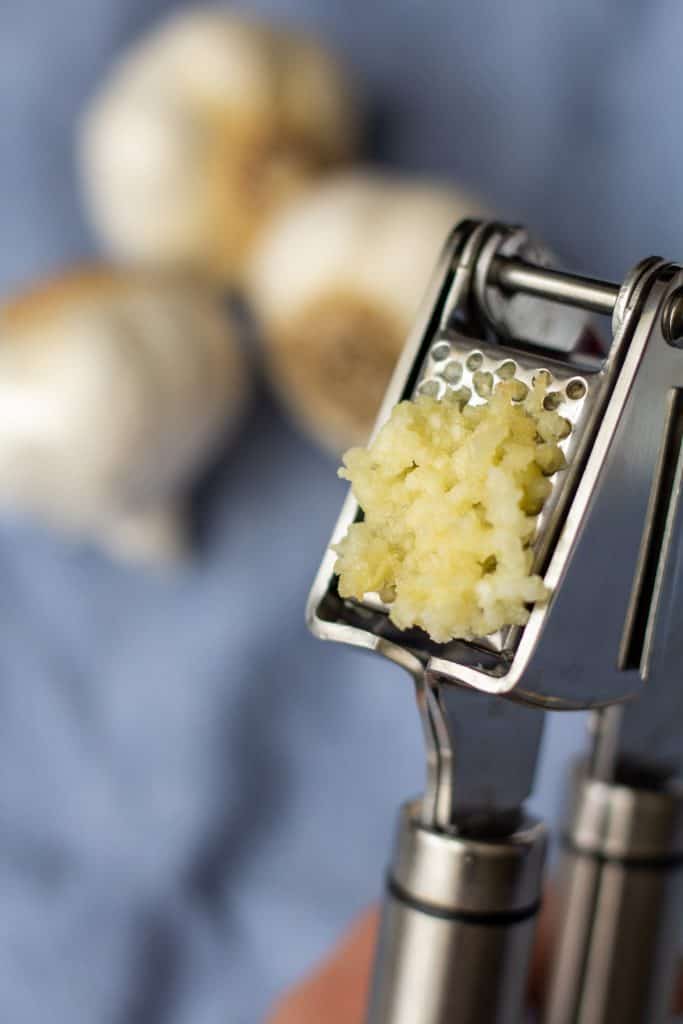 Where do I buy it? How much does it cost?
I purchased the ORBLUE Garlic Press from Amazon. You can also get it in stores at places like Bed Bath & Beyond and Kohl's.
Since it's more of a specialty item, you might not find it at your local grocery store. You can order it online at a number of locations.
They cost between $7 - $50. Some come with brushes and peeling tools and some are used in professional kitchens.
There are different designs that are also interesting and possibly worth looking into like the OXO Good Grips Garlic Press or Kitchen Innovations Garlic Cutter.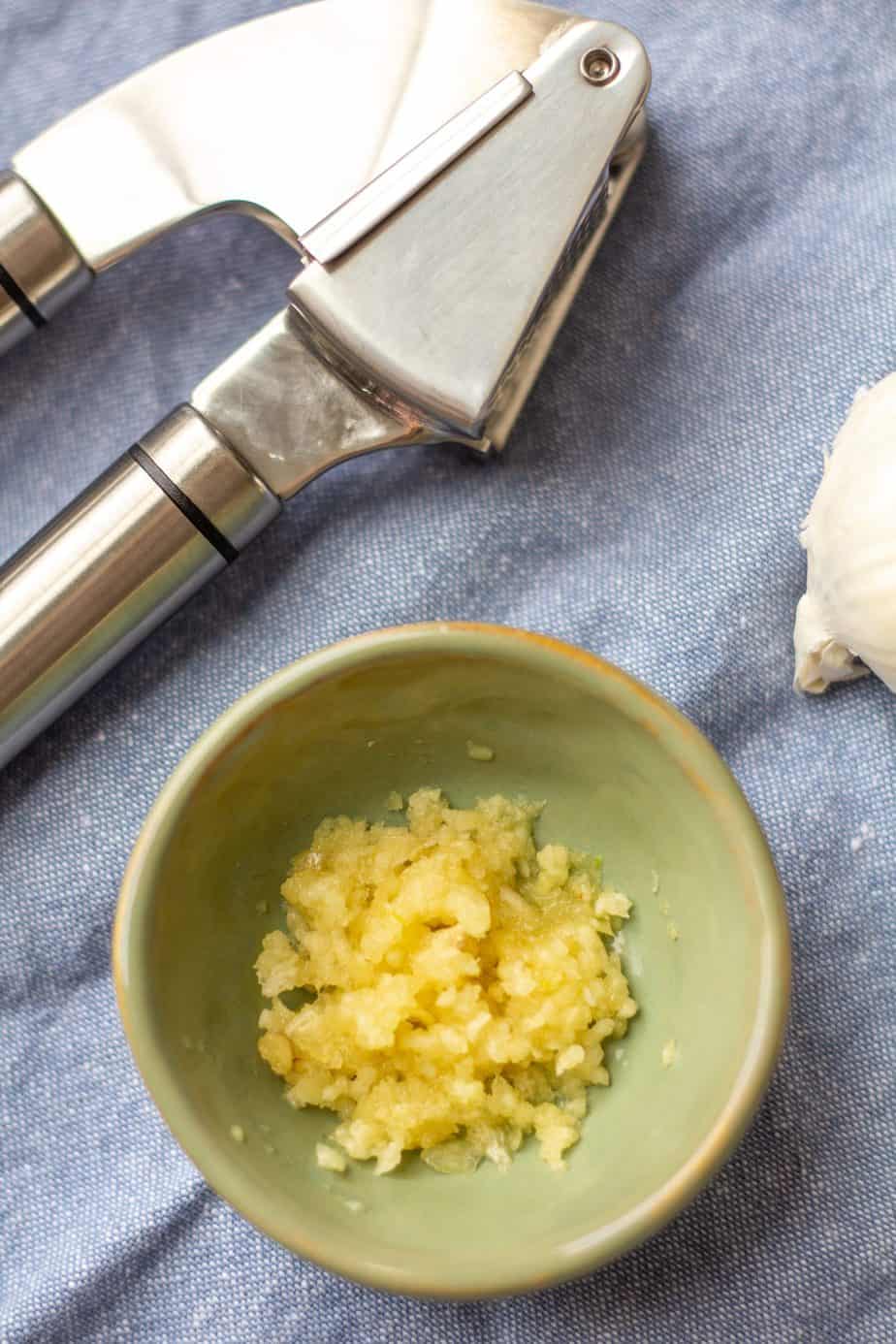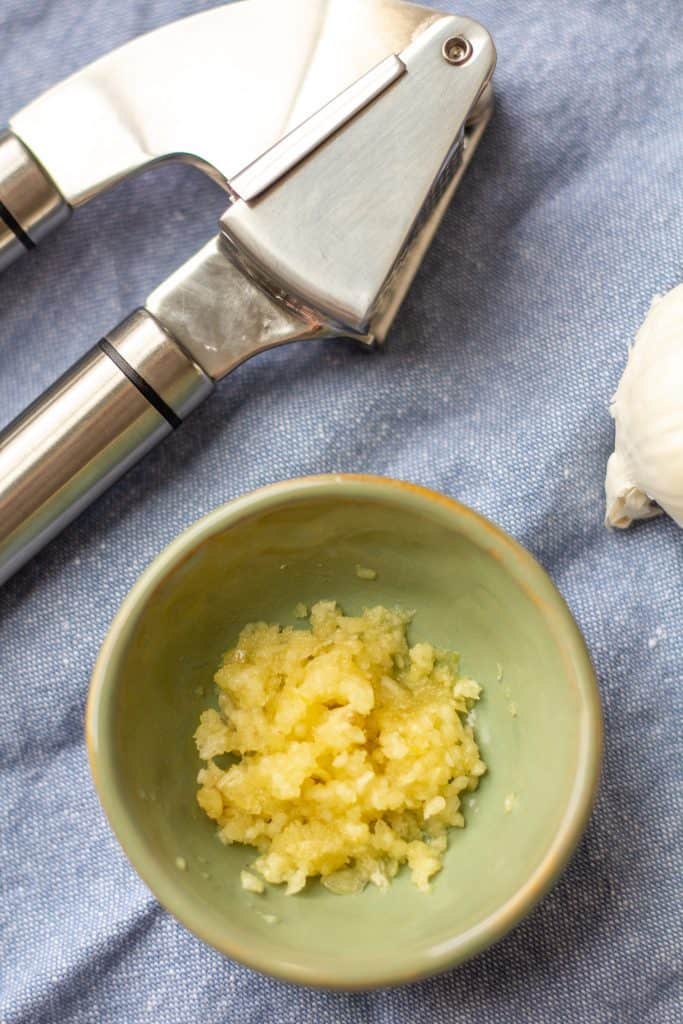 Recipes to use with a garlic press
While you can use a garlic press for anything that uses garlic, here are some of my favorites:
If you try it out, let me know how it goes in the comments or on Instagram, Facebook, or Pinterest.