Vanilla extract is essential for most baked goods. You can make your own incredibly delicious vanilla and save money at the same time! Here, you'll find tips on which alcohol to use and which beans give the most flavor in this two-ingredient kitchen staple.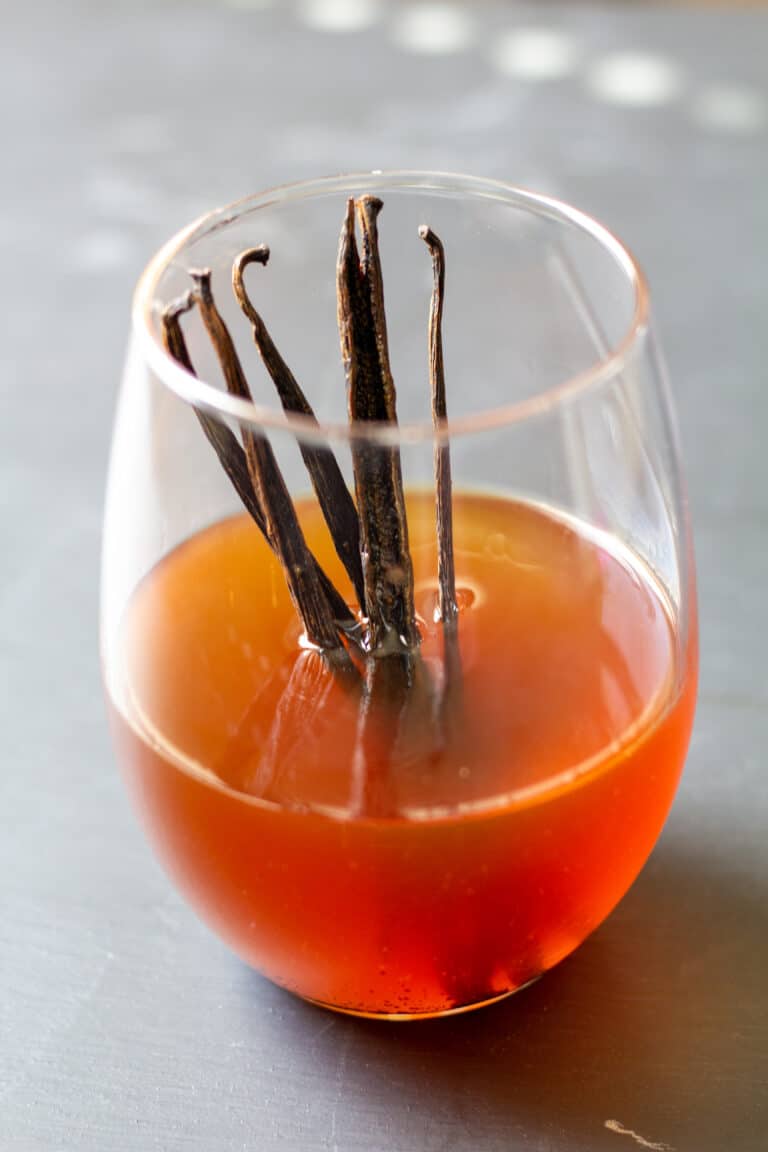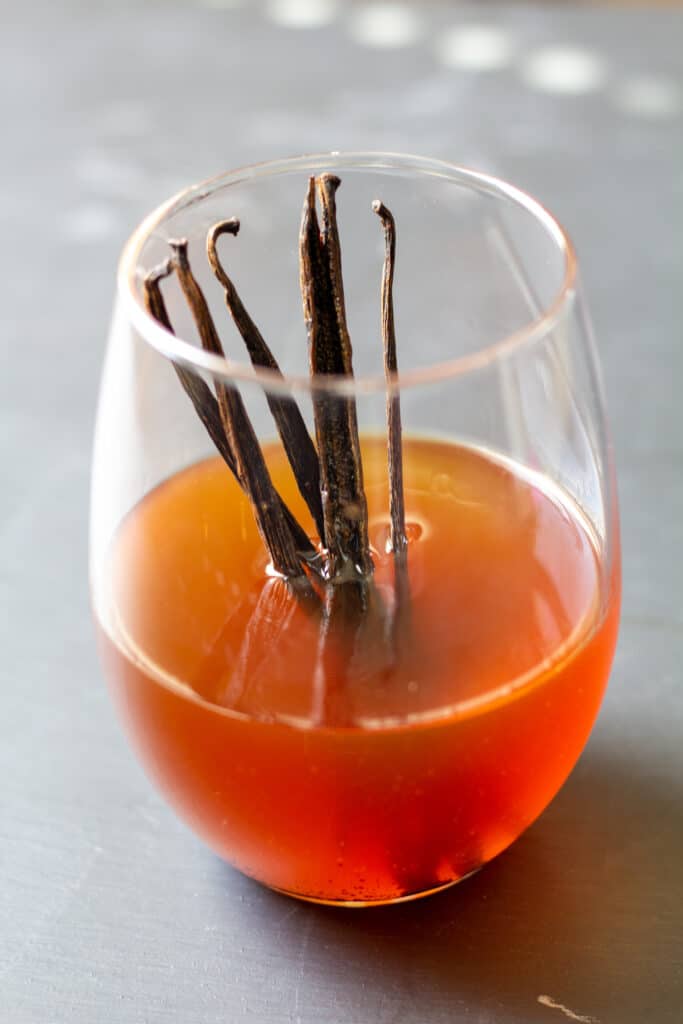 Some of the links below are affiliate links, meaning, at no additional cost to you, I will earn a small commission if you click through and make a purchase.
A few years ago I noticed I was buying a new bottle of vanilla extract from the store every couple of weeks. I'm sure you know that stuff is like bottled gold and the price reflects it. I wondered how hard it could really be to make vanilla extract on my own? Not that hard, surely. When I found out how easy it is I absolutely couldn't believe it. I bought the ingredients that day and from then on I've never bought another bottle of vanilla from the store.
With these simple steps, you'll be able to make your own vanilla extract and stop wasting money on this key kitchen ingredient.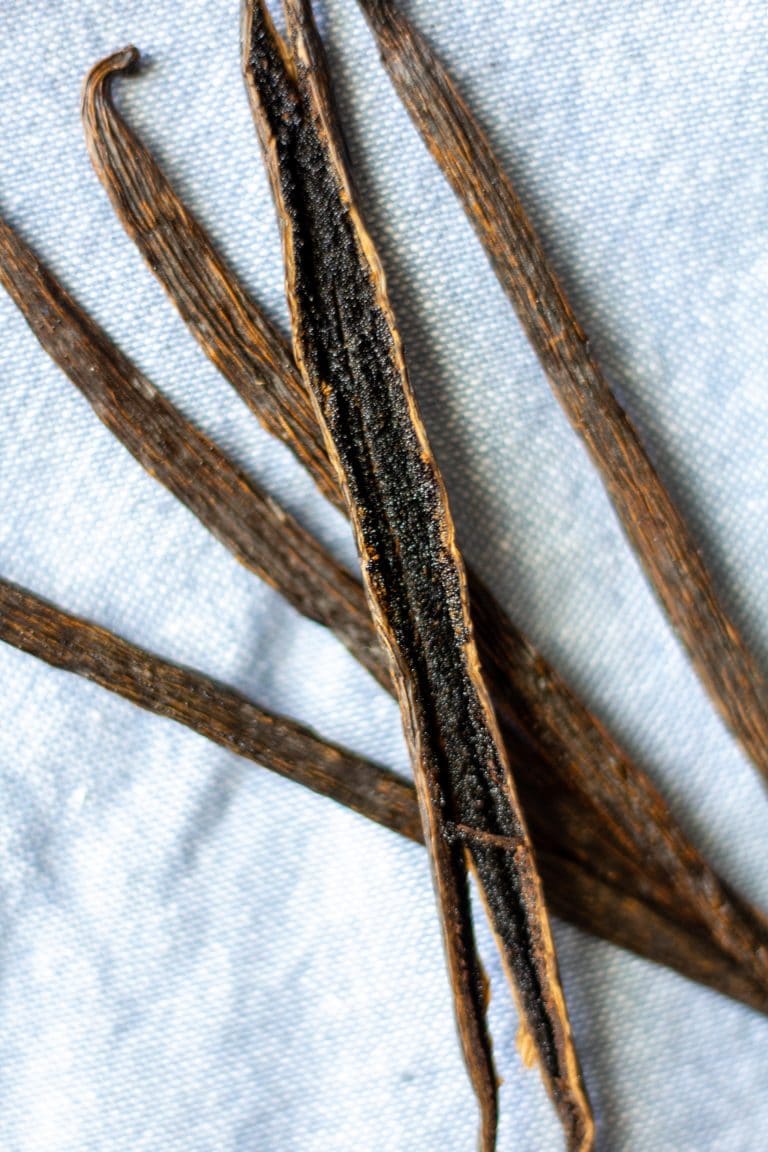 How to make vanilla extract
The value of buying your own vanilla beans: You'll need 5 - 6 vanilla beans for an 8-ounce jar of vanilla. I typically make double this since you can buy the beans in bulk. I recommend these highly-rated vanilla beans from Amazon. Vanilla beans are more expensive than buying a bottle of vanilla extract from the store, however, the value is double to make your own depending on which extract you buy from the store.
Steps: Put the beans in an 8-ounce jar and fill it with alcohol. (You can use smaller or larger jars if you'd like, too. Just be sure to adjust the number of vanilla beans for each.) Some people will tell you to slice each bean down the middle, however, I've found it isn't necessary. The choice is up to you. You'll want to make sure to completely cover the vanilla beans, so they don't grow mold. The alcohol acts as a preservation agent and that's why it stays good for so long.
Replenish your vanilla extract: When you use the vanilla, go ahead and add the same amount of alcohol back to the jar to keep your extract replenished. You can continue to do this until the extract is no longer strong or flavorful. It's hard to give an exact time for this since it really depends on how much extract you use. You can also cut the beans into 1-inch pieces, if you don't want to add more alcohol to the jar, so as the vanilla is used, the beans are never exposed.
How long do I wait to use the vanilla extract?: I typically like to write the date I made it either on a sticker on the bottle or on the lid if you're using a mason jar. Shake the bottle once a week for 8 weeks when you can start using the vanilla extract if you need to. However, I suggest waiting at least 6 months to begin using it. If you can wait 12 months that's even better. The flavor just intensifies the longer it has to steep.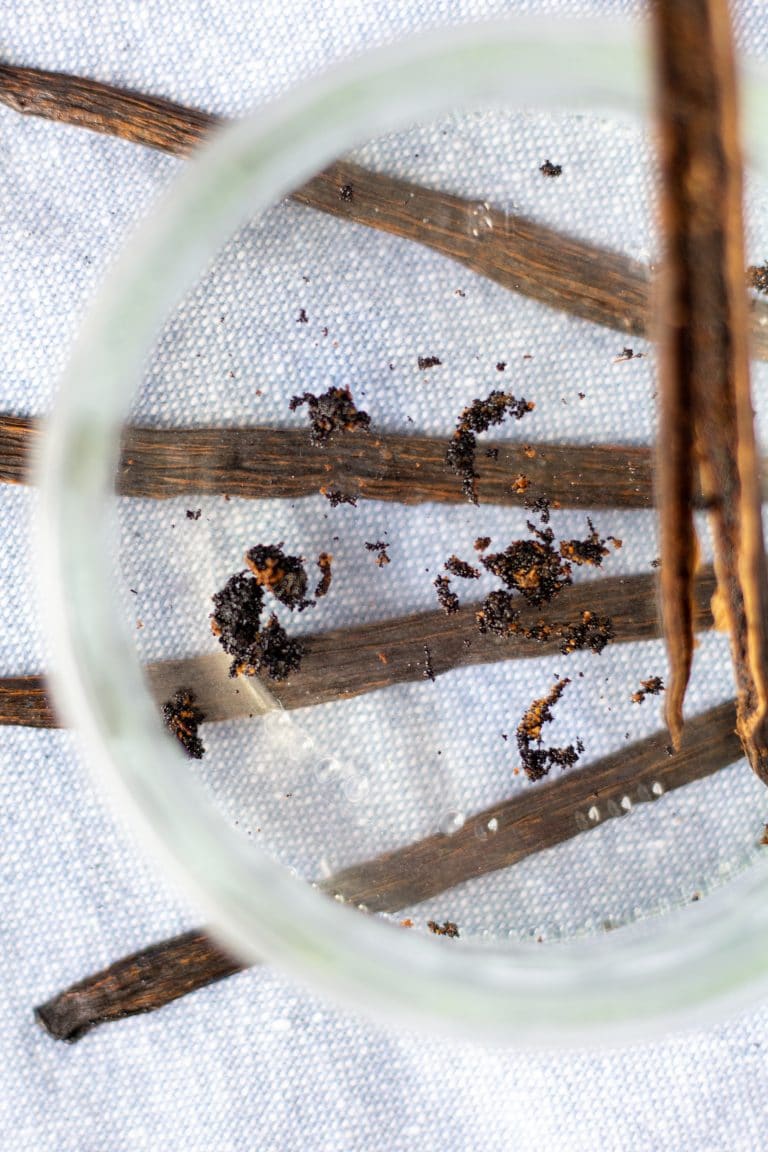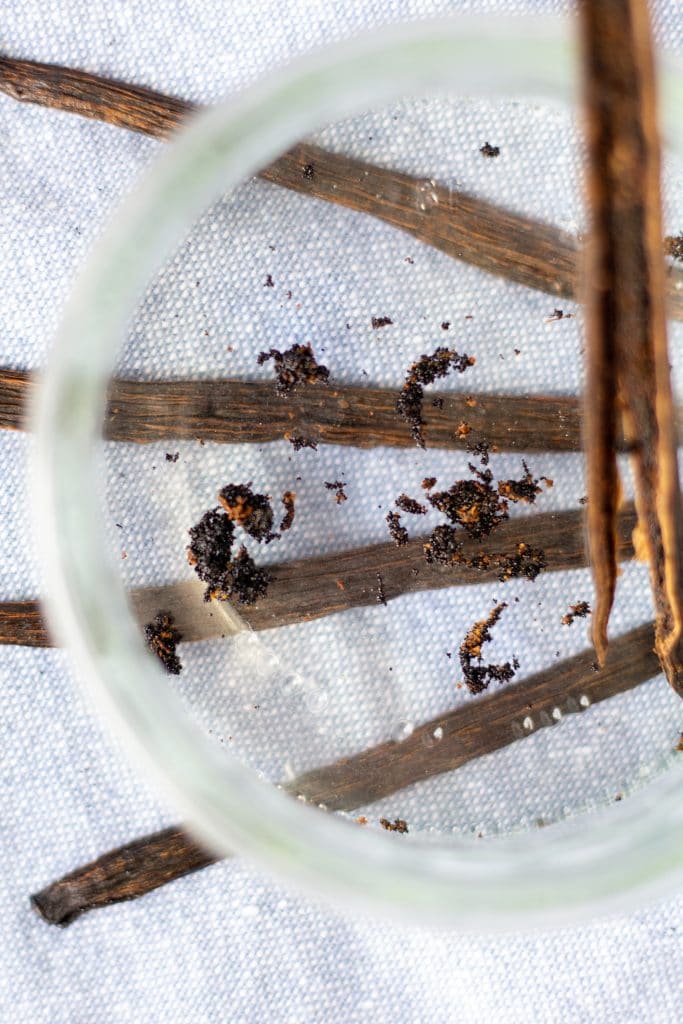 Which alcohol is best for making vanilla extract?
Vodka is the traditional option for vanilla extract and gives the flavor you are most familiar with. You can use other types of alcohol instead, however, it will give a different flavor to your extract. It's always fun to experiment and see which one you like best. I like to keep small bottles of bourbon and rum extract on hand for those baked goods that I feel could use a little boost of these flavors.
Can you make vanilla extract without alcohol?
You can make vanilla extract without alcohol by using food-grade vegetable glycerine. You can buy this on Amazon. Use 3 parts glycerine and one part water for the best results. The same rules apply for the directions. Shake it once a week and give it a couple of months for the vanilla to steep in the glycerine. Be sure to buy food-grade glycerine since there are some versions that are not good to eat. It's important to use more glycerine than water since water is not a preserver and the vanilla will get moldy if too much water is used.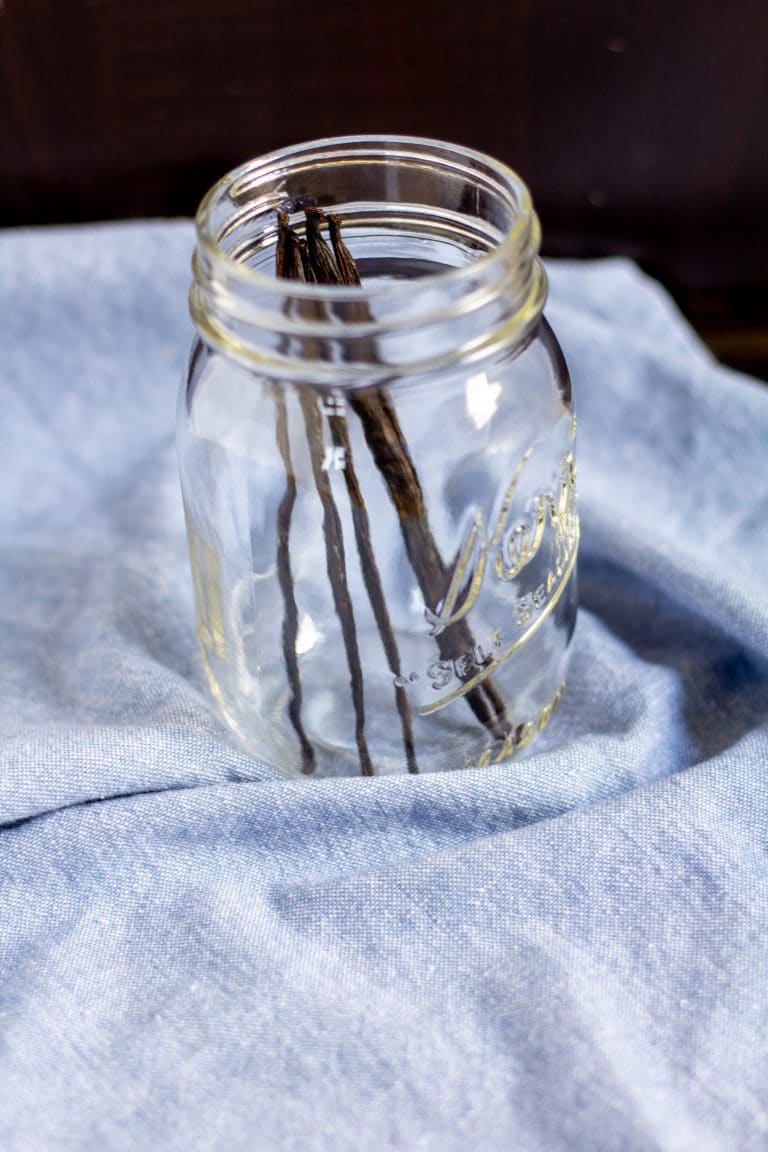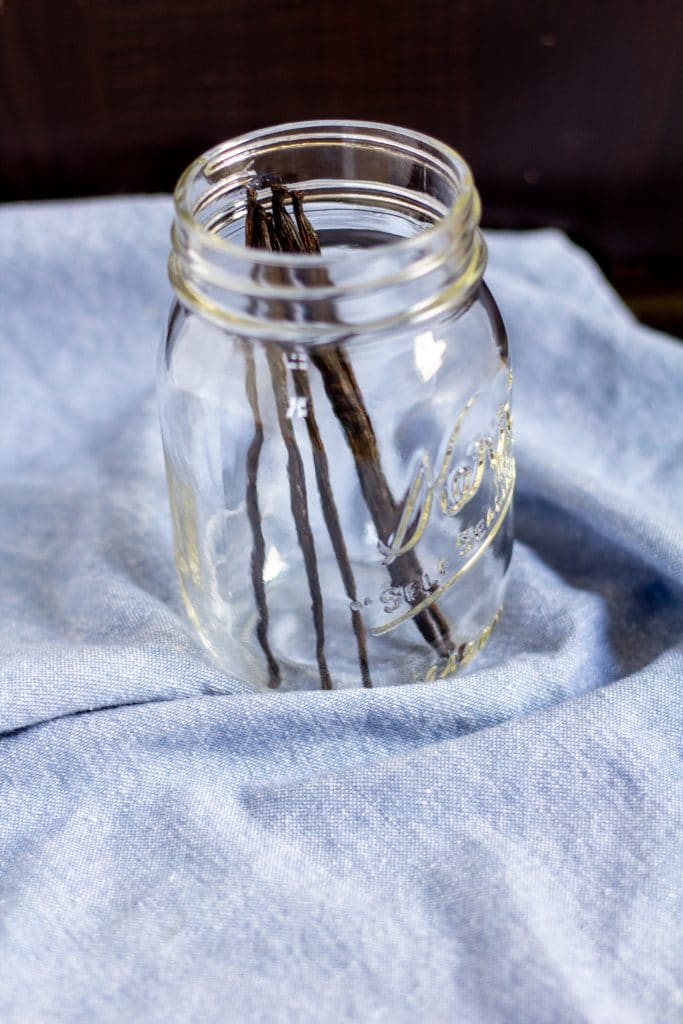 Does it matter which vanilla beans you use?
There are three locations from where you can typically buy vanilla beans, Madagascar, Mexico, and Tahiti. They each have a different flavor according to Nielson Massey.
Madagascar: Moist, full, sweet, creamy, mellow flavor, and velvety after-tones
Mexican: Moist, with a deep, creamy, spicy-sweet character, like clove or nutmeg
Tahitian: Moist, with a floral, fruity, cherry-like flavor
Type A or B?
Type A beans are very moist and release their flavor quickly. This is perfect for dishes in which you want an immediate vanilla flavor. Ice cream, for example. Type B beans are drier and take longer to release their flavor but but have a stronger flavor. They are perfect for sitting in alcohol with their flavor being slowly drawn out for an extract.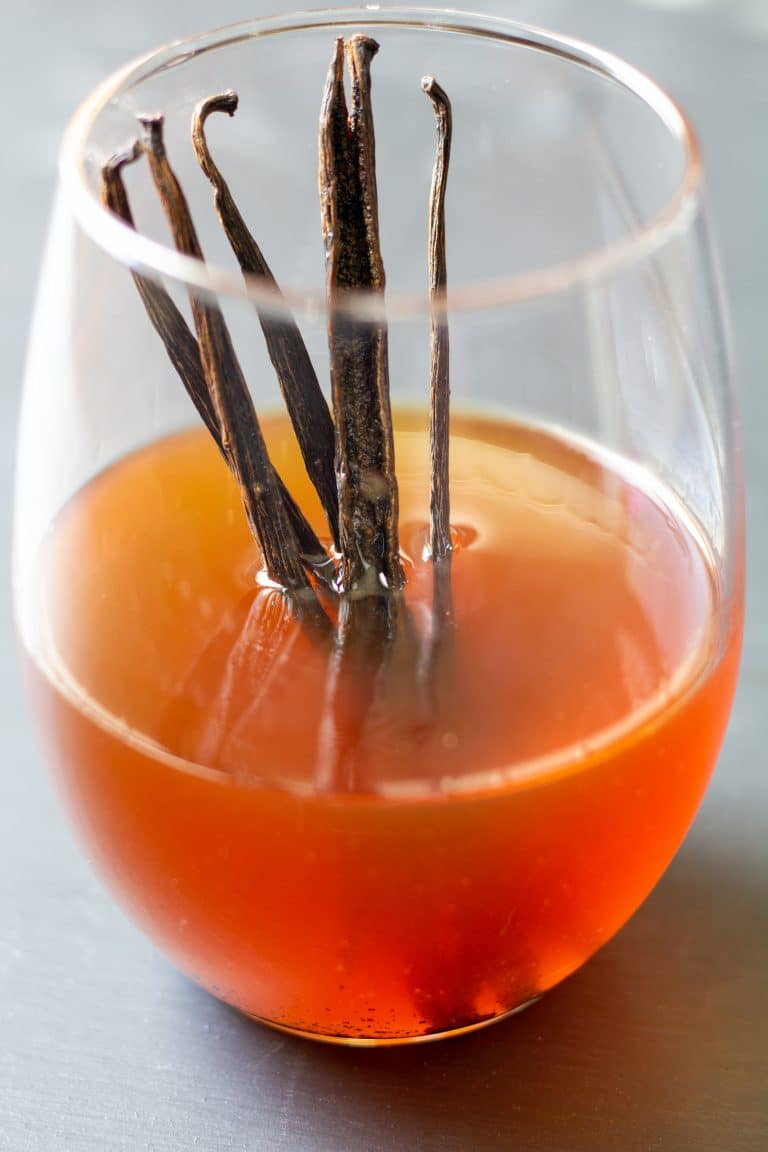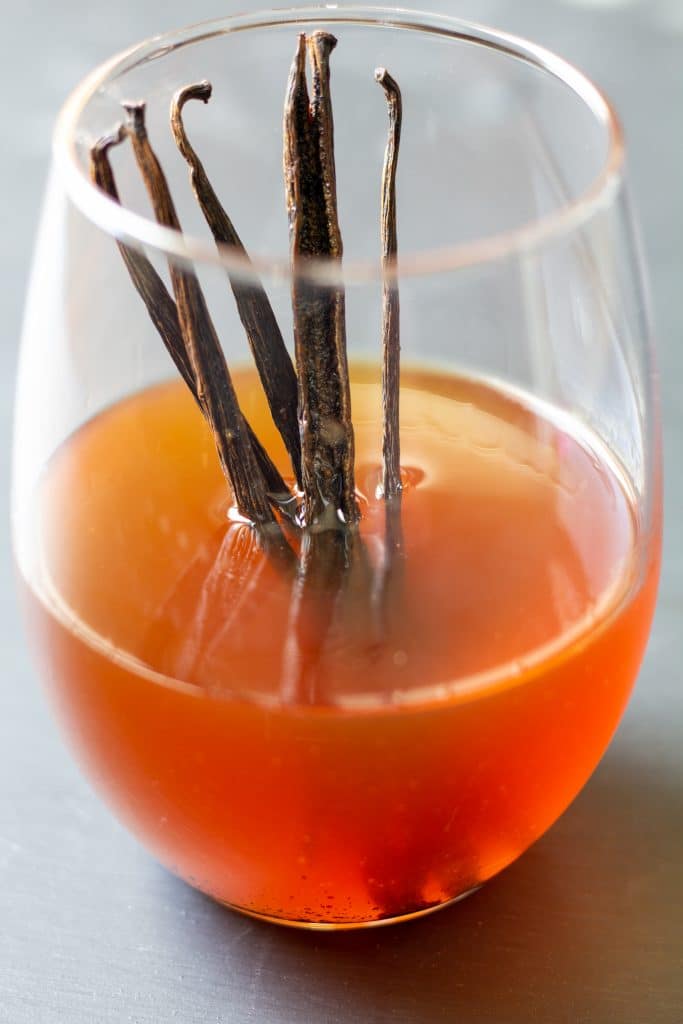 If you try it out, let me know how it goes in the comments or on Instagram, Facebook, or Pinterest.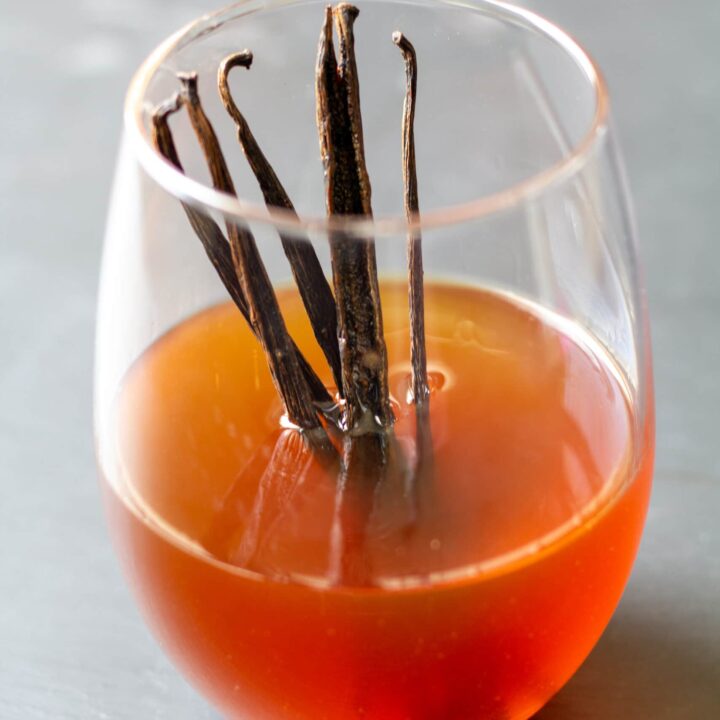 How To Make Vanilla Extact
Additional Time:
6 months
Total Time:
6 months
5 minutes
Vanilla extract is essential for most baked goods. You can make your own incredibly delicious vanilla and save money at the same time!
Ingredients
8 ounces alcohol (like vodka)
5 - 6 whole vanilla beans
Instructions
Place the vanilla beans inside the jar. Cut them down into 1-inch sections if needed.
Pour the alcohol in the jar and completely cover the vanilla beans.
Shake once a week for 8 weeks. Allow it to sit for at least that long, but preferably 6 - 12 months.
Shake before each use and enjoy your homemade vanilla extract in your baked goods!
Notes
You can use different kinds of alcohol based on the flavor you want to achieve. The traditional flavor is vodka. 
There are different types of vanilla beans you can choose from. They each have a different flavor profile and grade. 
You can make this without alcohol by using 3 parts food-grade vegetable glycerine mixed with one part water. 
For best results wait for 6 months before using your homemade vanilla extract.