Waffle Iron Pizza crust is cooked by using a waffle iron. Pile on your toppings afterward and toast it up in the oven. Kids love helping to make these individual pizzas! You can make the crust gluten-free too.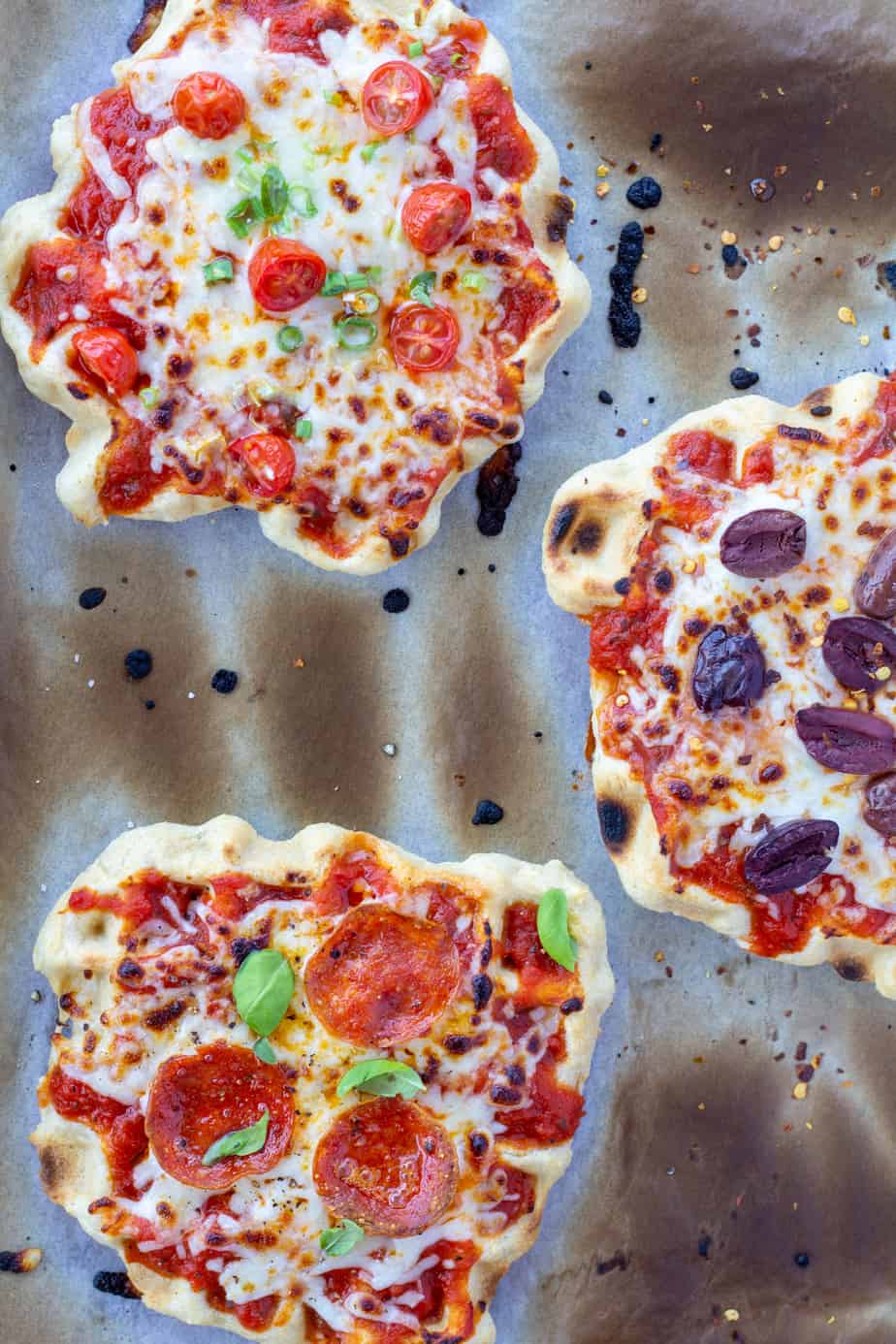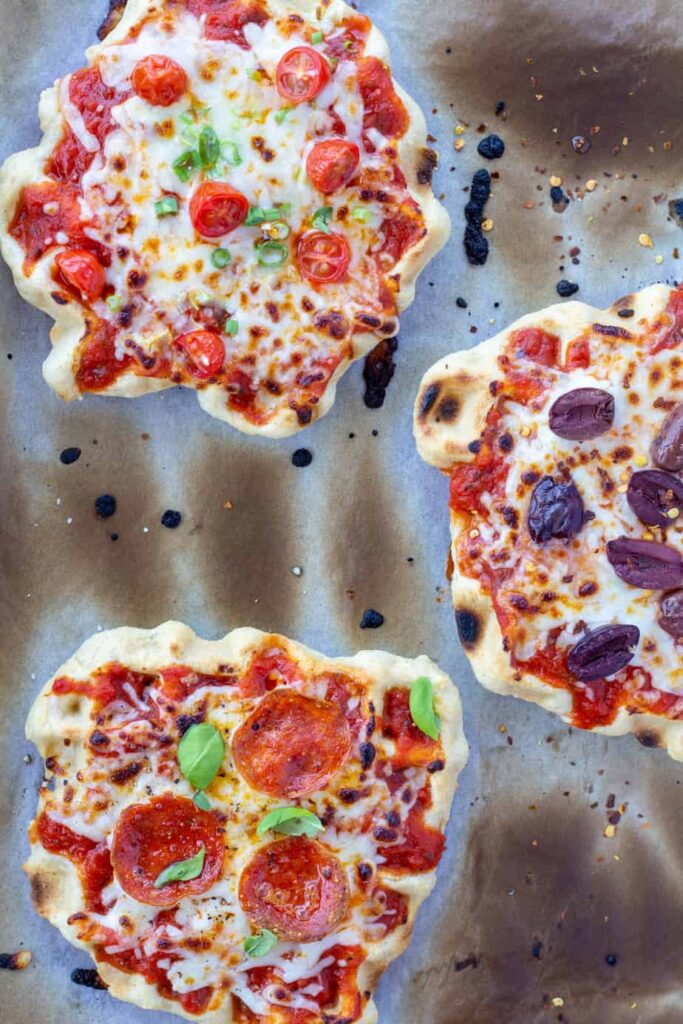 When we were visiting family in Boise, Idaho last year, my sister, Ali, had all the family over to her house for dinner. Keep in mind there are almost more kids in our family than adults, and I thought her dinner idea for Waffle Pizza was amazing!
The kids loved customizing their own pizzas and were tickled by the idea of having waffle shaped pizza.
The idea was so simple and yet original, I knew I had to share it as soon as I got home. You can make the pizza dough yourself if you want, but using the store-bought stuff is great too.
How to make Waffle Iron Pizza
Make your pizza dough or buy a pre-made one from the store. Be sure to thaw it if it's frozen.
Gather your pizza toppings and turn on your waffle iron. Spray some oil on the iron to keep the dough from sticking.
Stretch the dough out to individual pizza sizes. About 6 inches around or smaller depending on how big your waffle iron is.
Place the dough on the hot waffle iron and close the lid. Most irons have a temperature gauge to tell you when it's done, but I recommend opening the lid and checking to make sure it gets to the perfect level of crispiness.
Carefully remove the dough with a fork and place it on a baking sheet.
Layer your toppings on the waffle crust starting with a sauce, then the veggies and meats, and finally, the cheese.
Broil the pizzas all-together or one at a time.
Enjoy!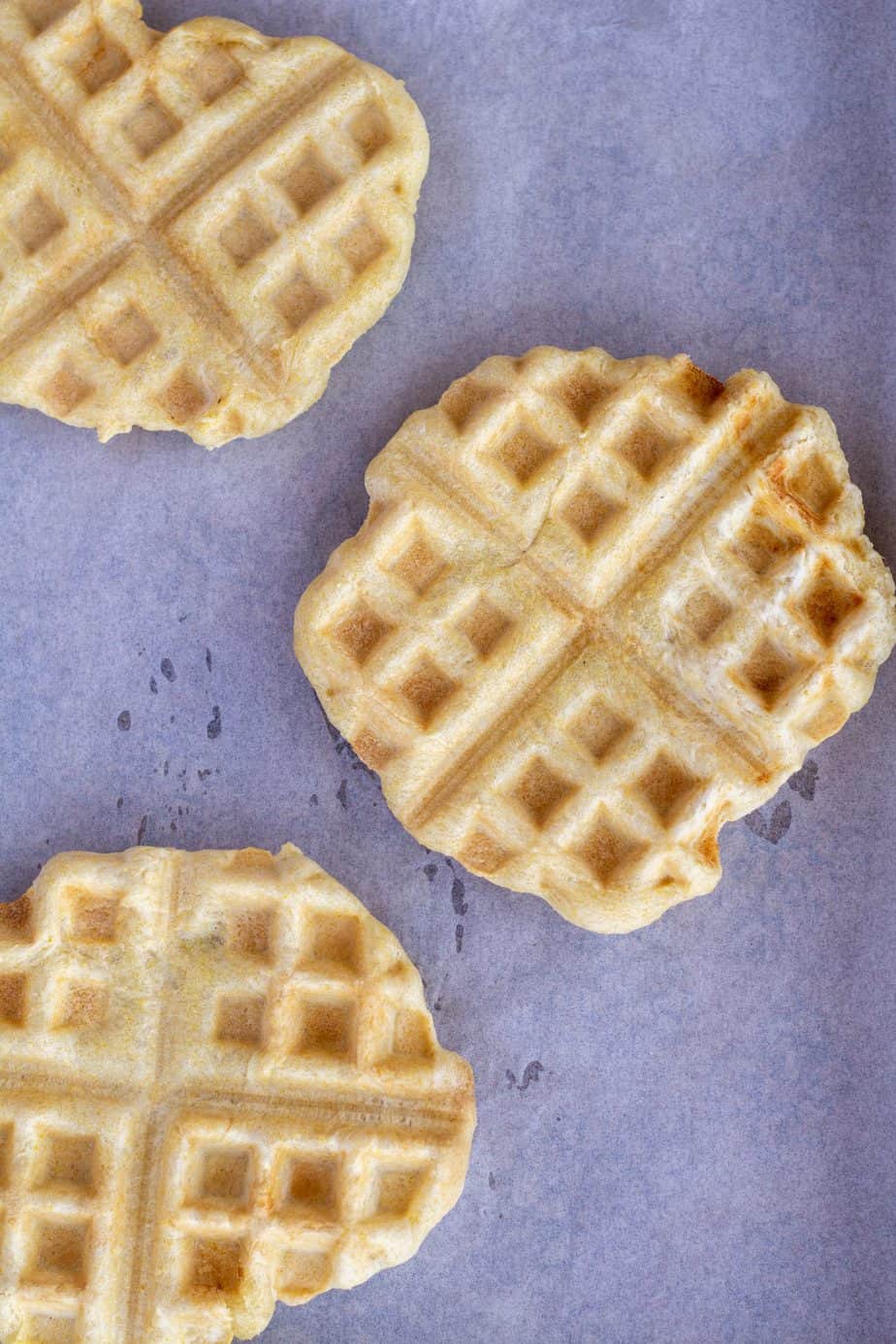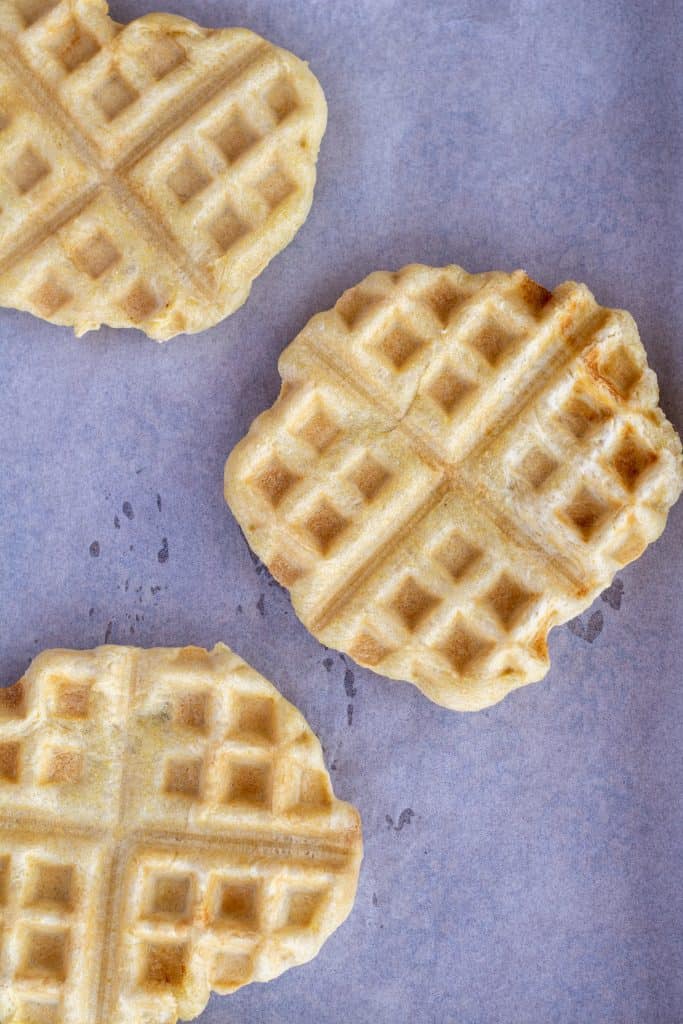 Toppings for your Waffle Iron Pizza
Sauce: marinara, pesto, BBQ, alfredo, ranch dressing
Meats: sausage, pepperoni, hamburger, prosciutto, ham, bacon, chicken, salami, chorizo, shrimp, capicola
Veggies: onions, garlic, bell peppers, artichokes, olives, tomatoes, mushrooms, pineapples, jalapeño, spinach, sun-dried tomatoes, roasted garlic, caramelized onions, peperoncinis, cherry tomatoes, banana peppers, arugula, zucchini
Herbs: basil, oregano, rosemary, thyme
Cheese: grated mozzarella, buffalo mozzarella, parmesan, cheddar, asiago, provolone, feta, ricotta, goat, blue cheese
How to store Waffle Iron Pizza
Use them in a couple of days: If you make too many pizza crusts you can always stick them in an air-tight container or bag for up to 3 days and leave them on the counter if you plan to use them quickly.
Keep them fresh for months: If you would rather, you can freeze them for up to 3 months. I recommend wrapping them in plastic wrap and then putting them in an air-tight bag first, to prevent freezer burn.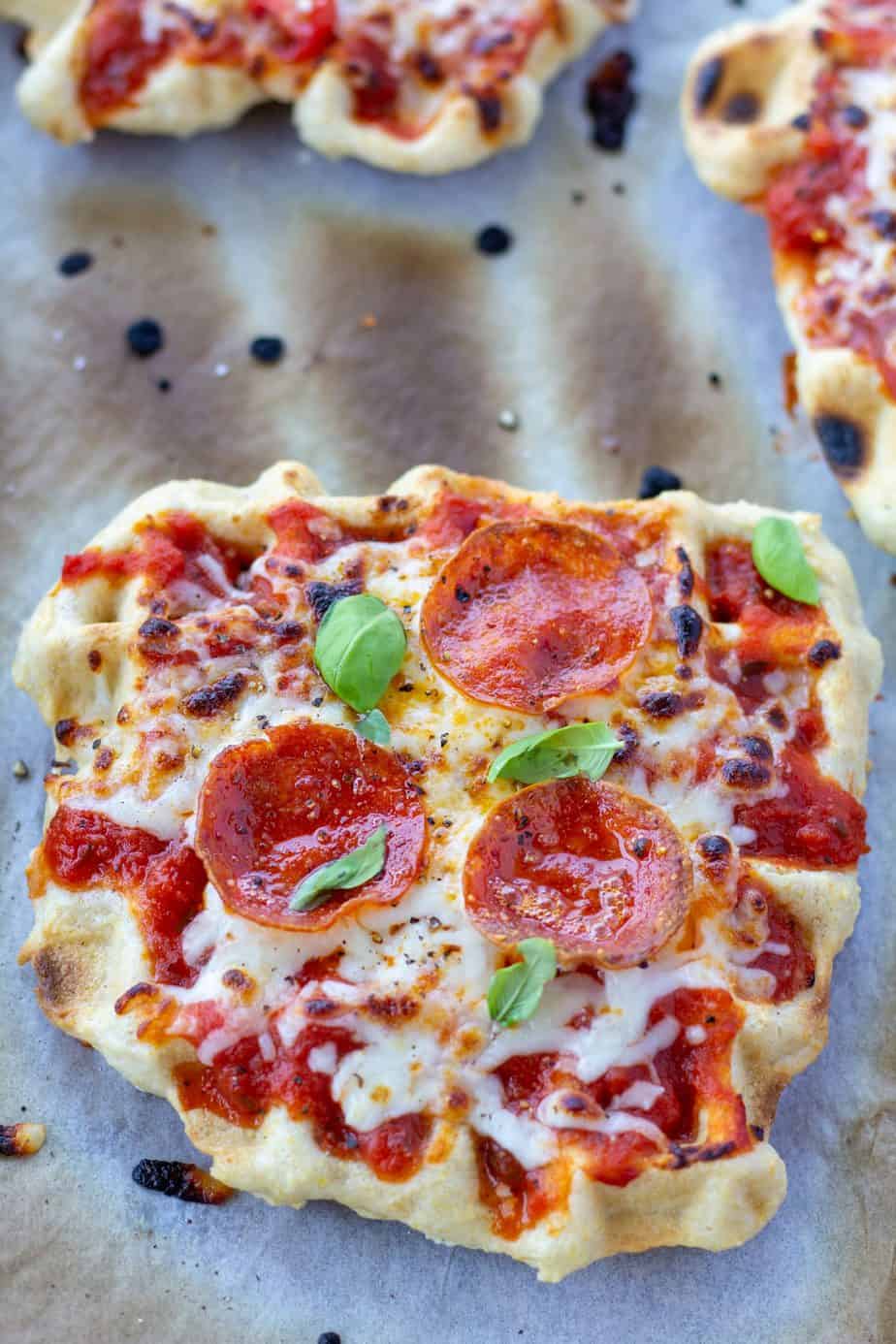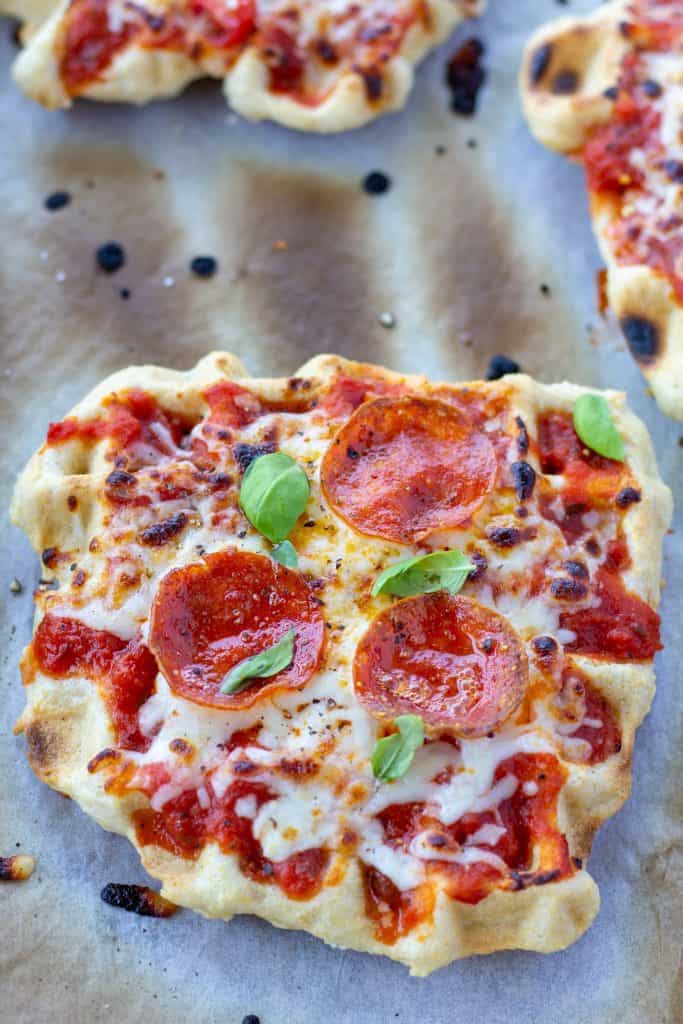 Variations
Gluten-free: Along with the pizza toppings, you can make the crust and sauce gluten-free. It's super easy to make your pizza dough without gluten by using gluten-free flour. The Minimalist Baker has some great tips on how to do this: Gluten-Free Pizza Crust + Sauce.
Crust flavors: I love adding a little something to my pizza crust to really amp up the flavors. A couple of my favorites are whole (or partially crushed) peppercorns, herbs (oregano, rosemary, thyme), and cheese (parmesan, mozzarella). Anything you add as a topping just increases the flavor of the wonderful crust.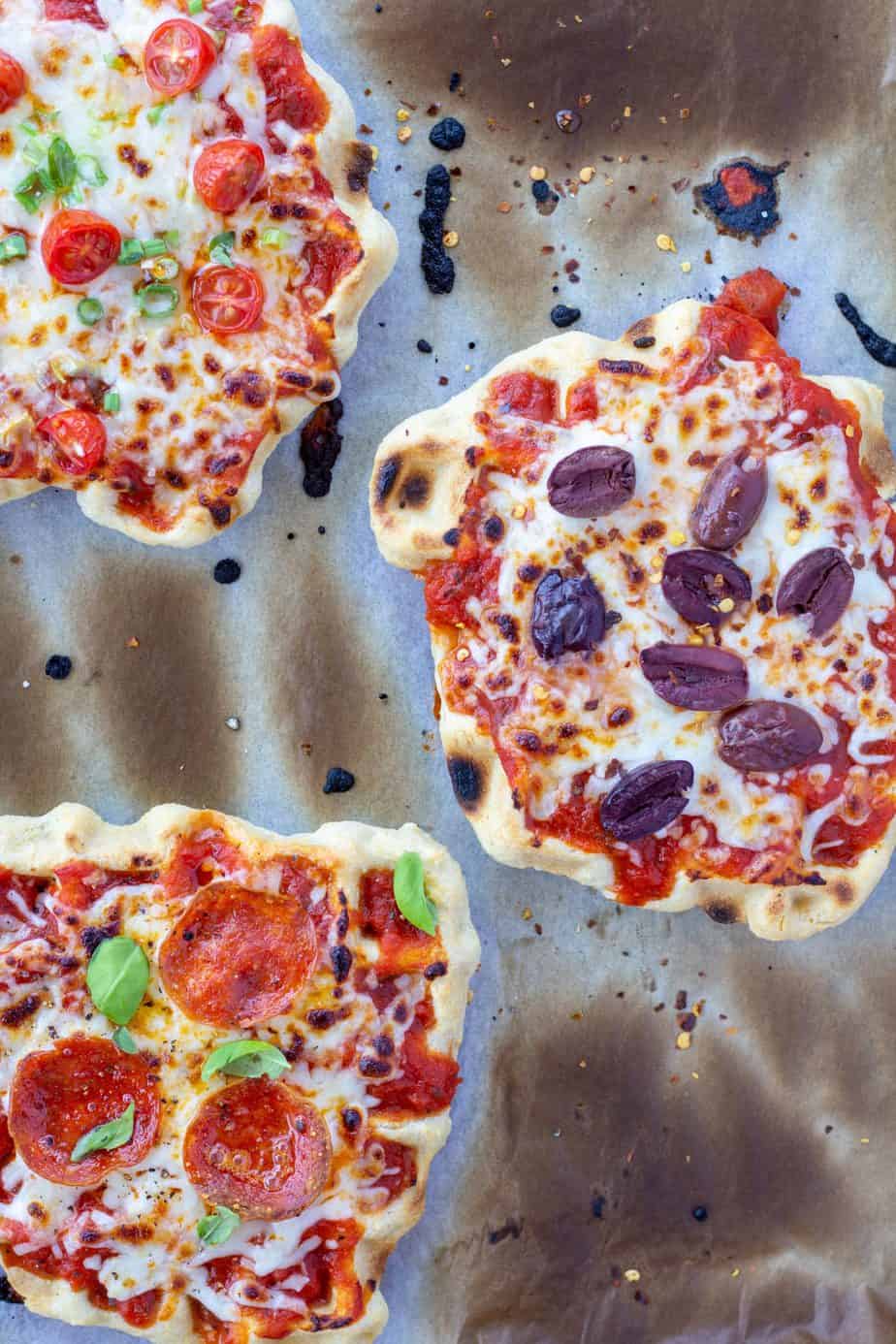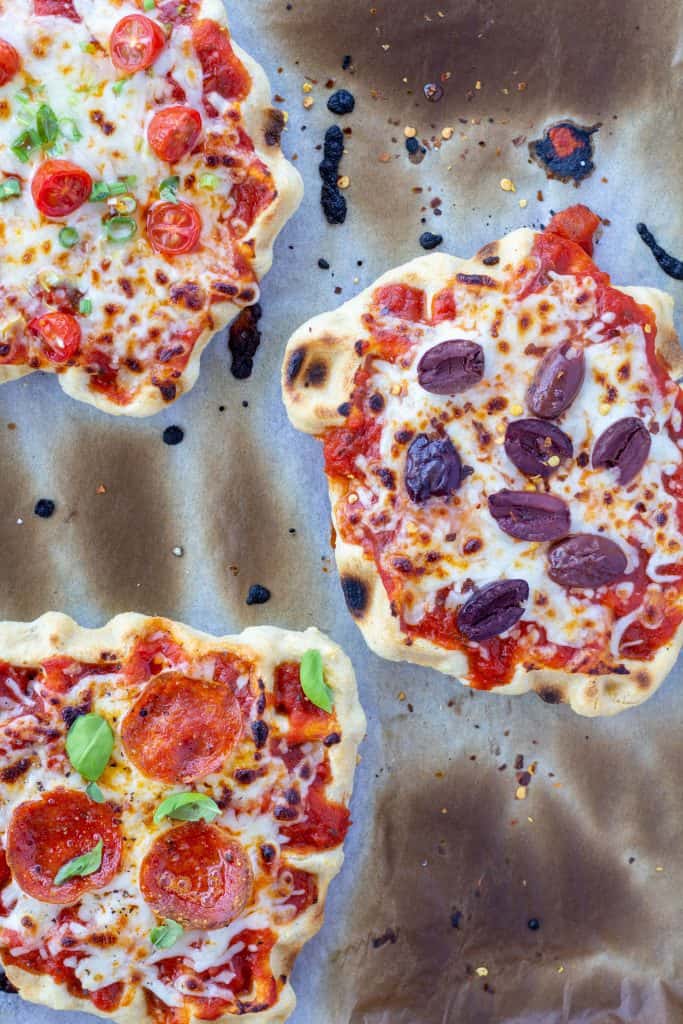 Mistakes I made
Burned the crust: Make sure your waffle iron isn't too hot and you're checking it periodically to make sure it's not burning in there.
Burned the toppings: (Can you tell I burn stuff??) I tend to get caught up doing other kitchen-y things and forget about whatever it is I have broiling. Does that sound familiar? Make sure to either set a timer for this part or force yourself to stand in front of the oven until it's done.
Didn't thaw the frozen pizza dough all the way: When I've used frozen pizza dough I've gotten ahead of myself and put it in the waffle iron before it was completely thawed. This resulted in an uncooked center. Not pleasant. I recommend putting it in the fridge for at least 8 hours before you start cooking. Alternatively, you can put it on the counter for up to one hour before cooking. Don't leave it out any longer than that or you will start crossing food safety lines.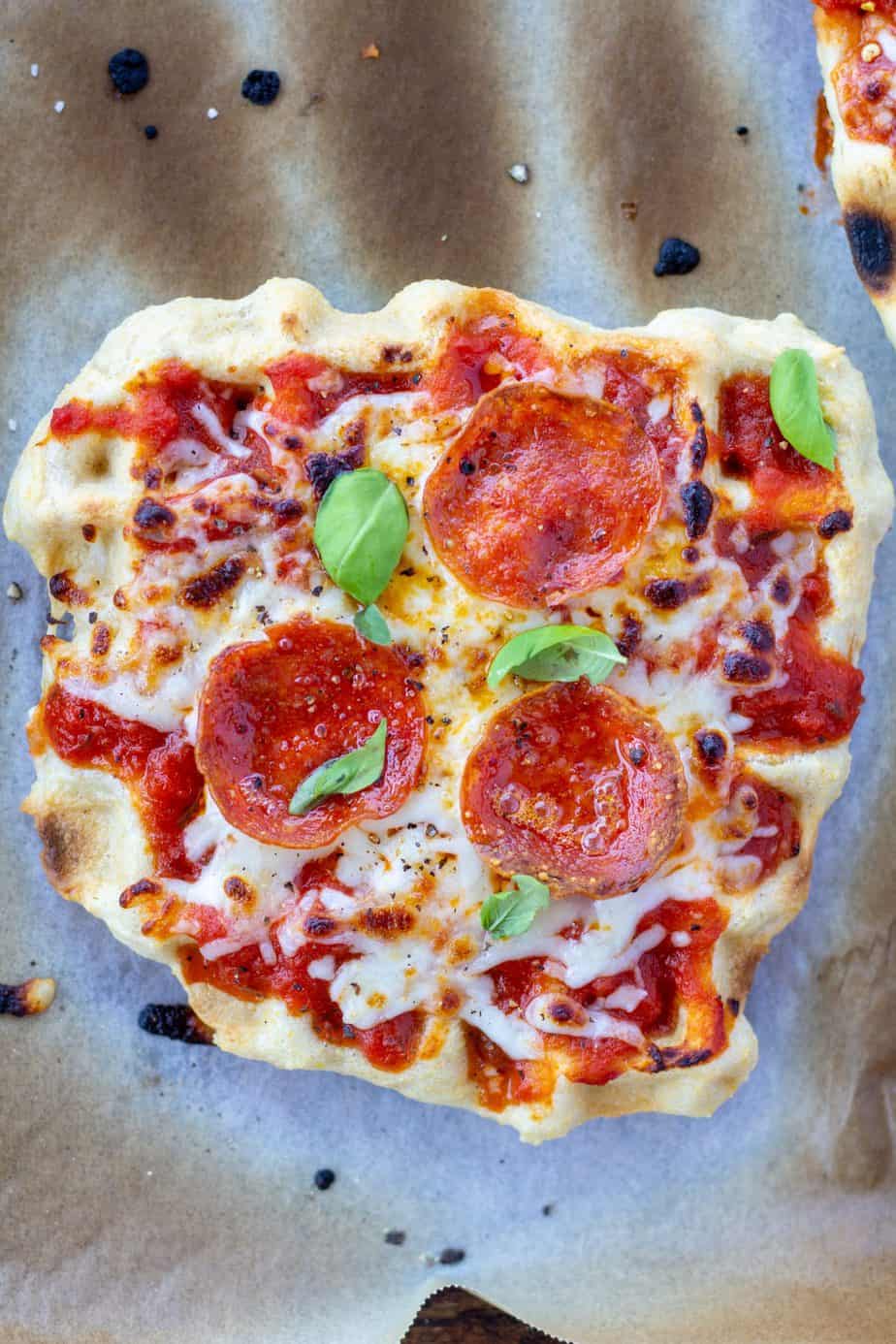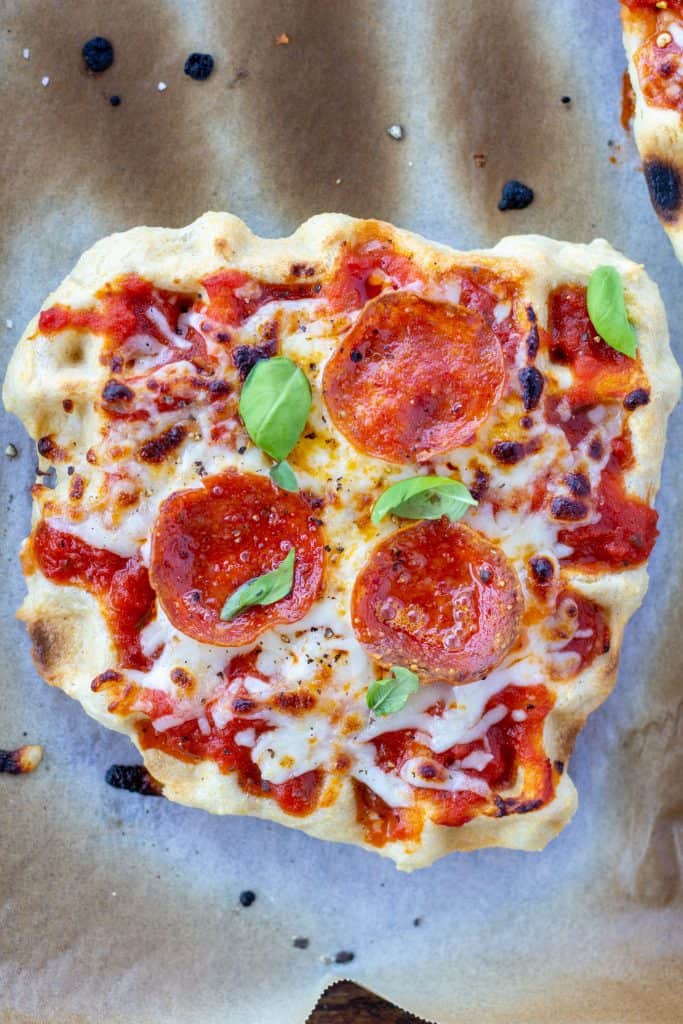 This pizza goes great with these Super Easy Moscow Mules for a perfect summer evening meal!
If you try it out, let me know how it goes in the comments or on Instagram, Facebook, or Pinterest.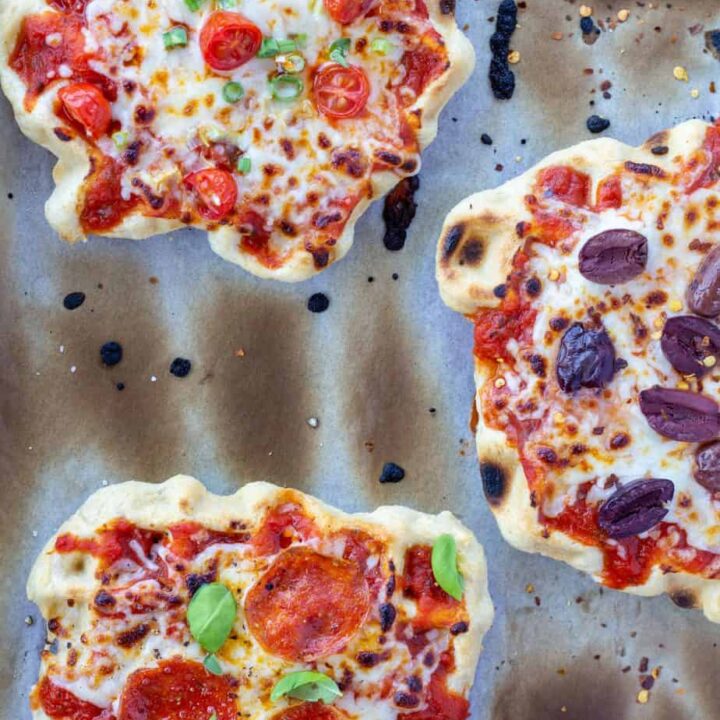 Waffle Iron Pizza (Kids love it!)
Waffle Iron Pizza crust is cooked by using a waffle iron. Pile on your toppings afterward and toast it up in the oven. Kids love helping to make these individual pizzas! You can make the crust gluten-free too.
Ingredients
1 pizza dough homemade or store-bought
1 jar of marinara sauce or sauce of your choice
Instructions
Heat the waffle iron and preheat the oven to Broil.
Take a handful of dough and make it into a circle no bigger than your waffle iron.
Spray the waffle iron with cooking oil to make sure the dough doesn't stick. Place the dough in the center and close the lid. Leave in until the dough is cooked all the way through and lightly brown on top.
Spread sauce over the crust, then a layer of cheese, and finally add your favorite toppings.
Place the pizza on a baking sheet and put in the oven on the second rack from the top. You don't want the cheese to burn before everything gets warm. When everything is bubbling nicely, remove the pizza, slice, and serve.
Notes
Keep an eye on the crust in the waffle iron and the oven to make sure it doesn't burn. 
If you're adding fresh herbs or greens on top, I suggest adding them after you've broiled the pizza. The herbs will wilt nicely on the hot pizza.  
Topping Ideas
Cooked Italian sausage
Pepperoni
Black olives
Banana peppers
Roasted garlic
Green onions 
Pineapple 
Ham 
Roasted chicken 
Spinach
Mixed spring greens 
Pepperoncinis 
Fresh or grated mozzerella 
Parmesan 
Mozzarella
Nutrition Information:
Yield:

4
Serving Size:

1
Amount Per Serving:
Calories:

51
Total Fat:

1g
Saturated Fat:

0g
Trans Fat:

0g
Unsaturated Fat:

1g
Cholesterol:

1mg
Sodium:

314mg
Carbohydrates:

8g
Fiber:

1g
Sugar:

3g
Protein:

1g