Crockpot BBQ Chicken tacos are super easy to make and are ready in just 4 hours. Cooked with barbeque sauce served with crunchy slaw for an extra flavor boost that really pops!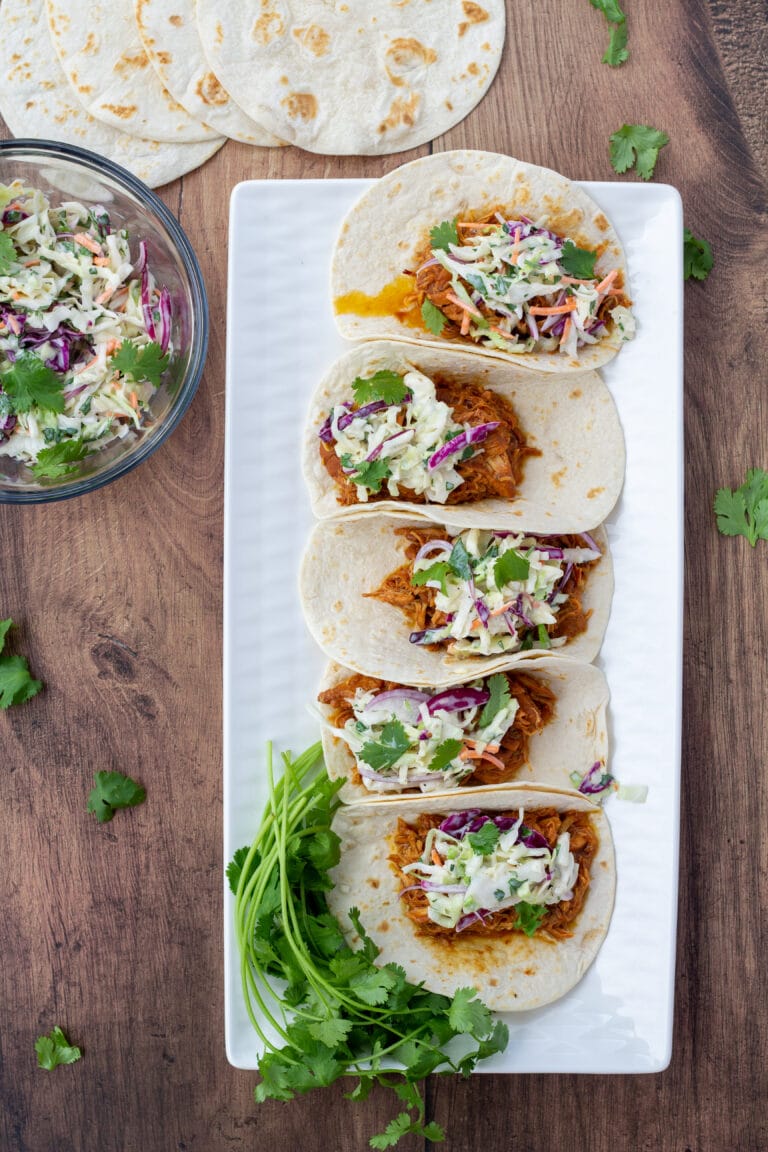 We love Taco Tuesdays at our house and these crockpot BBQ chicken tacos are the best! Since chicken doesn't take as long as other meats to break down, it doesn't need to be in the slow cooker as long. I love this because who's thinking about making dinner at 9 am? Not me!
For this recipe, you can use skinless, boneless chicken breasts or skinless, bone-in chicken breasts or thighs. Personally, I like thighs better since they tend to be more flavorful. Either way, putting these tacos together is so easy, you'll barely have any clean-up. Which is my kind of night!
Ingredients for crockpot BBQ chicken tacos
I tend to find that chicken tacos made with a jar of salsa on top just never turns out very flavorful in the end. I always feel something is missing, that it's bland. Because of this, I've played with the ingredients and have come up with the perfect combination that is delicious every time. Here they are:
Chicken
Salt & Pepper
BBQ sauce
What's in the sauce?
After they've cooked in the crockpot, you'll have a nice base. When they are done, drizzle a little more BBQ sauce on top to really let the flavor shine.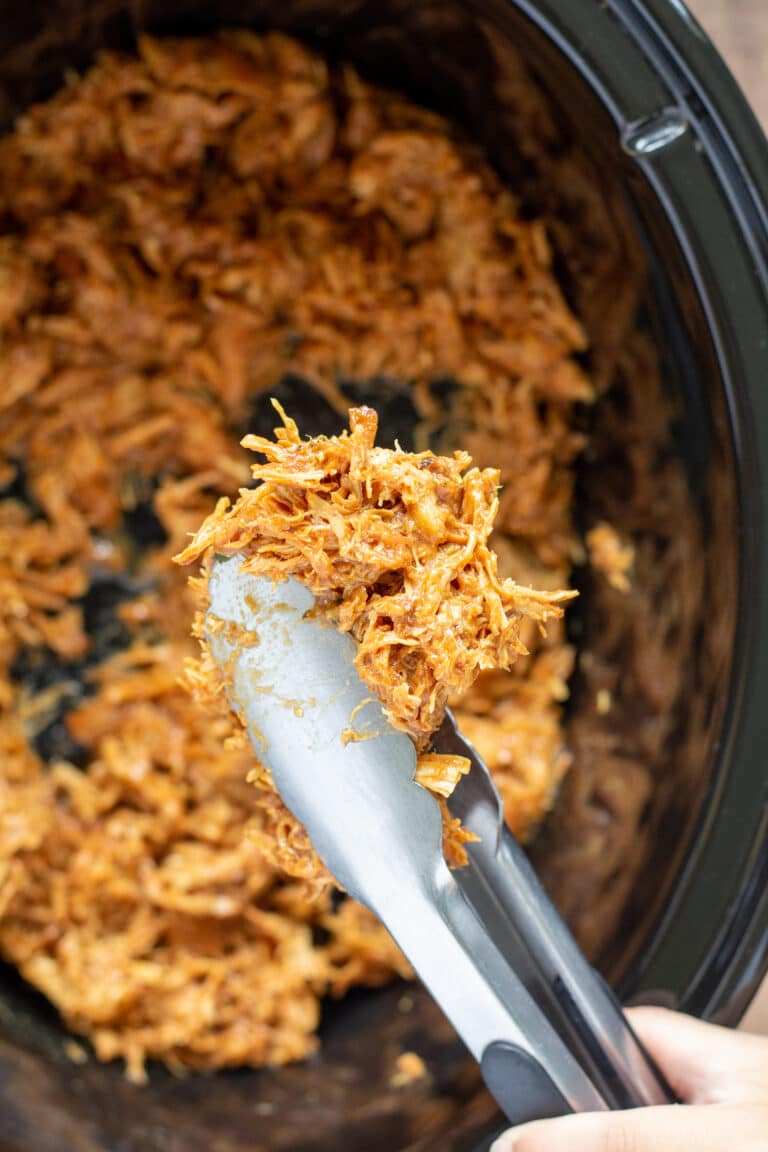 How to make the crunchy slaw
A creamy crunchy slaw is the perfect topping for shredded crockpot chicken tacos. Since the tacos are soft and chewy, the crunchy slaw provides texture and overall balance to the meal.
White and red cabbage
Sliced red onions
Mayonnaise
Apple cider vinegar
Cilantro
Salt and pepper
Make the slaw ahead of time, cover, and put in the fridge to allow the flavors to all come together. This also allows for a more stress-free dinnertime.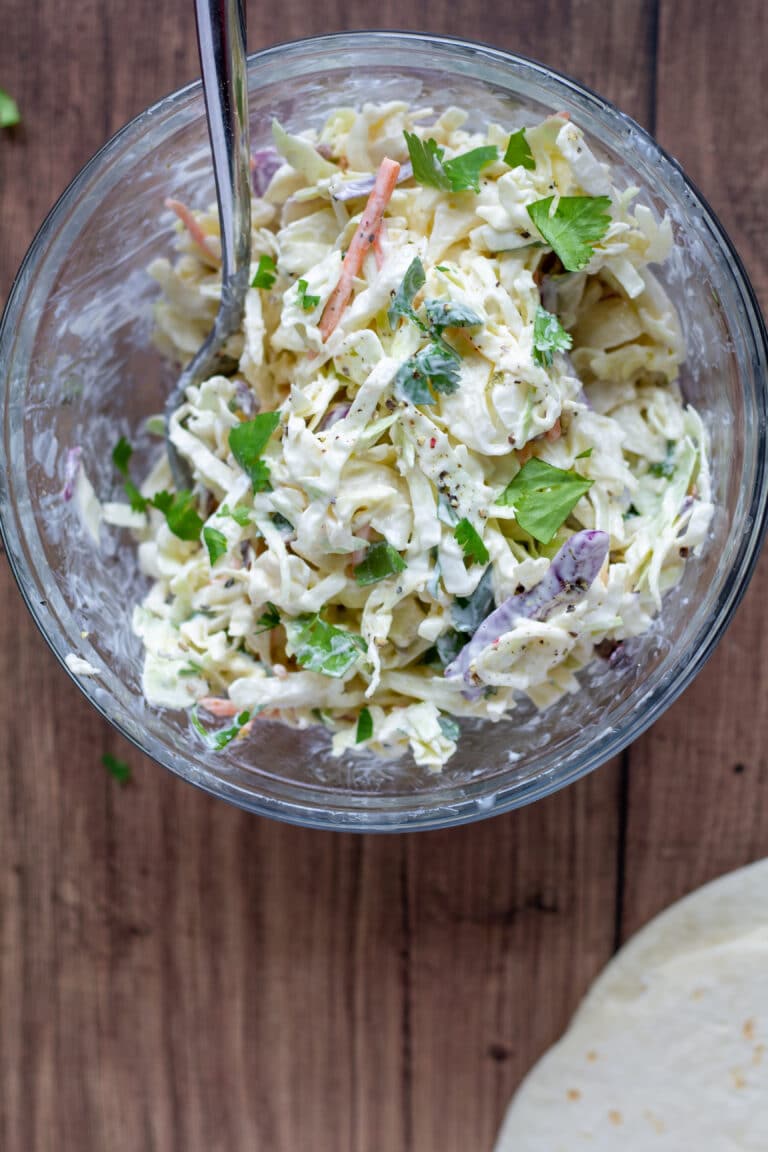 How to make shredded crockpot BBQ chicken tacos
I find that the chicken gets tough and loses flavor if left in the crockpot for longer than 4 hours. I honestly don't even think it needs more than 3.
Combine the chicken, BBQ sauce, and water, and set it to 4 hours.
Drizzle a little more BBQ sauce in the crockpot (if needed) and use tongs to shred the chicken.
Heat the tortillas one at a time by putting them in a saute pan on medium heat. Lightly brown them on both sides. When you're done, wrap them in aluminum foil to stay warm.
Layer a tortilla with chicken and the crunchy slaw on top.
Eat it all! (Feel free to lick your fingers!)
How to store these easy crockpot chicken tacos
Refrigerate: You can store the chicken and slaw in separate air-tight containers in the fridge for up to 3 days.
Freeze: Put the chicken in an air-tight bag and lay flat to freeze so it's easier to store. Label the bag with the name and date with a Sharpie. You can keep it in the freezer for up to 3 months.
Do you recommend a side?
Yes, I do! Try this amazing Crispy Cast-Iron Skillet Cornbread as a side for the tacos.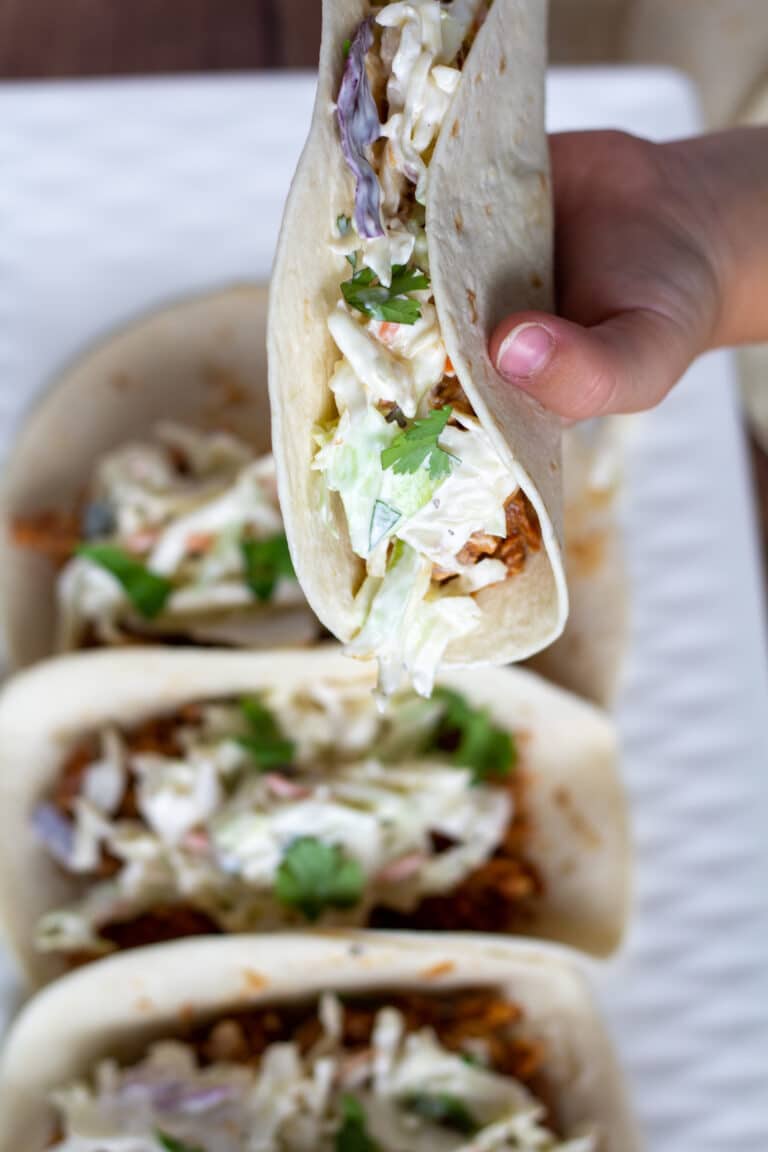 You may also like...
If you try it out, let me know how it goes in the comments or on Instagram, Facebook, or Pinterest.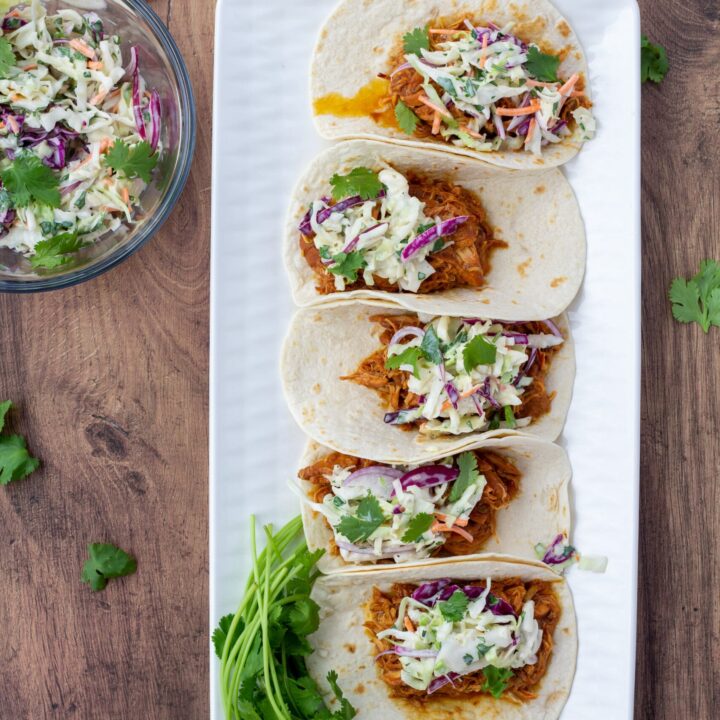 Crockpot BBQ Chicken Tacos with Crunchy Slaw
Total Time:
4 hours
5 minutes
BBQ Crockpot chicken tacos are super easy to make and are ready in just 4 hours. Cooked with barbeque sauce served with crunchy slaw for an extra flavor boost that really pops!
Ingredients
BBQ Chicken
2 pounds chicken breasts or thighs
½ teaspoon salt
½ teaspoon pepper
1 cup BBQ sauce
1 cup water
Crunchy Slaw
1 bag of red and white cabbage
¼ red onion thinly sliced
2 tablespoons cilantro chopped
¼ cup mayonnaise
2 tablespoons apple cider vinegar
salt & pepper
Instructions
Place the chicken in the crockpot, sprinkle with salt and pepper, pour in the BBQ sauce and water, and stir it all together. Cook on high for 4 hours.
Combine all the ingredients for the slaw in a medium sized bowl and stir together. Cover with plastic wrap and put in the fridge if you are making it ahead of time.
Heat flour or corn tortillas in a saute pan on medium heat until lightly browned on each side.
Shred the chicken with two tongs or forks in the crockpot.
Layer a hot tortilla with chicken then slaw, and any extra cilantro.
Enjoy!
Nutrition Information:
Yield:

8
Serving Size:

½ cup
Amount Per Serving:
Calories:

334
Total Fat:

12g
Saturated Fat:

3g
Trans Fat:

0g
Unsaturated Fat:

8g
Cholesterol:

120mg
Sodium:

690mg
Carbohydrates:

15g
Fiber:

1g
Sugar:

12g
Protein:

40g