These easy breakfast smoothies are packed with fiber and nutrients for a healthy start to your day. Here are 6 recipes for a full week of detox.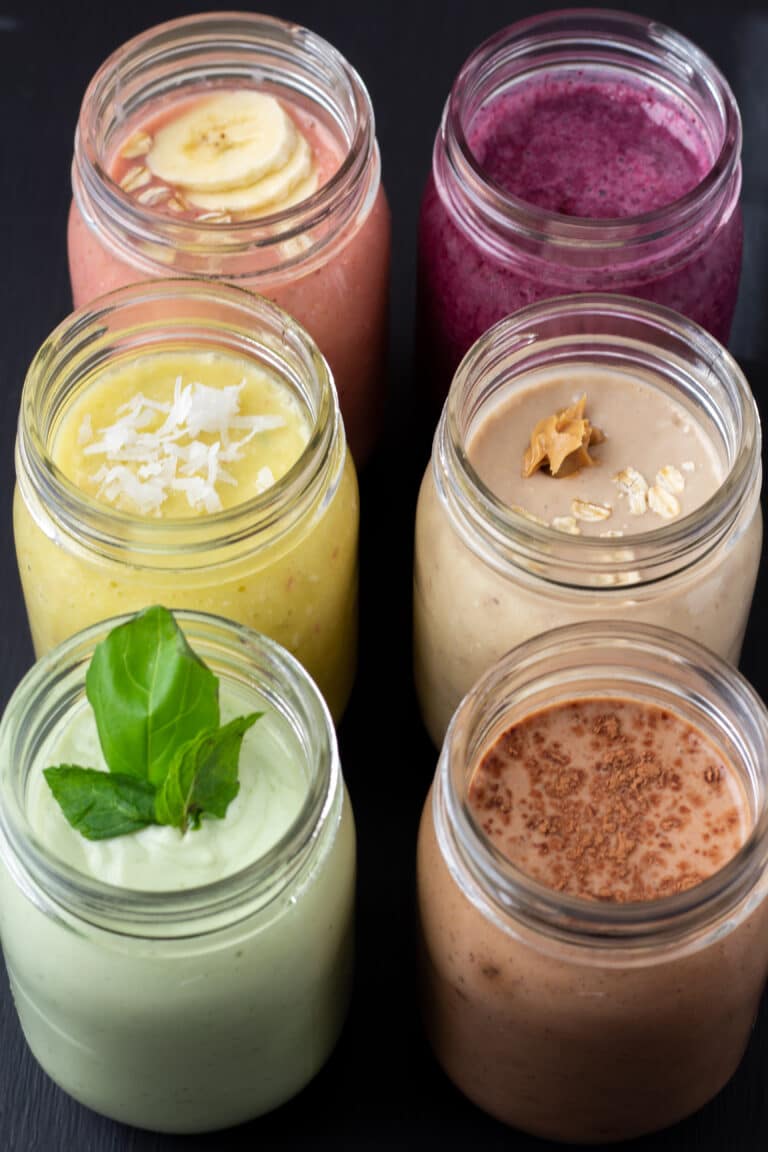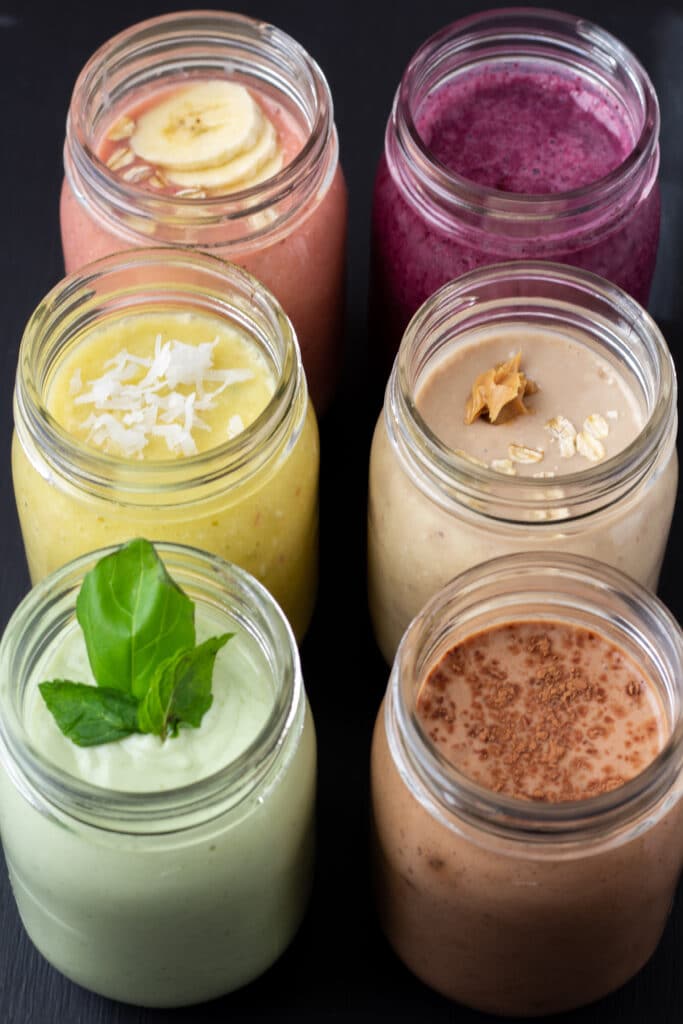 Some of the links below are affiliate links, meaning, at no additional cost to you, I will earn a small commission if you click through and make a purchase.
Breakfast is the hardest meal for me to prepare for. It's hard to wake up early enough to make a nice spread of healthy food. I started looking for things I could make the night before or something quick but filling I could make in the morning. These easy breakfast smoothies and these overnight oats filled those requirements and then some. They are healthy and taste amazing! And let's face it, taste is an important factor.
How to make easy breakfast smoothies
Smoothies are easy to make but there are a couple of important things to keep in mind.
The liquid always goes first. This helps the blender mix up the frozen fruits more easily.
Blend any greens first. If you are putting greens in your smoothie, blend them with the liquid first to make them smooth.
Use sliced frozen fruit. Freeze your fruit sliced or buy sliced frozen fruit to use for two reasons. The first is because sliced fruit is easier to blend. The second is so you don't need to use ice to make the smoothie cold. This will water down your smoothies, which is alright in some cases, but in general, it's not ideal.
Smoothie ingredients
I have created 6 easy breakfast smoothie recipes that are quick, healthy, and will start your day off with energy. Here are all the ingredients that you will need to make them as well as ideas for mixing and matching on your own.
strawberries
bananas
old fashioned oats
vanilla yogurt
plain yogurt
orange juice
blueberries
lemon juice
honey
almond milk
2% or whole milk
pineapple chunks
shredded coconut
mango
coconut water
peanut butter
mint leaves
basil leaves
lime juice
ripe avocado
chocolate baking powder
sliced dates
almond butter
How to turn these easy breakfast smoothies into meal prep
Smoothies are the perfect breakfast for meal prep because the ingredients freeze well.
Put the ingredients for one smoothie, except the liquid, in a quart-size freezer bag. Squeeze out the air and seal. Label the bag, using a marker, with the recipe title and date. Place the bag(s) in the freezer until you're ready to blend them.
In the morning, pour the contents of the bag into a blender and add the liquid. Blend until smooth.
Recommended tools for making smoothies
Blender: I had a cheap blender for a long time until I decided to invest in a high-powered one I got this

Vitamix blender

a couple of years ago and I love it. Although, it's not necessary to use one of these to make smoothies.

This one

from Ninja works great as well.
Strainer: Some smoothies are made with fruit that have lots of seeds (I'm lookin' at you blackberries) and I don't like getting them all stuck in my teeth. I use

this strainer

to get them out.
Mason jars: I like using

mason jars

to pour the smoothies in after they are blended. These

stainless steel water bottles

are great as well because they keep them cold all day.
Freezer bags: When doing breakfast meal prep, quart-sized freezer bags come in super handy.
Are smoothies good for you?
Smoothies have many health benefits because of all the good stuff that goes into them. They are also a great way to get an injection of your daily fruits and vegetables. They are packed with fiber, calcium, Vitamin C, Vitamin A, and protein. For more info about the health benefits of smoothies, see this article from Healthline.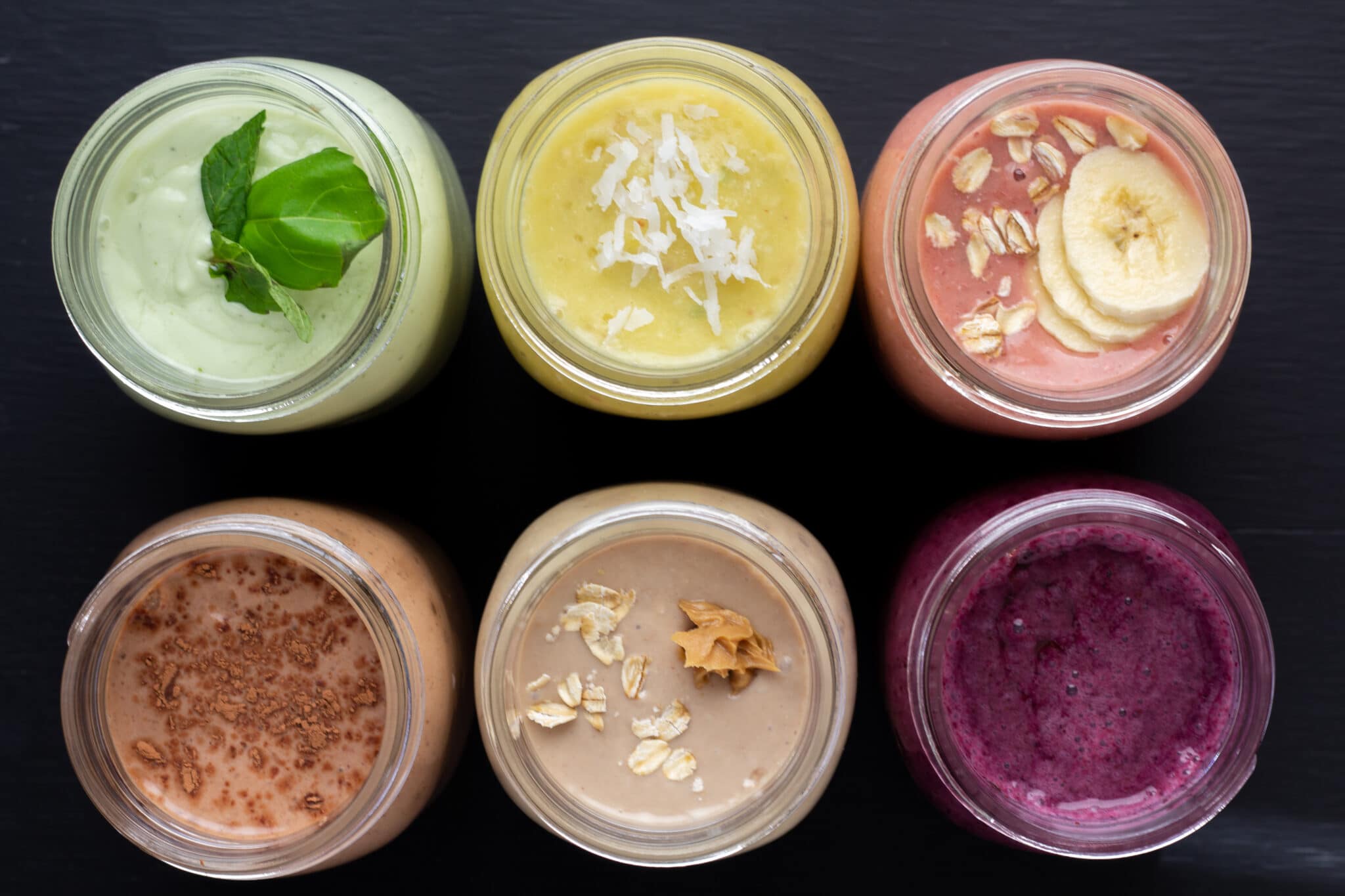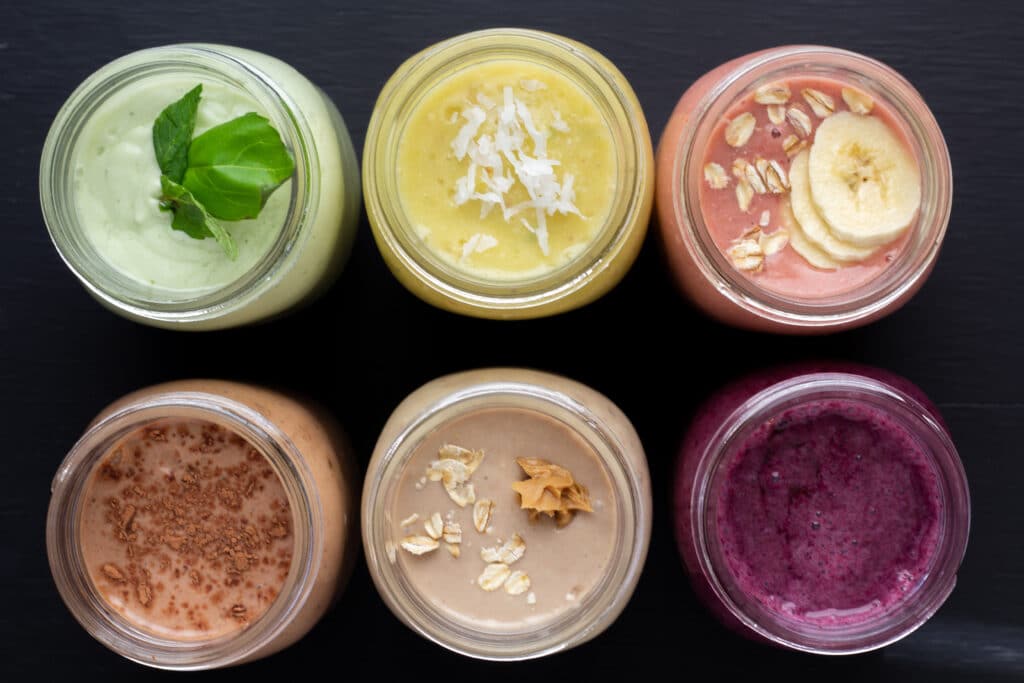 If you try it out, let me know how it goes in the comments or on Instagram, Facebook, or Pinterest.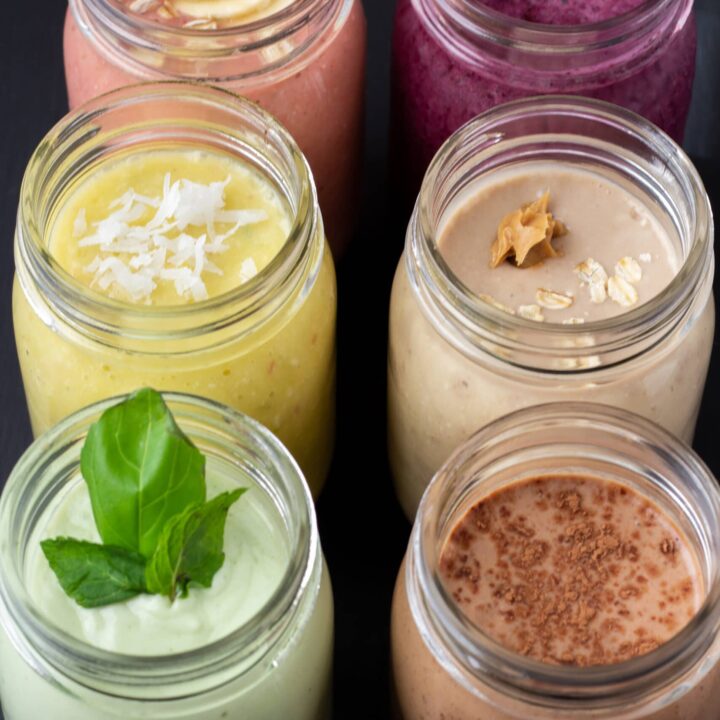 6 Easy Breakfast Smoothies for Busy People
These easy breakfast smoothies are packed with fiber and nutrients for a healthy start to your day. Here are 6 recipes for a full week of detox.
Ingredients
1 cup strawberries
2 banana
½ cup old fashioned oats
2 cups vanilla yogurt
½ cup plain yogurt
½ cup orange juice
1 cup blueberries
½ lemon
3tbsps honey
1 cup almond milk
½ cup 2% or whole milk
½ cup pineapple chunks
¼ cup shredded coconut
1 peeled and chopped mango
1 cup coconut water
¼ cup peanut butter
5 mint leaves
5 basil leaves
1 lime juice
1 ripe avocado
1 tbsp chocolate baking powder
½ cup sliced dates
¼ cup almond butter
Instructions
Add the liquid to a blender first, then the rest of the ingredients.
Put on the lid and blend until smooth.
Add any toppings you want.
Notes
Strawberry Banana & Oats
1 cup frozen strawberries, sliced
1 frozen banana, sliced
¼ cup vanilla yogurt
½ cup orange juice
½ ice


Blueberry Lemon
1 cup frozen blueberries
1 tablespoon lemon juice
1 tablespoon honey
½ cup almond milk
½ cup ice
Pineapple Coconut
½ cup frozen pineapple chunks
½ cup shredded coconut
1 peeled and chopped mango
½ cup coconut water
½ cup ice

Peanut Butter Banana
1 frozen banana, sliced
¼ cup peanut butter
¼ cup old fashioned oats
½ cup vanilla yogurt
½ cup almond milk
½ cup ice

Basil Mint Avocado
5 mint leaves
5 basil leaves
1 tablespoon lime juice
1 ripe avocado
½ cup plain yogurt
½ cup coconut water
2 tablespoons honey
½ cup ice

Chocolate Date
1 tablespoon chocolate baking powder
½ cup dates, sliced
¼ cup almond milk
½ cup 2% milk
½ cup vanilla yogurt
½ cup ice
Nutrition Information:
Yield:

6
Serving Size:

1
Amount Per Serving:
Calories:

526
Total Fat:

21g
Saturated Fat:

5g
Trans Fat:

0g
Unsaturated Fat:

14g
Cholesterol:

7mg
Sodium:

269mg
Carbohydrates:

79g
Fiber:

11g
Sugar:

56g
Protein:

14g