It's never too late to learn how to use a chef's knife in the kitchen. Whether you are just starting out or you have been making dinner every night for years, it's important to have good control over your food and your safety.
We all start at the beginning when learning something new. Cooking with knives is no exception. I, for one, had no idea what I was doing with them for a long time. It wasn't until I started getting serious about cooking for my family that I took the time to learn how to properly use knives.
You guys know I love learning new things and have dedicated Salty Lemon Sister to the pursuit of all things kitchen knowledge. In light of that, I want to cover this basic but essential part of cooking.
Don't worry, this is going to be fun! I have lots of tips and tricks sprinkled throughout to keep you on your toes. If you'd like all this info distilled into a handy e-book, I've got you covered!
***If you're looking for more Food for Thought articles, you may like Food Safety Rules and Guidelines or 15 Tips On How To Take Advantage of Your Time at Home.***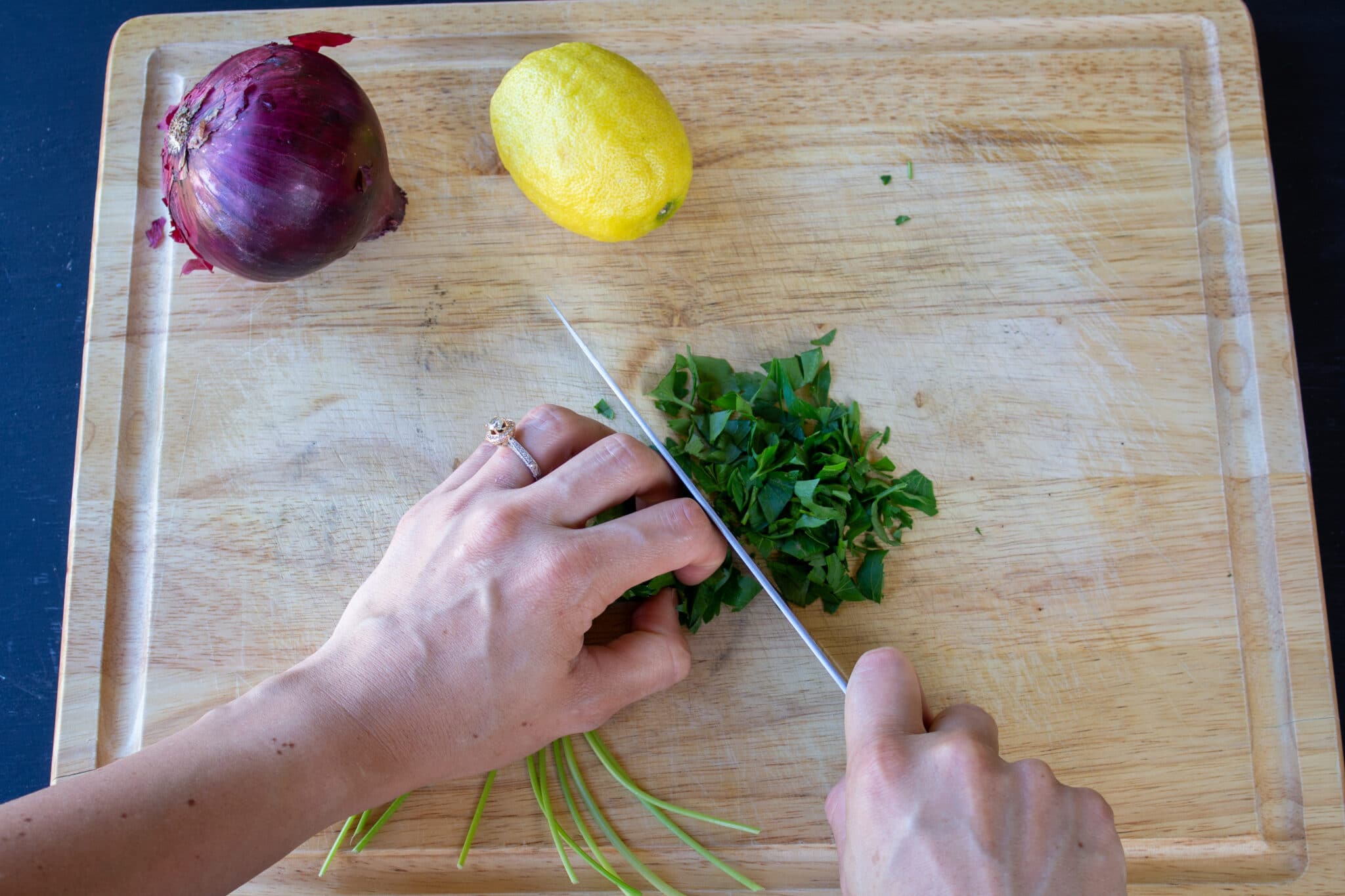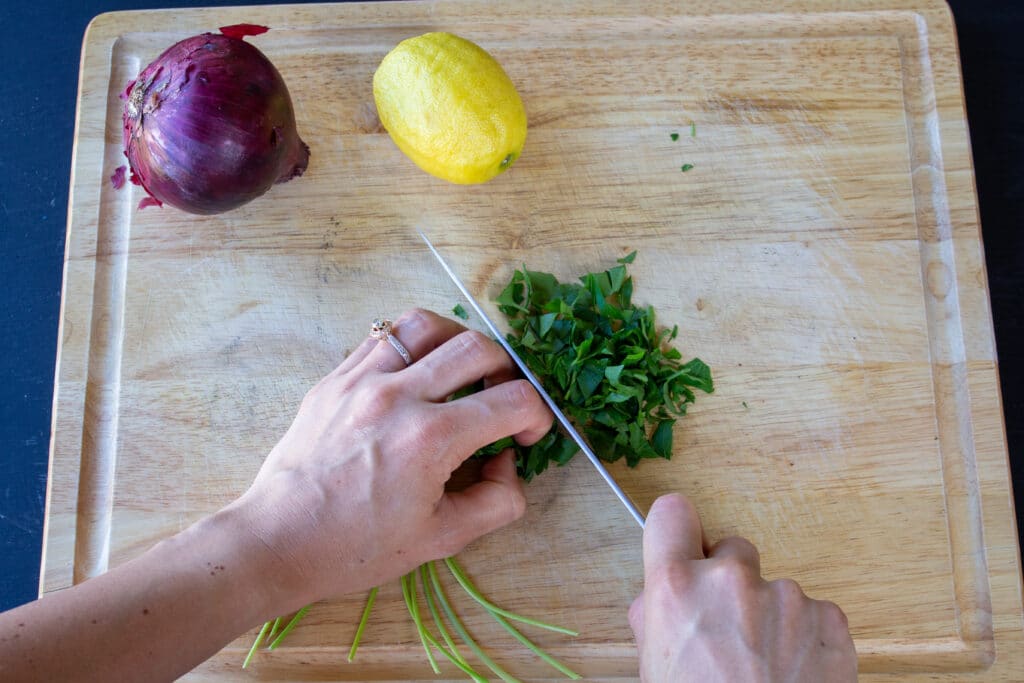 What you need to know to use a chef's knife in the kitchen
Knife Safety
There are a few things you need to be aware of when you use knives in the kitchen to make sure you're staying safe.
Never attempt to catch a falling knife.
When passing a knife, lay it down or pass it with the handle first.
Don't allow a knife to hang over the side of a table or cutting board.
Don't use knives to open bottles, loosen drawers, or separate frozen food.
Don't place knives where they can't be seen, especially in a filled sink.
Carry an unsheathed knife at your side with the sharp side facing behind you.
Never use a dull knife.
Always cut away from your body.
Knife care
A dull knife is a dangerous knife. If you've never heard that saying before, I want to make sure you know what it means.
Imagine you have a dull knife in your hand and you are trying to cut a piece of raw steak for beef stew. You try to slice the beef but end up sawing through it instead. It's hard going so you press down harder. Halfway through, the knife hits an odd angle and slides to the side right where your guiding hand happens to be, slicing a huge gash across your palm.
Ok, now imagine you have a sharp knife. You set the meat down, hold it securely, and slice right through it.
Make sure your knives are always sharp!
Hone your knife before and after every use to keep it sharp.
Don't wash your knives in a dishwasher.
Clean your knife holders and blocks often.
Clean your knives by using hot, soapy water and dry with a clean towel moving away from your body.
Never put a knife in a sink or bowl filled with murky water. **My mom likes to wash dishes in the sink and has plopped knives in there to wash later only to reach in and get a finger sliced.
Take a look at this video from Tasty for a lesson on how to sharpen your knives.
Cutting boards
Make sure your cutting boards are stable by laying a clean damp cloth or rubber mat underneath them.
Don't use warped cutting boards since they are unsteady.
Clean your cutting board between foods to prevent cross-contamination.
Clean your cutting boards with hot, soapy water.
Use color-coded boards to help prevent cross-contamination.
For more info about cross-contamination, take a look at this article: Food Safety Rules & Guidelines.
How to hold a knife: 3 ways
Learning how to hold a chef's knife in the kitchen is half the battle. I've taken some photos that show them in more detail for you. I've shown some examples with my left hand and some with my right.
1. Grip the handle with 4 fingers with the thumb on the blade spine.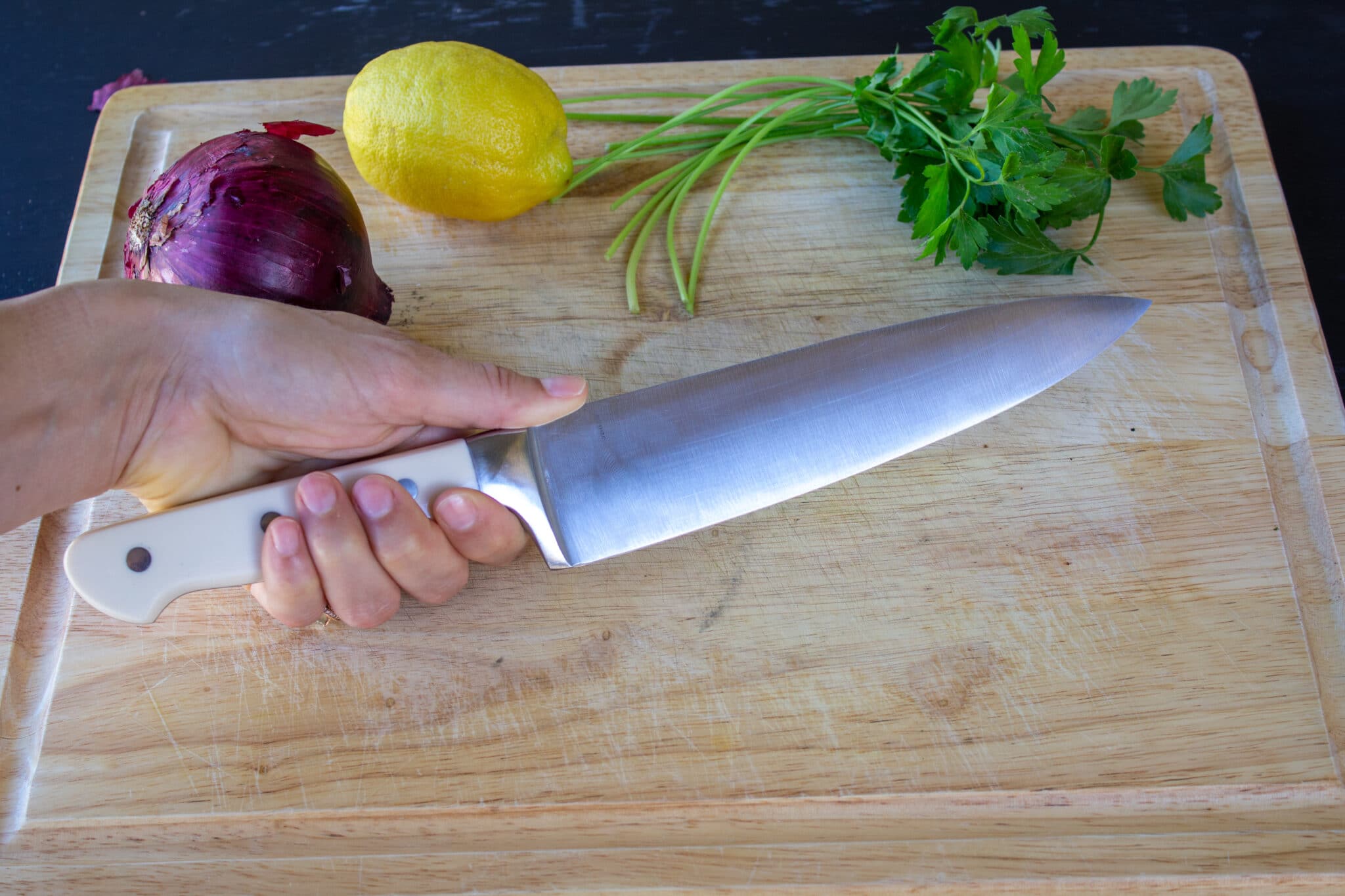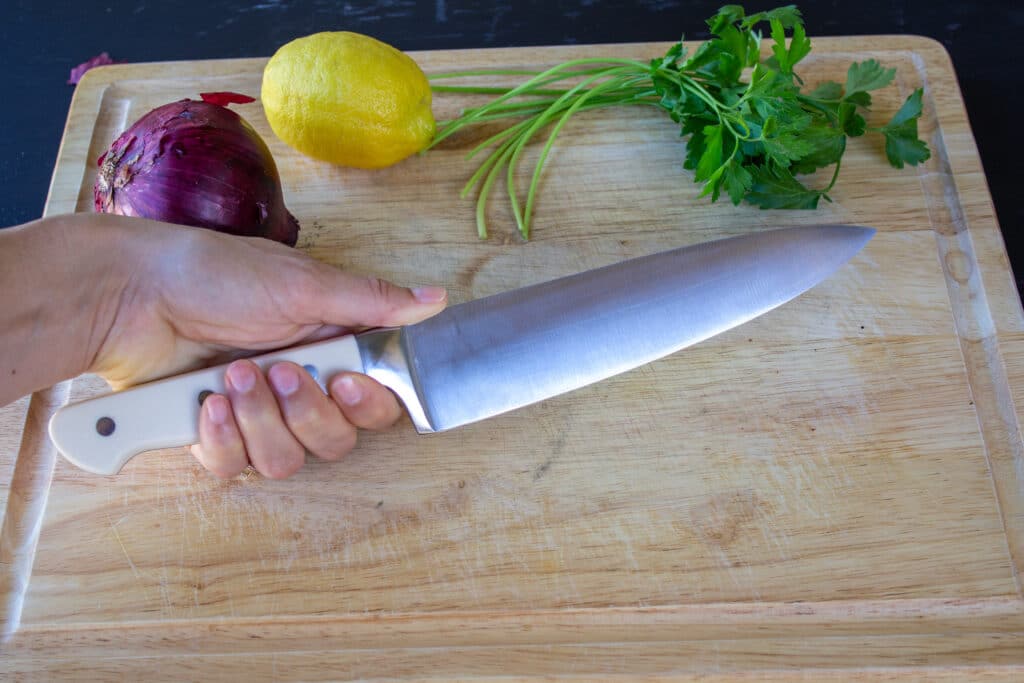 2. Grip the handle with 4 fingers with the thumb on the side of the blade.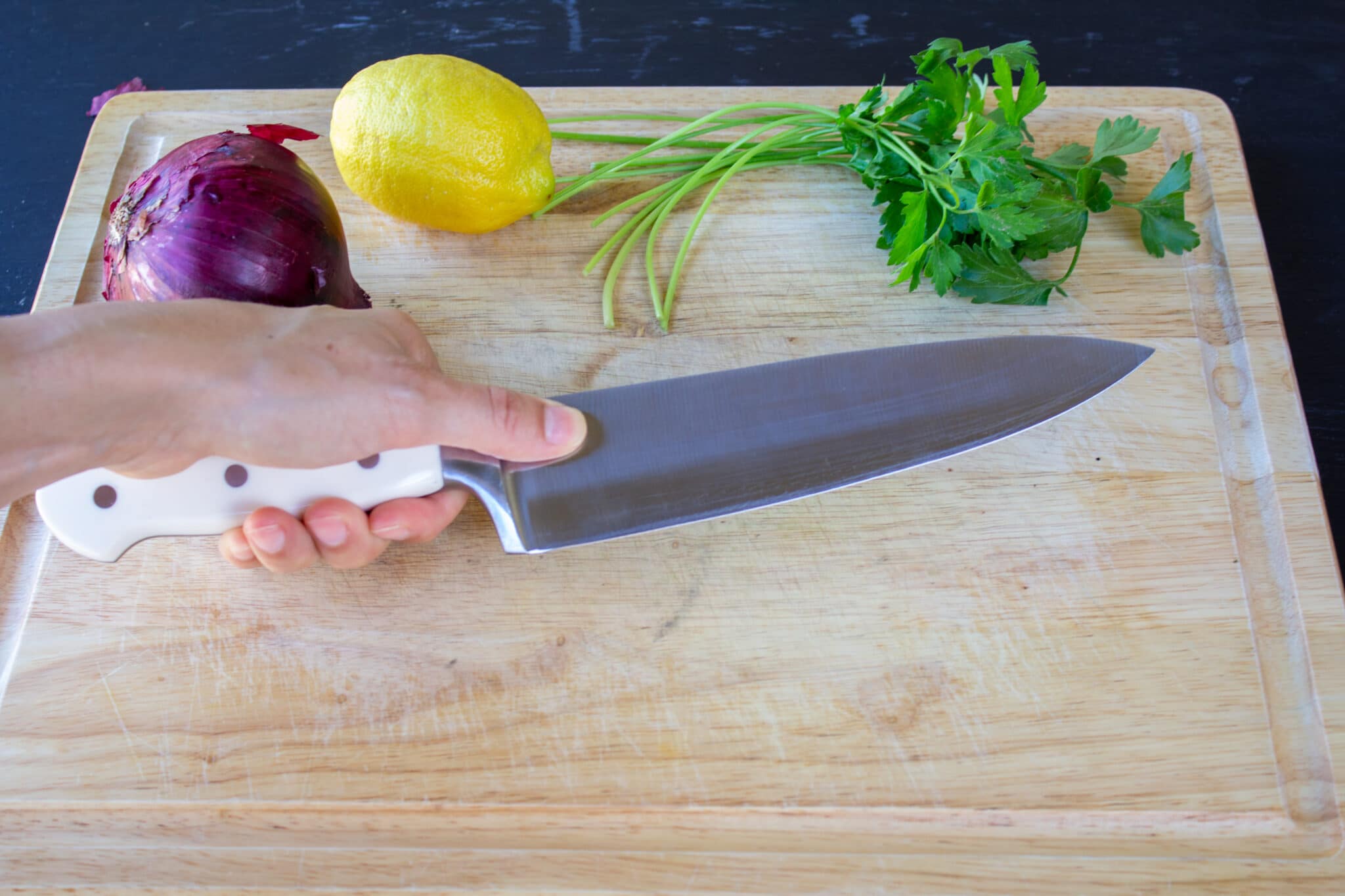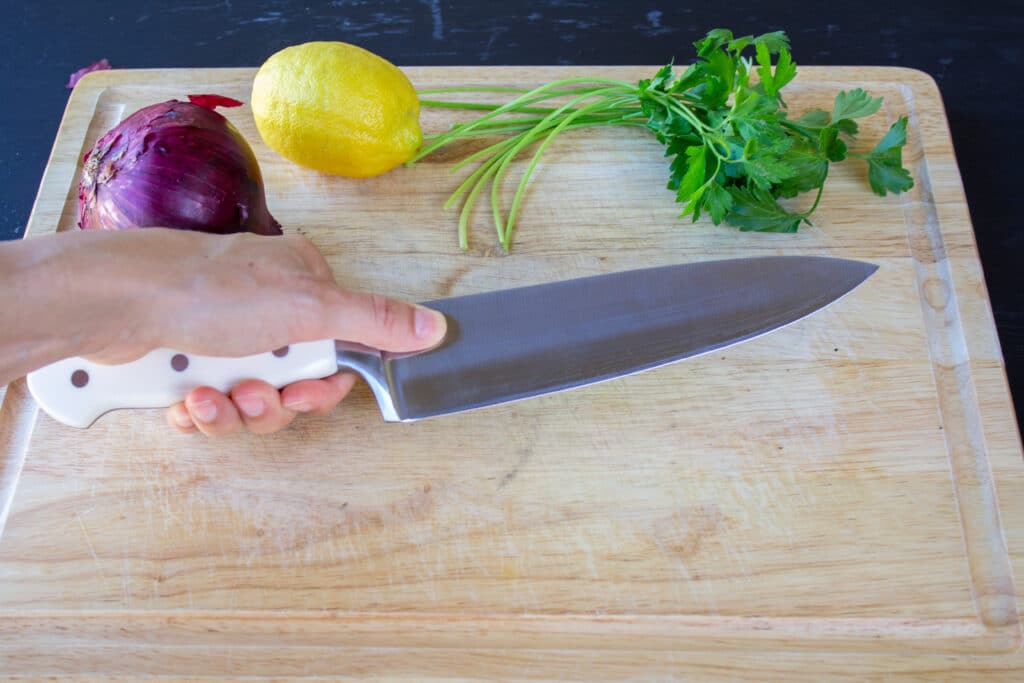 3. Grip the handle with 3 fingers, index flat on the blade, and thumb on the opposite side of the blade.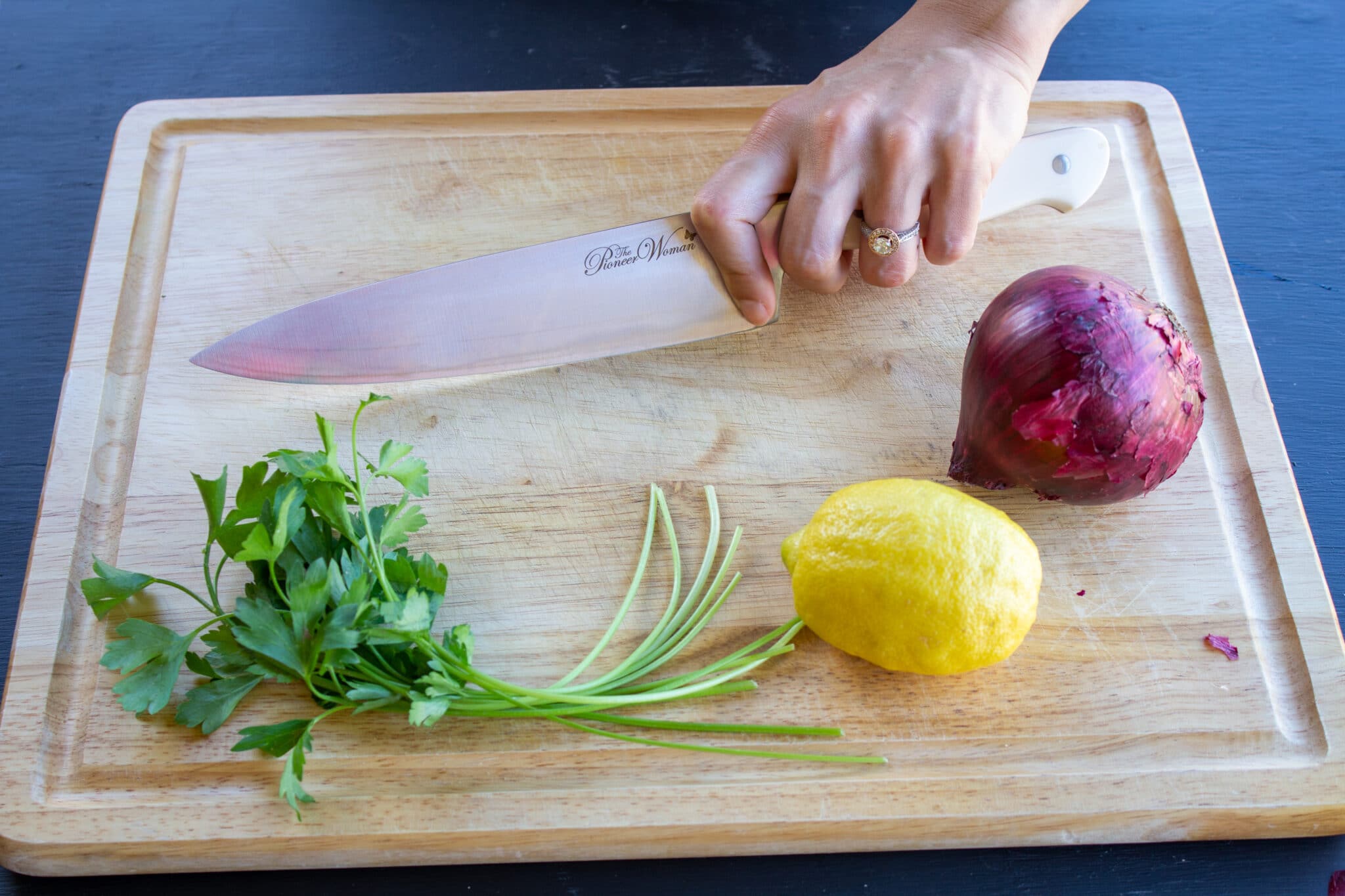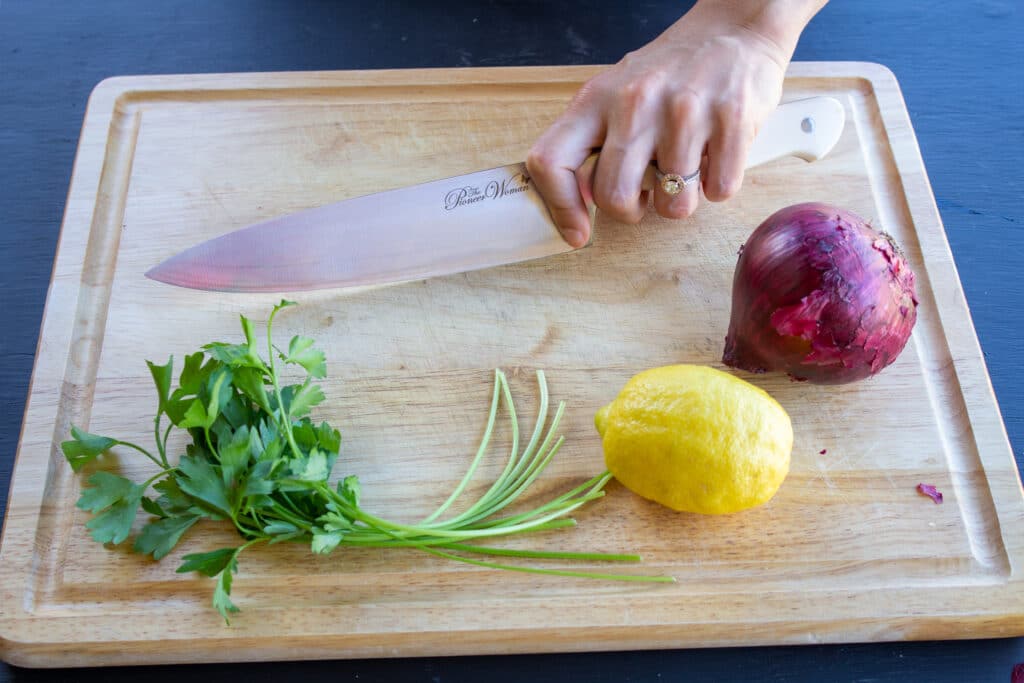 Where to place the guiding hand
It's important to know where the guiding hand goes as well. Here are some tips to follow for using this hand.
Tuck your fingertips under slightly.
Hold the thumb back from the fingertips.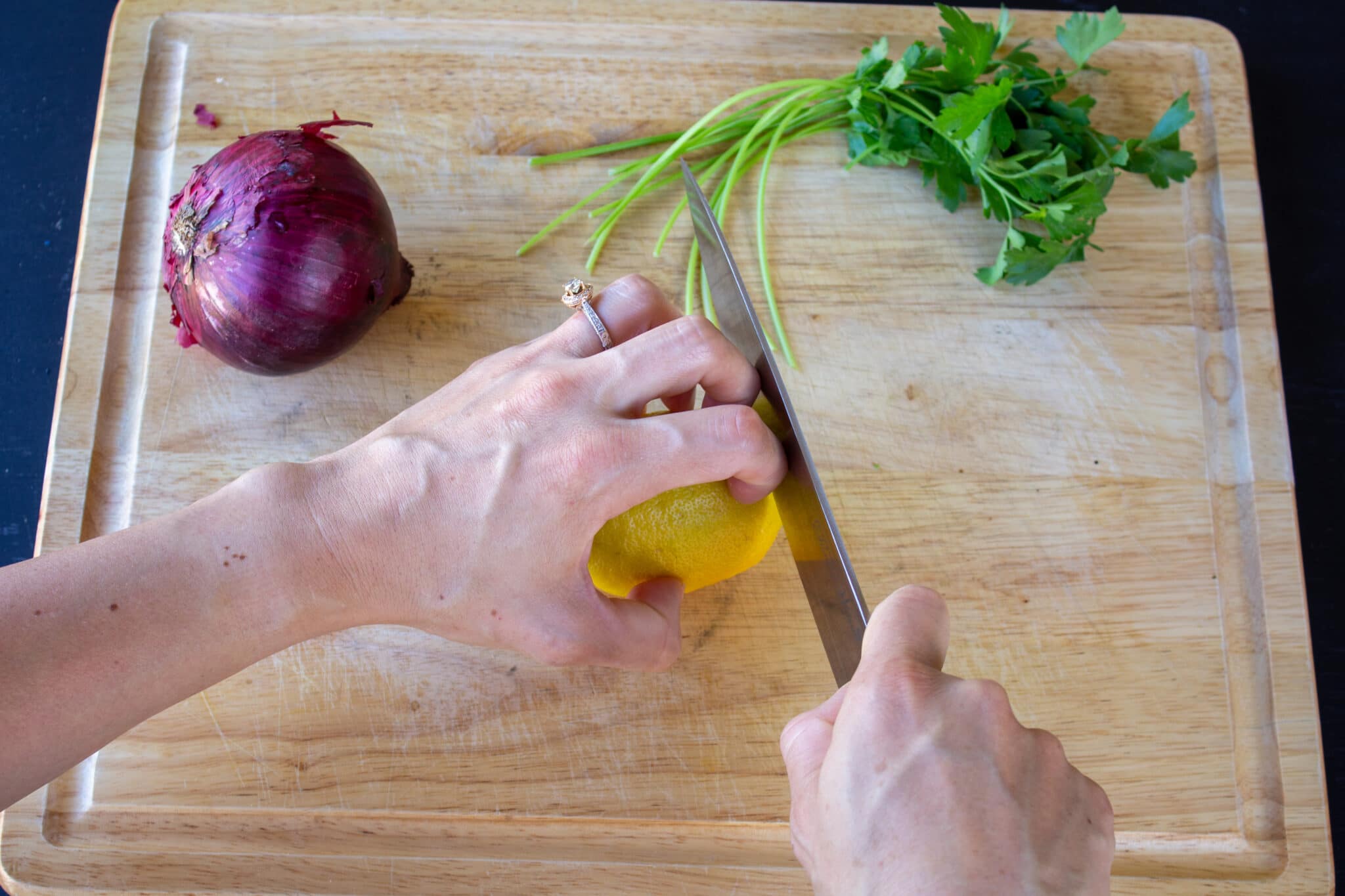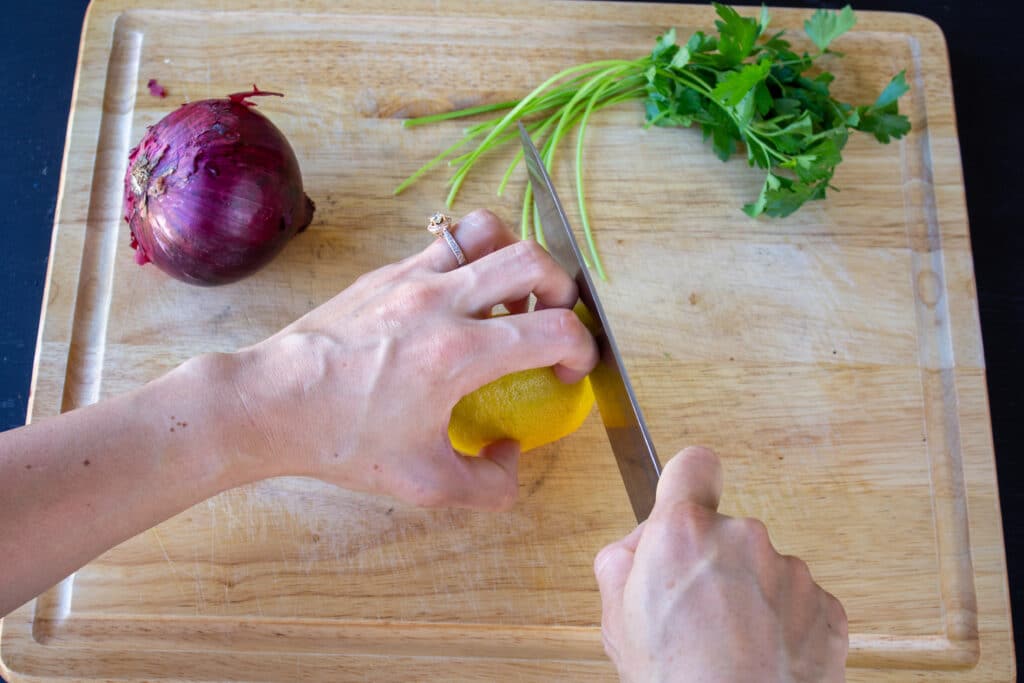 3. Rest the knife blade against the knuckles to prevent being cut.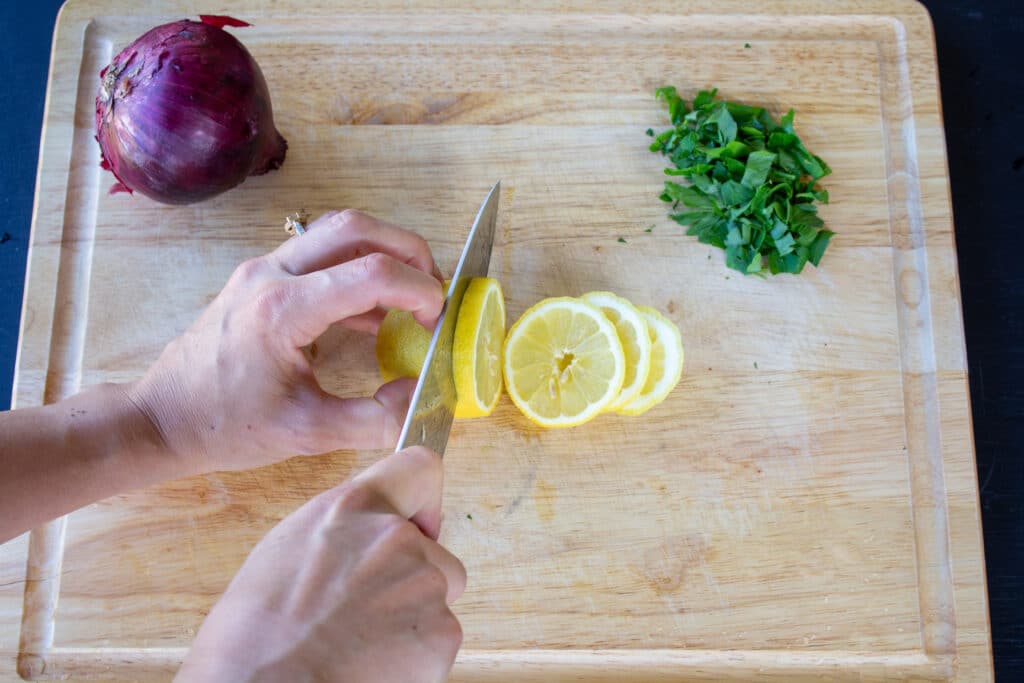 If you like this article, you may also like to see this info condensed into a handy e-book here.