With these 5 steps on how to organize your pantry and freezer, you will be able to save space, money, and declutter your kitchen.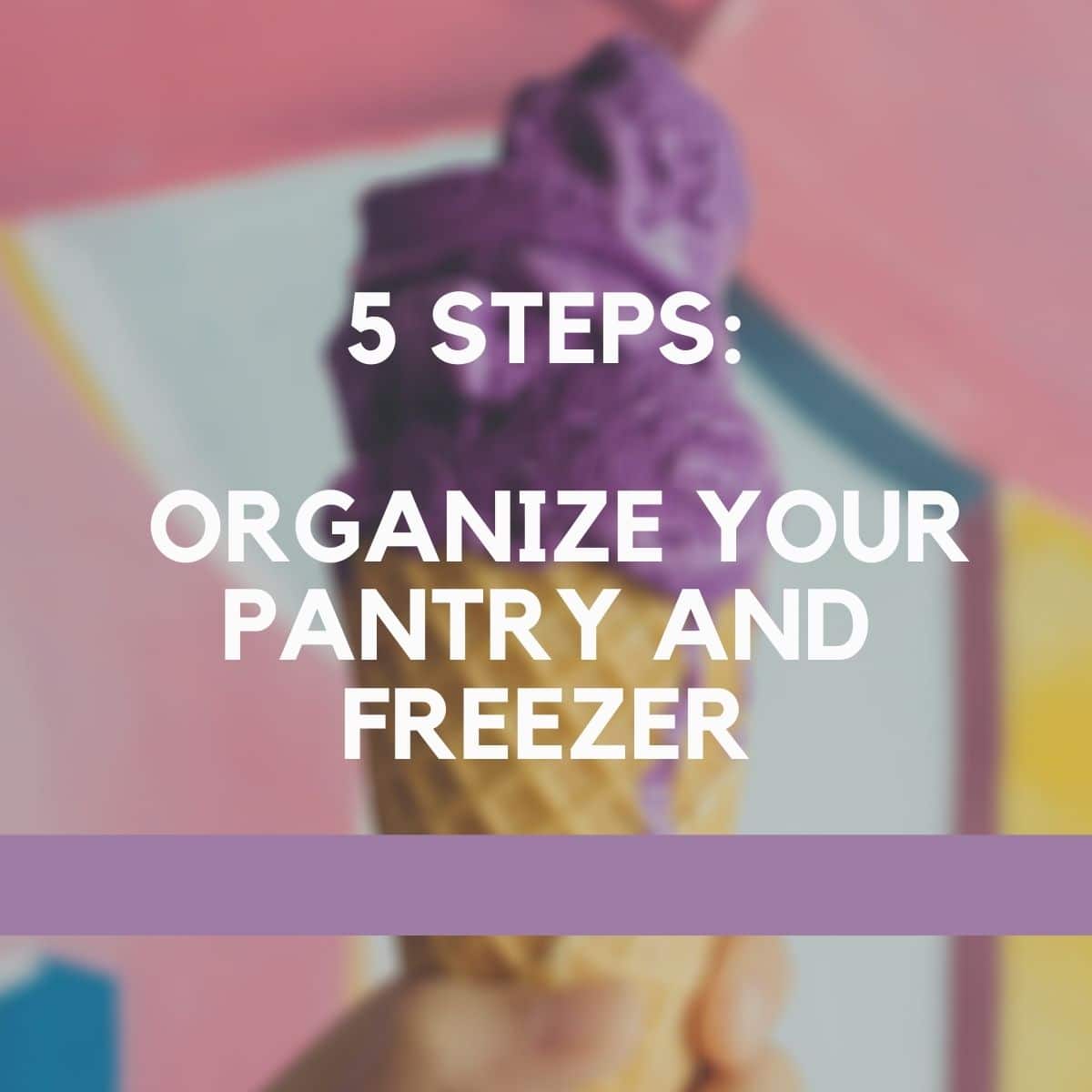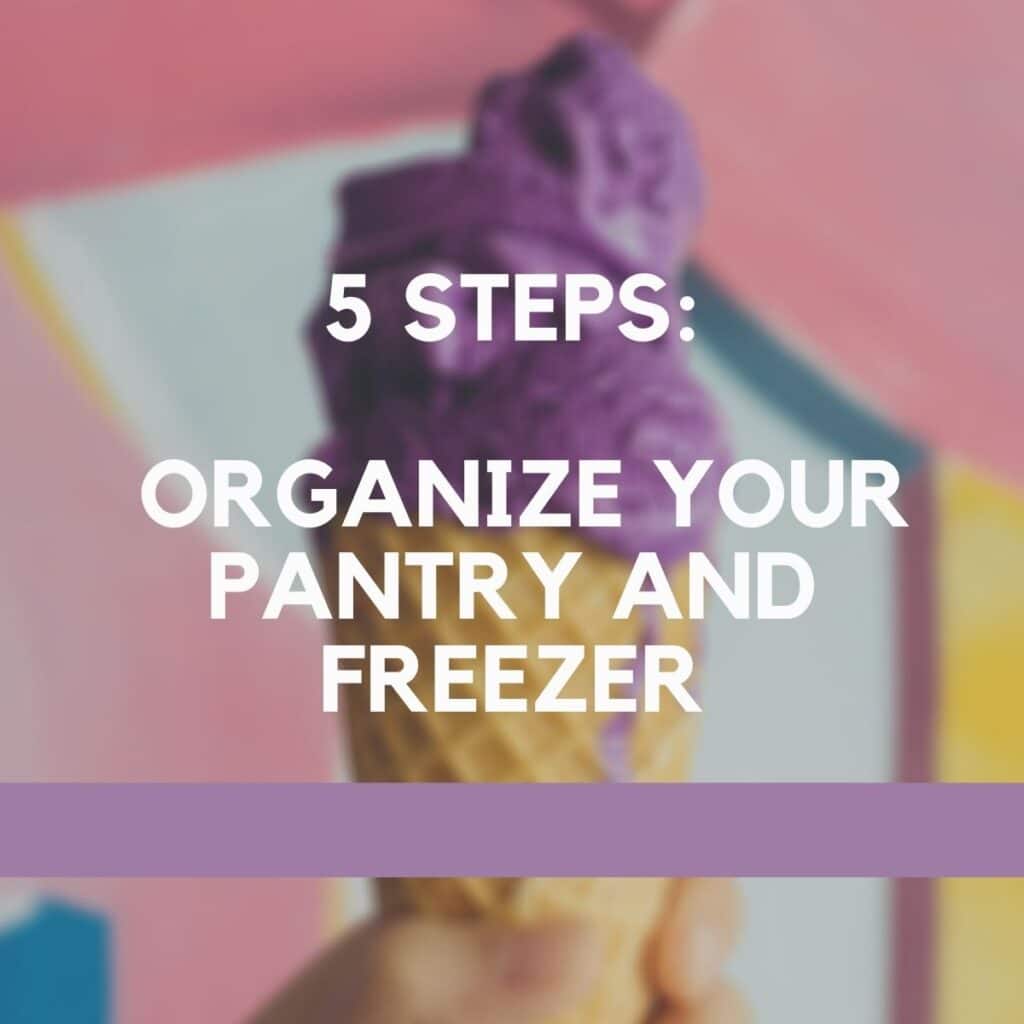 Some of the links below are affiliate links, meaning, at no additional cost to you, I will earn a small commission if you click through and make a purchase.
Throughout college and my 20's, I lived in apartments with tiny kitchens. It wasn't until recently that I was able to move into a house with a big kitchen. As you can imagine, I tend to accumulate kitchen appliances, tools, and gadgets like no one's business. I also like to have a fully stocked pantry and freezer so I can always throw dinner together at the last minute without running to the store for random stuff.
Before I started getting serious about organizing, my kitchen was always a mess. The counters were packed with stuff and what little pantry space (if any) I had was cluttered and I could never find what I was looking for. I ended up buying more of the same food and throwing out expired or freezer-burned food later.
I've come up with a system of 5 steps on how to organize your pantry and freezer that helped me keep my small kitchens (and bigger kitchen) looking great while still being fully stocked. It helps me know exactly what I have on hand to cook and save money by using the food I already have on hand.
These steps will help you keep your kitchen looking photo-ready and neatly organized Marie Kondo style. Sounds fun, right?!
Let's dive in.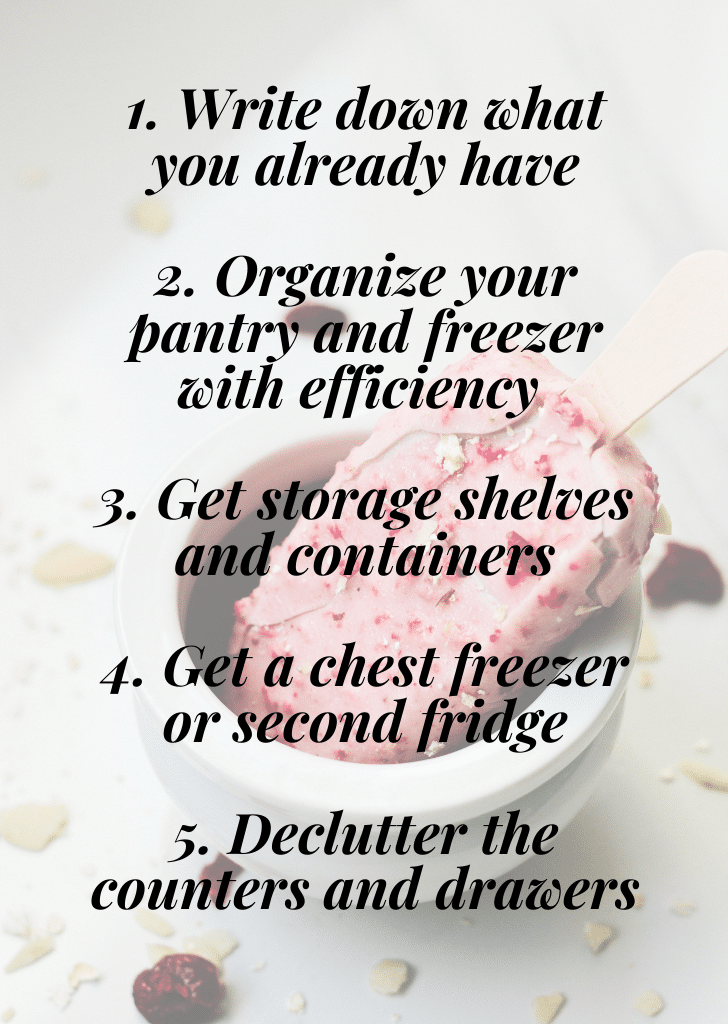 5 Steps on how to organize your pantry and freezer
Let's go over each step in detail.
Alright, with that first step done, you should feel lighter and ready to tackle what you have left.
Step 1: Write down what you already have
Start by taking everything out of your pantry or cupboards and freezer and going through it all. Throw away anything that's expired, stale, or empty. Use these worksheets to write down everything you have and stick it on the fridge for later.
You can use the filled out sheets to "shop your pantry and freezer" and always know what you already have on hand. This will save you money because if you check it before you go to the store, you won't buy things you don't need. It will also prevent you from needing to throw away any expired food that you forgot you had.
Step 2: Organize your pantry and freezer with efficiency
Once you have taken everything out, decluttered, and written down what you have, it's time to put it all back in with purpose. I suggest creating categories and and grouping things together this way. For example, I group (and stack) all cans, pasta and grains, bottled sauces, snack foods, baking, and spices in their own sections. This will help you easily find what you're looking for and make it look nice and tidy.
Step 3: Get storage shelves and containers
If you have a really small space or just more stuff than cupboards, you might think about buying some extra shelves or containers. These can help you store appliances, kitchen tools, and pantry items. I suggest getting a standing shelf with 2 or 3 sections if you have some wall space for it.
Small containers for non-stackable items in your pantry are also good. This might include pasta or grains.
I highly suggest having containers for your flour and sugar as well. This makes them easier to access and keeps them fresh longer. They work well for cereal too.
A container to keep your utensils in will help clear up limited drawer space and allow you to store something you might not have been able to keep in there otherwise.
Step 4: Get a chest freezer or second fridge
Planning/prepping your meals in advance is all the rage right now. It's a powerful way to save time and money. It will give you back your evenings instead of spending two hours in the kitchen (an hour cooking and an hour cleaning) every night after work.
If you've a mind to start doing this or if you've already started and have realized you have NO space to keep your creations during the week, then purchasing a chest freezer and/or a second fridge may be right for you.
This is an awesome way to store prepared meals, extra meat, anything bought from a wholesale food store, too much ice cream, extra condiments, and drinks you want to keep cold. While they take up space themselves, they are great for decluttering your fridge and freezer and storing your prepared meals.
Step 5: Declutter the counters and drawers
When you have more tools and appliances than you have space for it's time to get creative about how to store them.
First, take a look at what you have and ask yourself when was the last time you used it? Do you use that immersion blender often? How about the air fryer? If so, put them aside and we'll come to them later. If not, it may be time to find a good place to store them. If you want to make them a part of your routine, you can always get them out of storage later.
Grab some boxes and go through all the tools and gadgets you have and put anything you don't see yourself using in the next month inside.