Smooth and creamy chocolate pie with graham cracker crust is decadent and delicious. Made with an elevated chocolate pudding, a homemade graham cracker crust, and topped with whipped cream, it'll be hard to save some for the guests.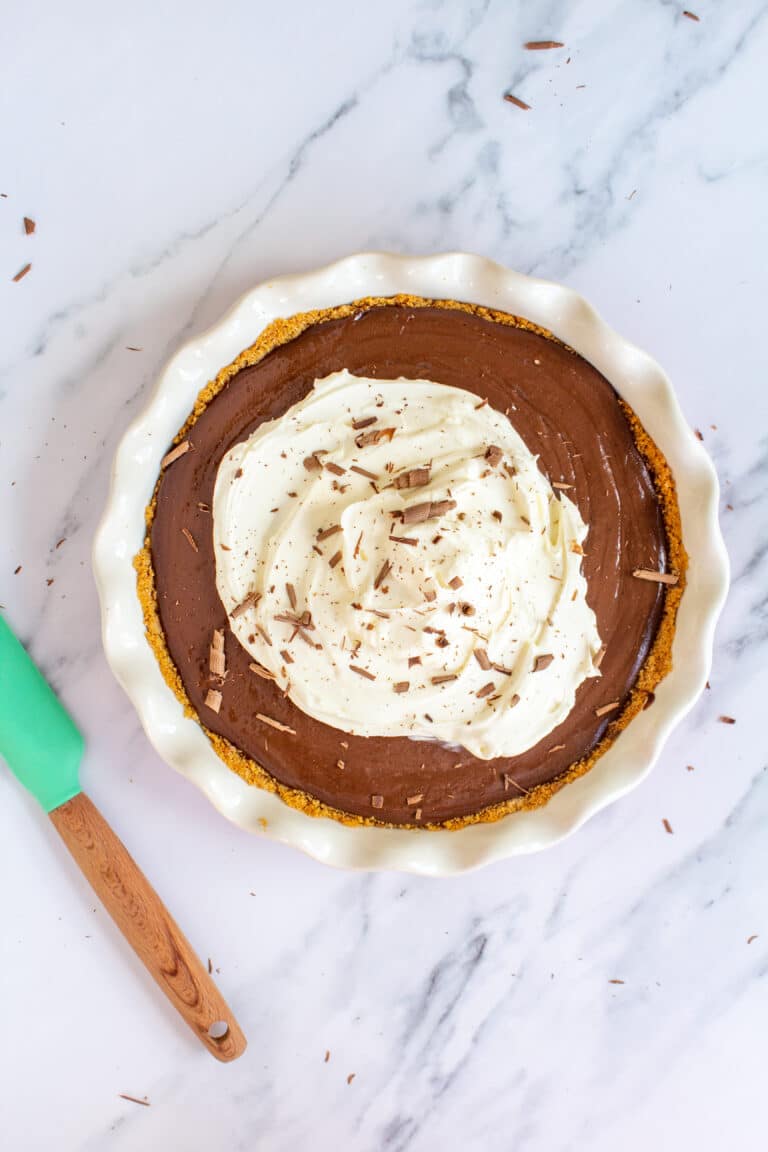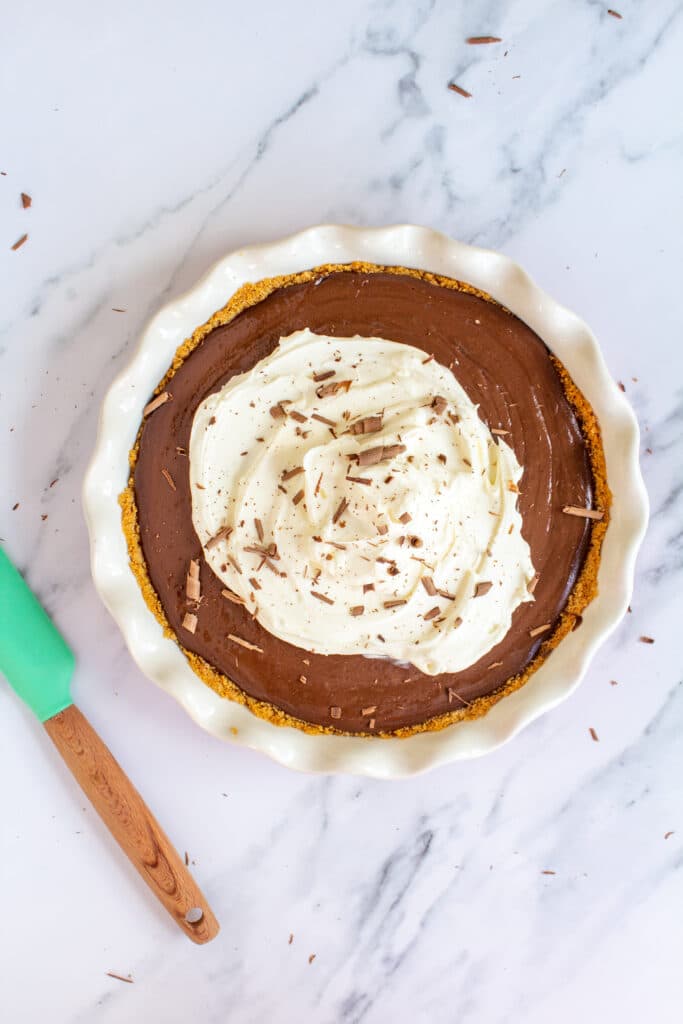 Some of the links below are affiliate links, meaning, at no additional cost to you, I will earn a small commission if you click through and make a purchase.
One of my favorite desserts to make is this chocolate pie recipe. I make it for holidays and just because I need a chocolate fix (which is way too often!). It's made with my homemade graham cracker crust and homemade whipped cream. You'll need a serious cup of coffee to go with it too!
The last time I made this cream pie, my sister told me I need to make it every year for Thanksgiving! I like to change it up a little and make it with a chocolate graham cracker crust, chocolate peanut butter pie filling, or add a little cayenne pepper to the pudding for a surprise kick.
It's so easy to make and I love that its no-bake! There's no need to use cream cheese to make it wonderfully creamy either. When making a whole Thanksgiving meal, anything that I can make ahead of time and that doesn't need the oven, I'm all about it.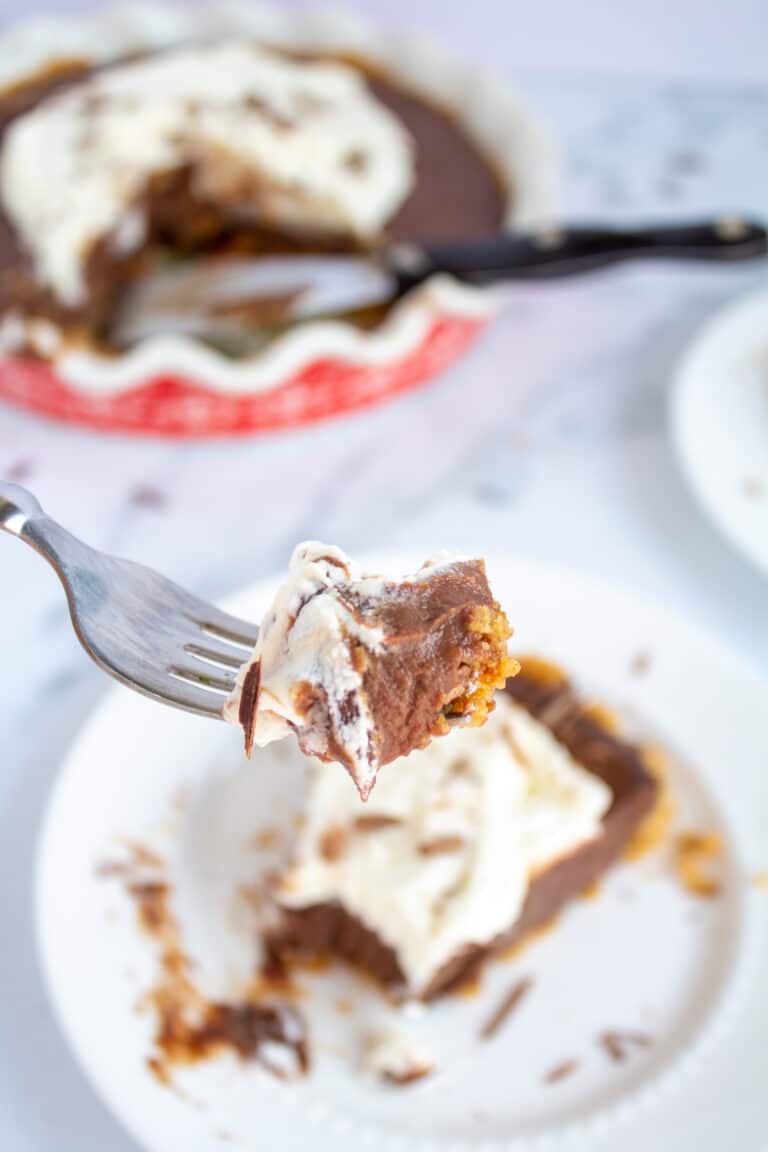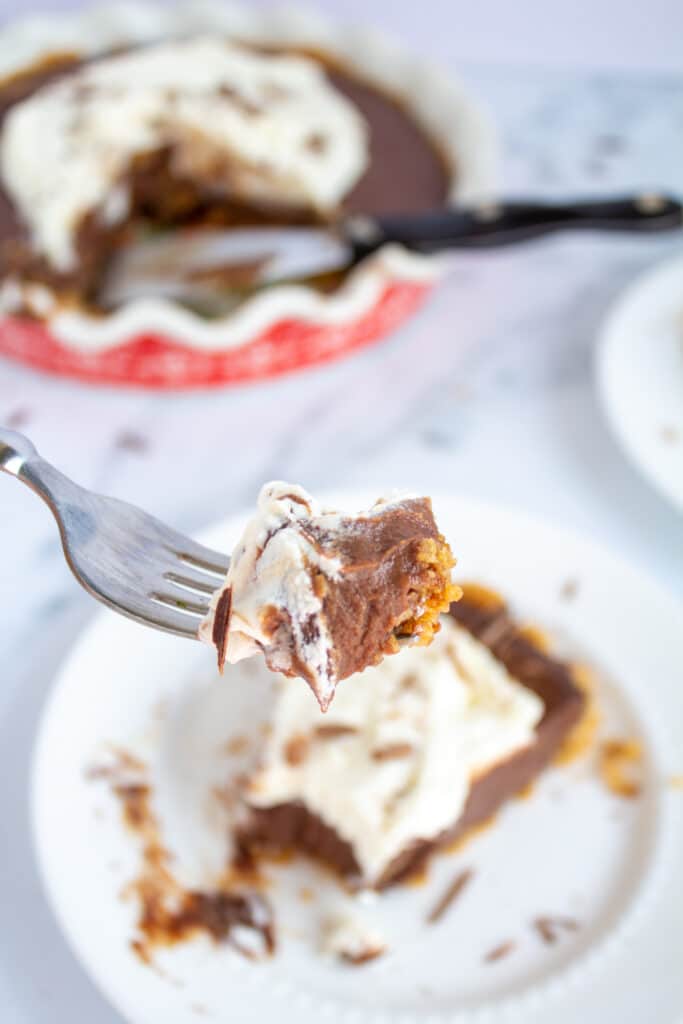 Ingredients:
Graham crackers: This is for the pie crust.
Sugar: Add sugar for sweetness.
Cornstarch: This helps make the pudding filling nice and smooth.
Salt: Salt adds flavor and balance
Egg yolks: Eggs stabilize the pie.
Milk: Use whole milk for part of the liquid.
Heavy cream: Add a little cream to make the filling richer.
Baker's chocolate bar: Use a chocolate bar rather than cacao powder for a creamier filling.
Butter: A little butter adds flavor and richness.
Vanilla: A bit of pure vanilla extract adds flavor.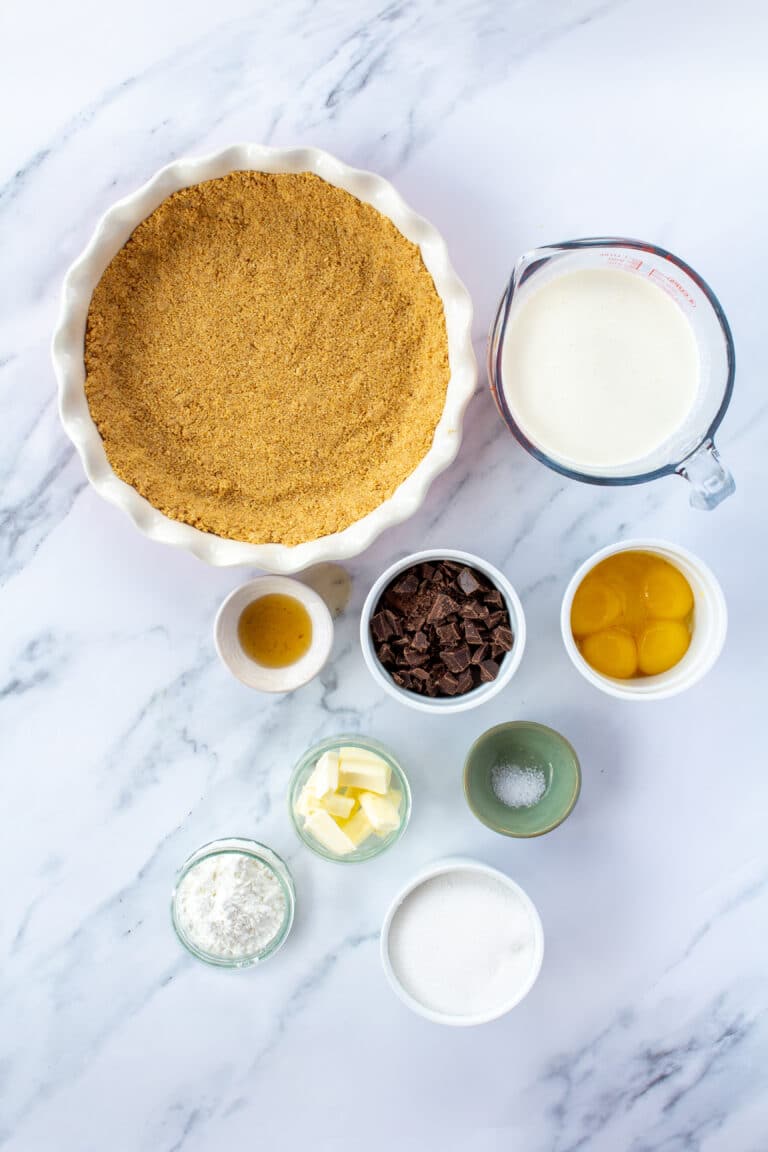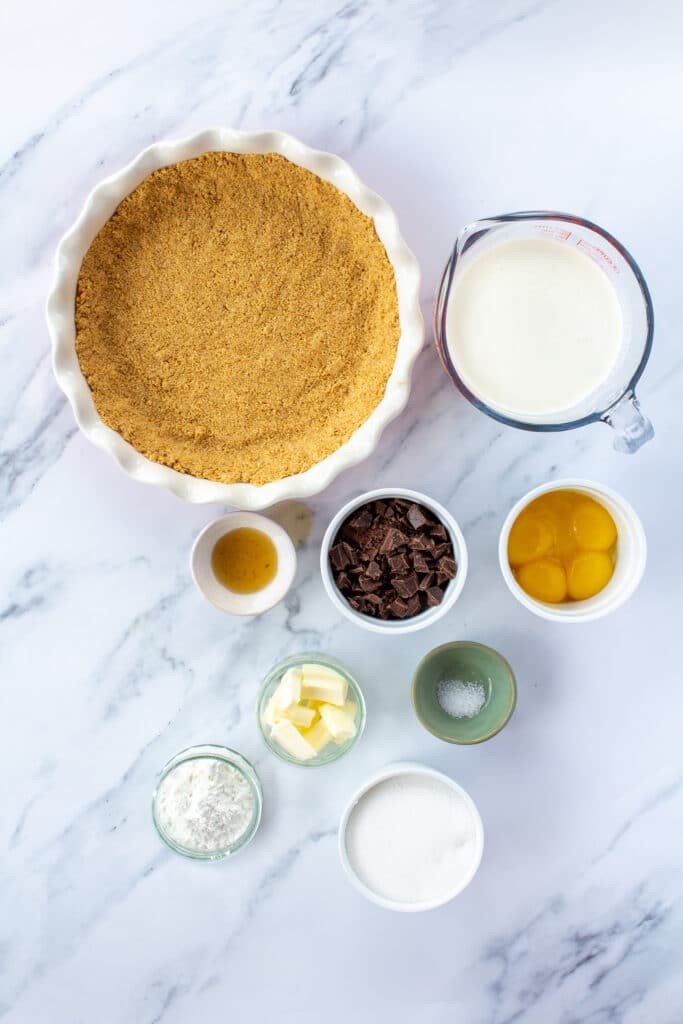 How to make chocolate pie with graham cracker crust:
In a medium-size sauce-pan, combine the sugar, cornstarch, and salt.
Add in the egg yolks, milk, and heavy cream and bring to a low boil over medium heat. Whisk continuously. This will take a few minutes.
When the mixture begins to thicken and look and feel more like pudding, add in the chocolate, butter, and vanilla. Stir constantly.
Once it's all combined and the butter is melted, carefully pour it into the prepared graham cracker crust. There's no need to bake it!
Allow it to cool for 30 minutes and then place a piece of plastic wrap on the top, touching the filling, and refrigerate. The plastic wrap helps keep a film from forming on the top.
Refrigerate for at least 4 hours.
Serve with homemade whipped cream.
Variations/Substitutions:
There are many ways you can make or alter this old fashioned chocolate pie with graham cracker crust. Here are some ideas:
You can use cool whip or other whipped toppings
Instead of making the filling from scratch, you can buy a pudding mix from the store and use it instead.
If you'd rather use a store-bought pie crust, that's absolutely fine!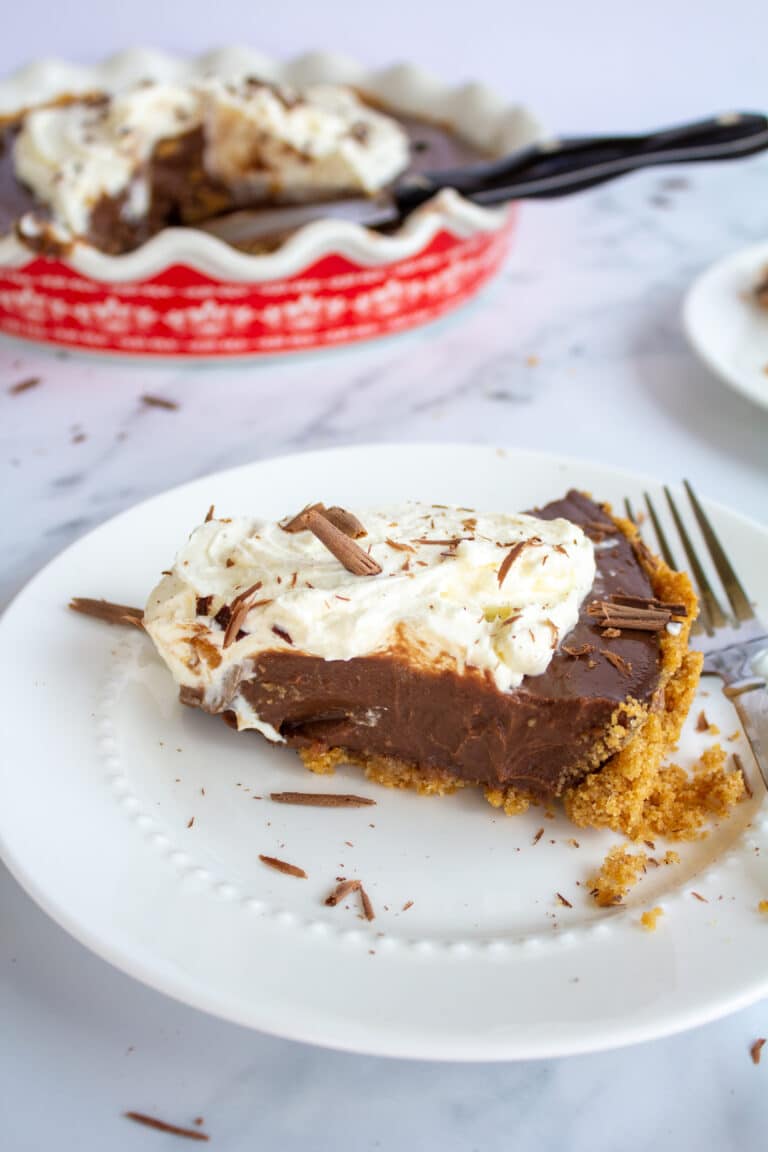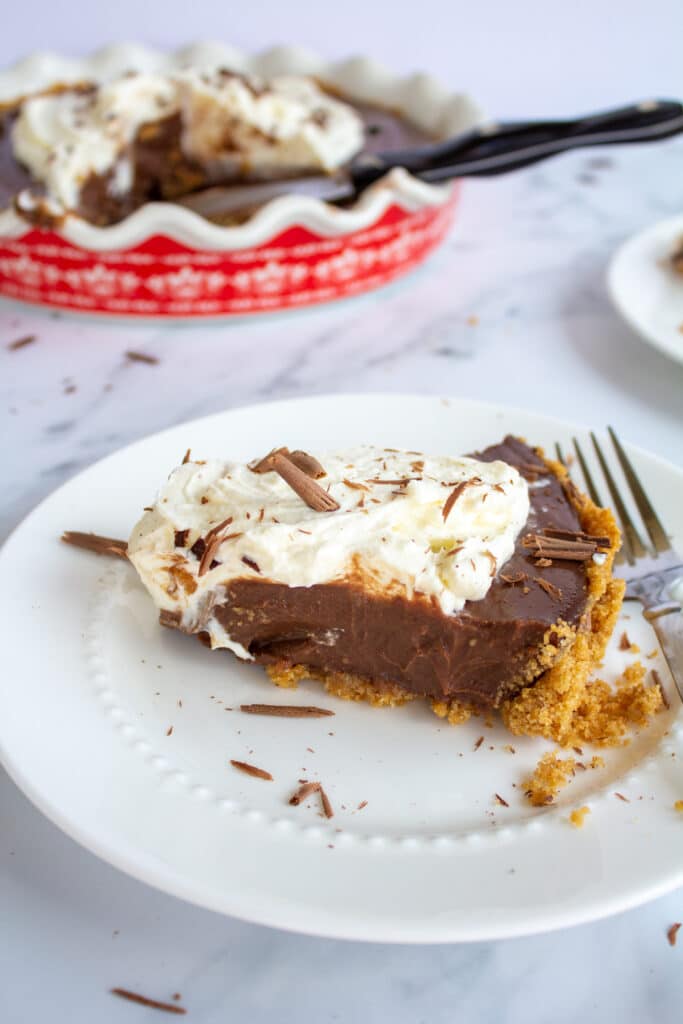 Tips for chocolate pie with graham cracker crust:
Take a look at my best tips for making this pie.
Make a crust using graham cracker crumbs, butter, and sugar for a super easy and delicious pie crust.
To make this beautiful chocolate cream filling, be sure not to boil longer than 60 seconds or the bottom will burn. If this happens, don't scrape the bottom of the pan! Just pour the filling right into the crust and leave whatever is left at the bottom of the pot.
This pudding pie is perfect to make the day before you need it since it needs to sit in the fridge for up to 4 hours before you serve it. This is better anyway because it's one less thing you need to worry about on the day of the party.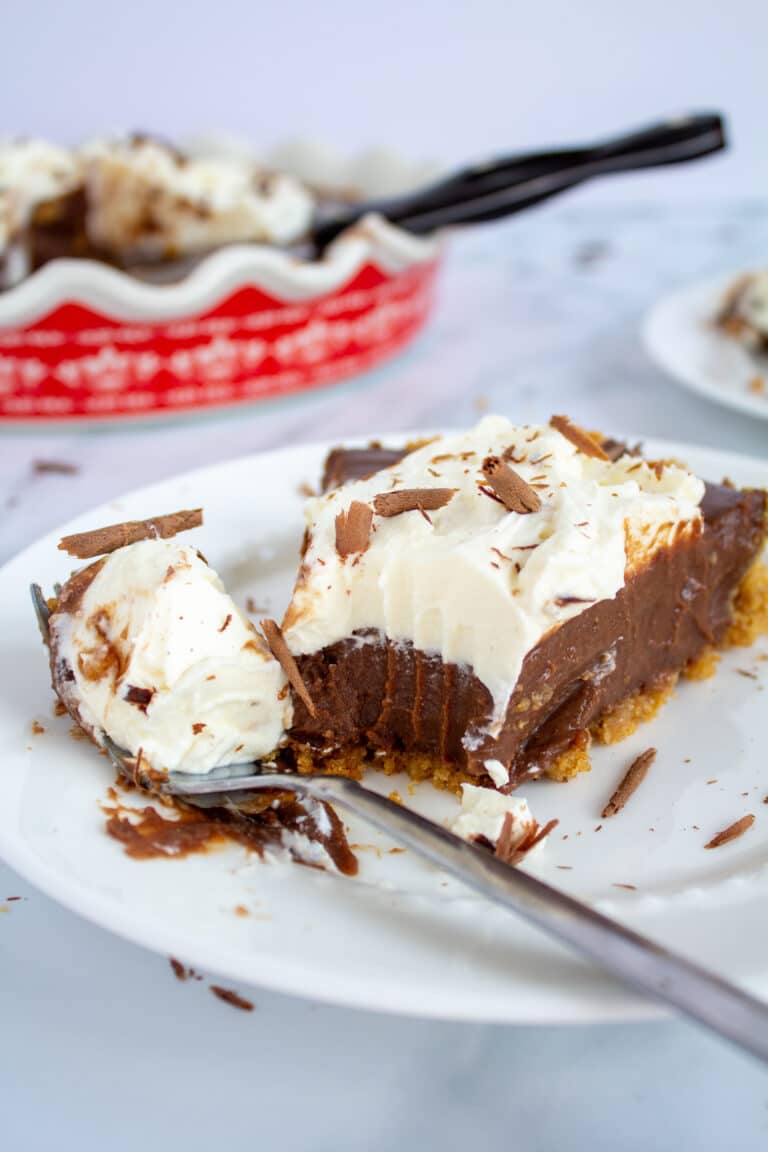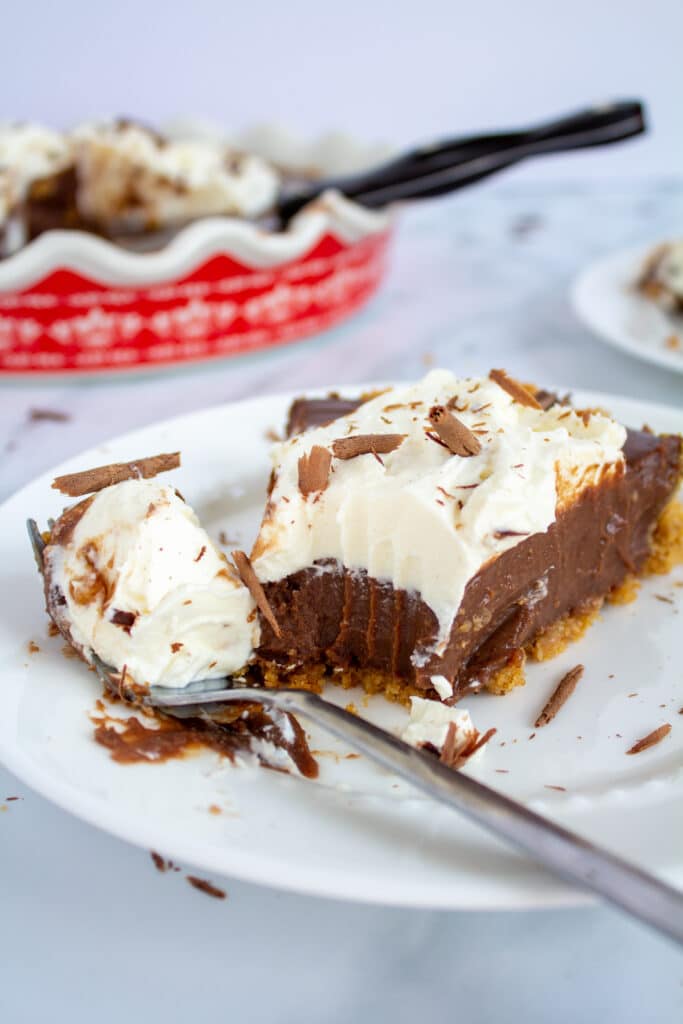 Other recipes you may like…