This guide is filled with tips and tricks using winter squash you can find at your local grocery store. Recipes included for all 5 types! Here is a how-to guide you'll use again and again.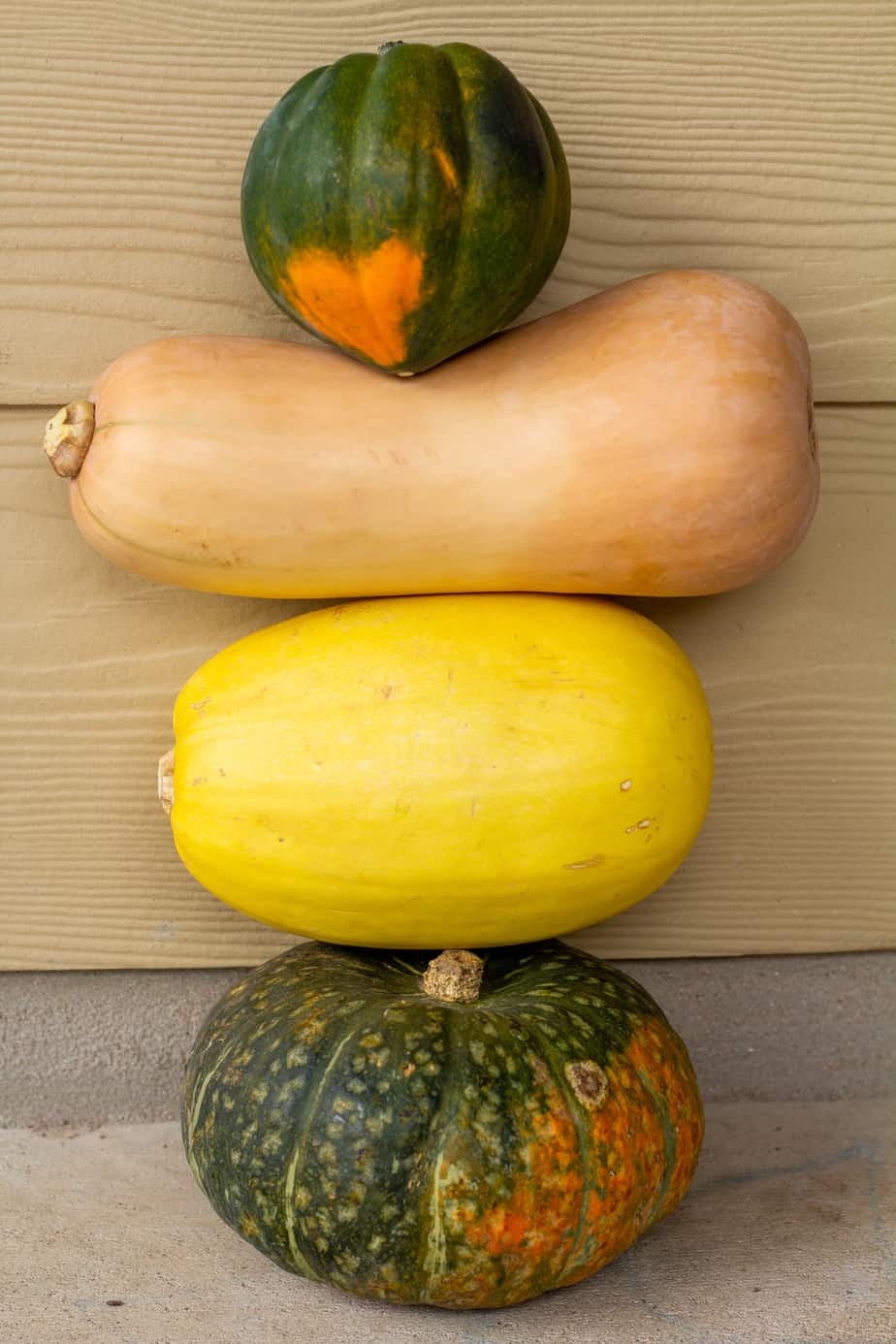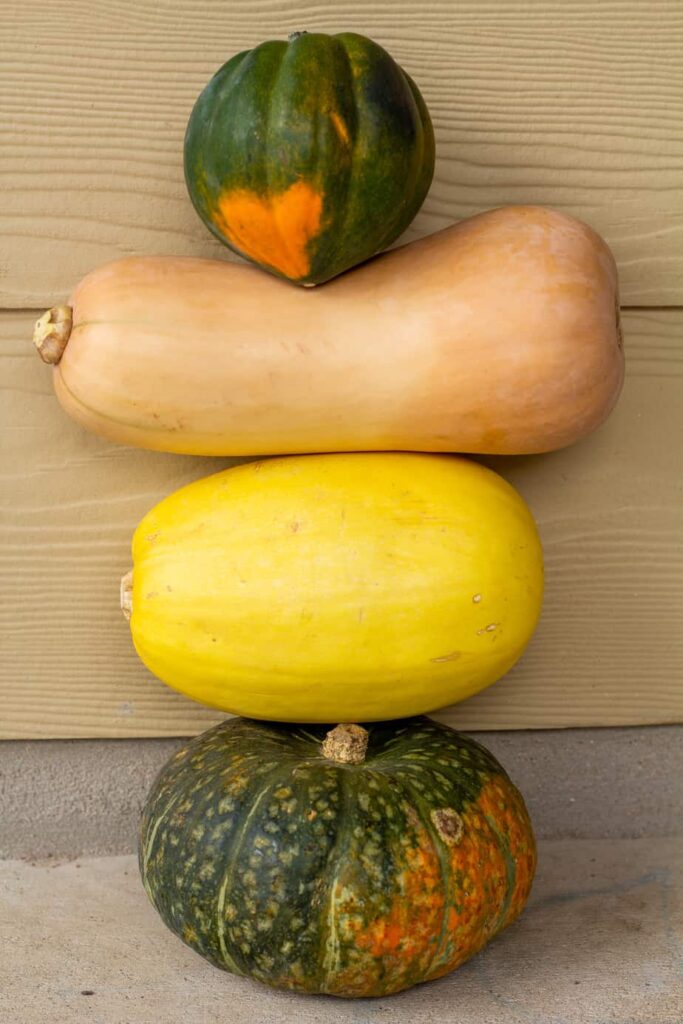 Some of the links below are affiliate links, meaning, at no additional cost to you, I will earn a small commission if you click through and make a purchase.
How to cook a winter squash may seem daunting if you've never done it or you have limited experience with it. I want you to be able to enjoy these delicious vegetables, so I've come up with a guide filled with tips and tricks with winter squashes. It's hard to decide which one is the best tasting so I encourage you to try the recipes and see for yourself!
There are many winter squash varieties which include Butternut, Spaghetti, Acorn, Pumpkin, and Kabocha. When choosing one at the store, be sure it has no soft spots in the skin. This indicates it's overripe or bruised.
Let's break it down by type of squash.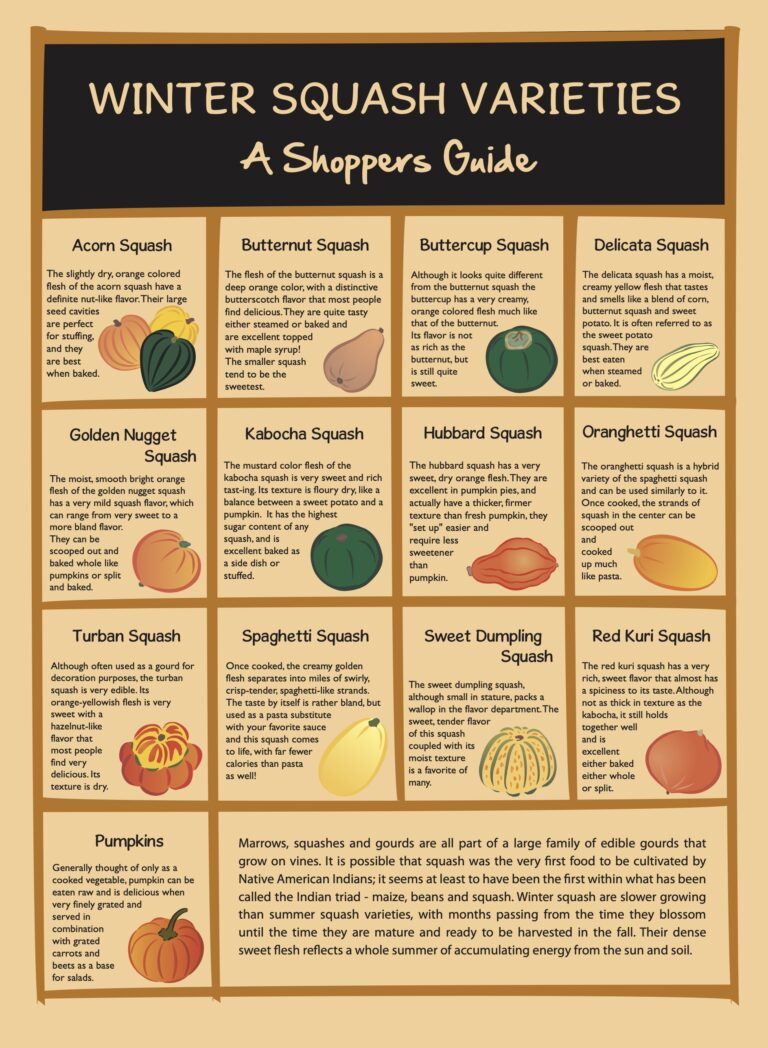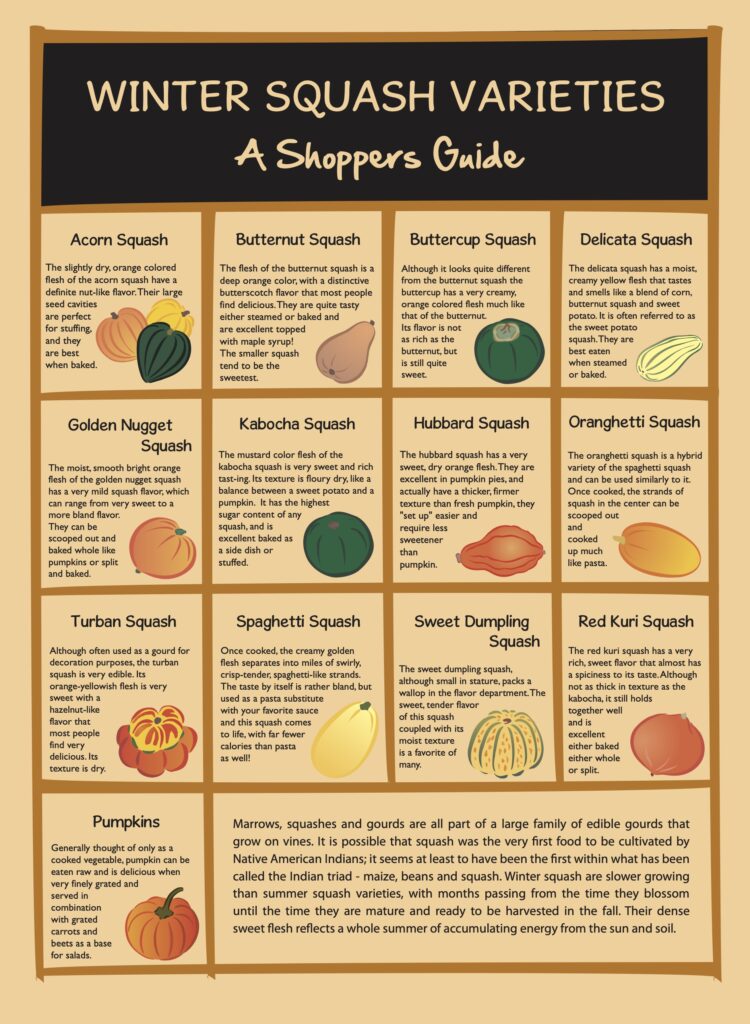 1. Butternut
The flavor of this squash is nutty and sweet. It can be roasted and eaten with a little salt and thyme, or pureéd and added to sauces or soups. It's easily frozen in cubes for up to one month.
I recommend not to try to eat it in cube form after freezing and thawing, however, since it will be higher in water content and slightly mushy. It is best used for sauces and soups after freezing.
To cook butternut squash, start by cutting the top where the vine is attached and the bottom where it sat on the ground to make an even surface. Then cut down the middle between the neck and the bulbous bottom with a chef knife in one motion. It's a tough little guy, so remember to keep your fingers far away while cutting at all times.
You will reveal a section containing seeds in the bottom half when you do this. Use a spoon or ice cream scoop and remove them. Use a sharp peeler to peel the skin off the squash. Remember to keep your fingers out of the way.
Slice the squash lengthwise on an even, dry, non-wiggly surface. Continue cutting until you have the size cubes you need for your recipe.
Here are some great recipe links with butternut squash: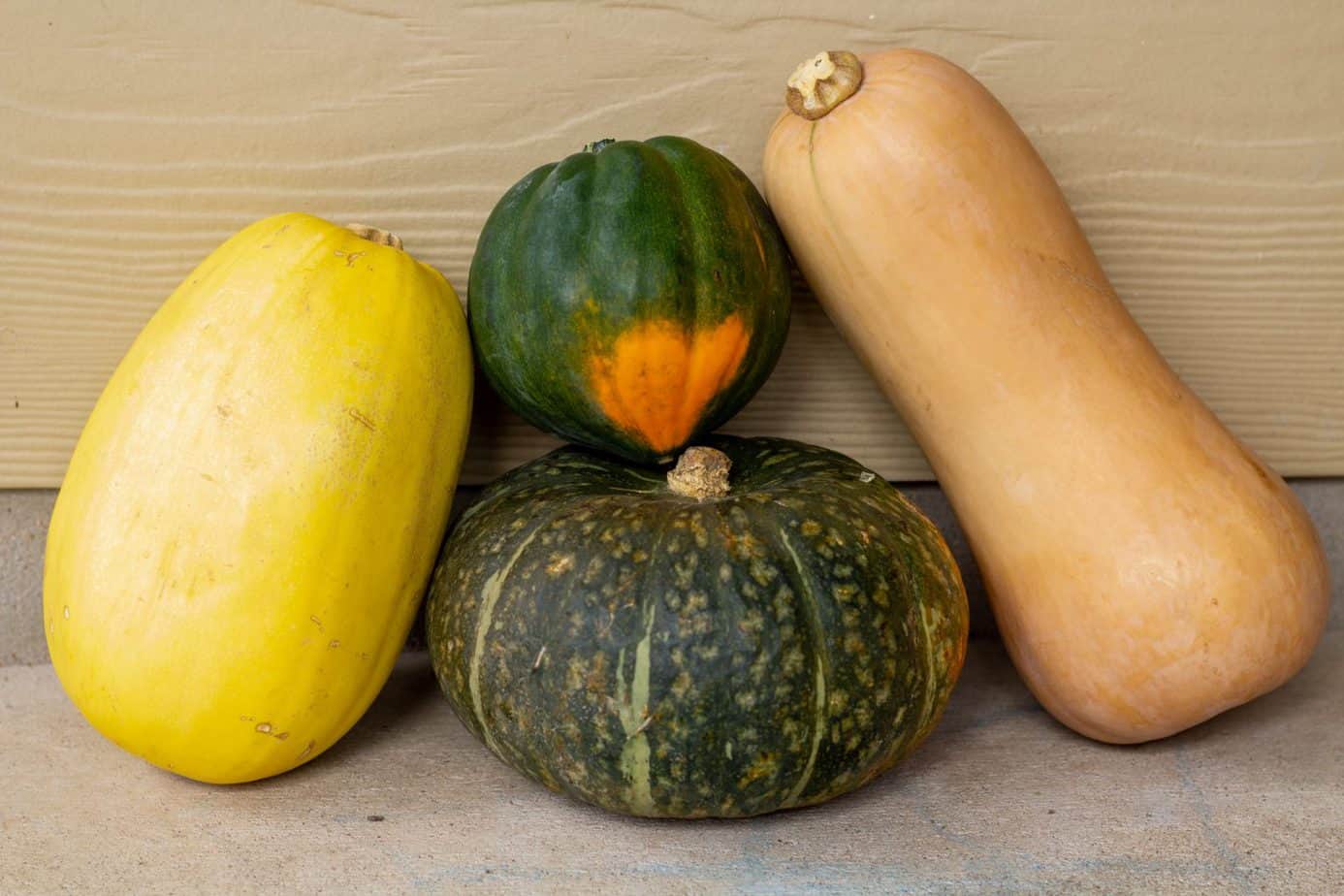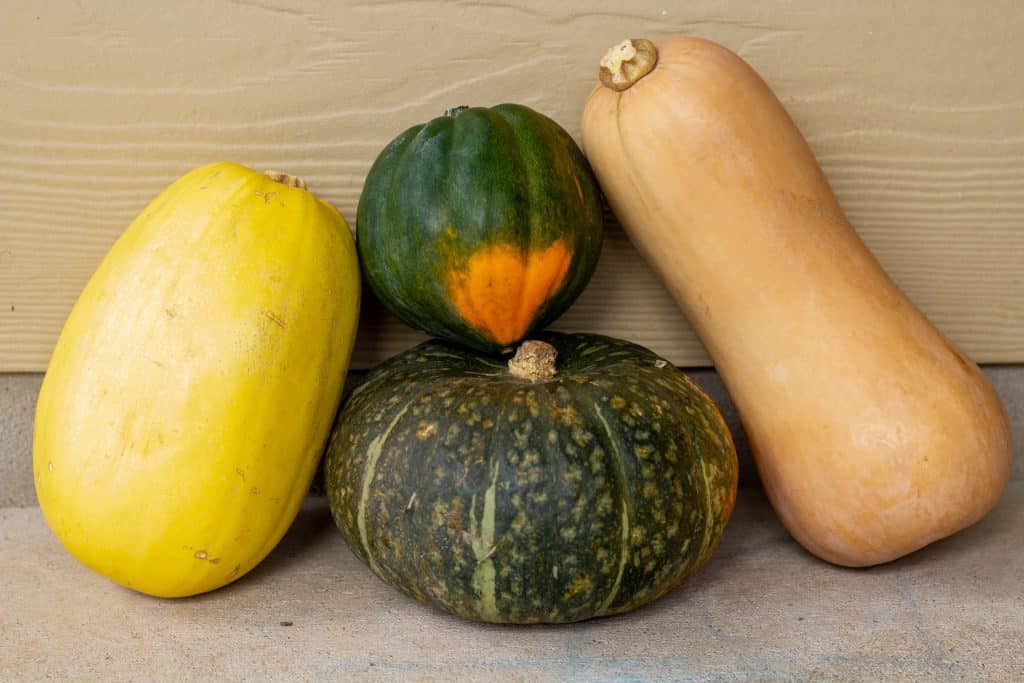 2. Spaghetti
Spaghetti squash is pale yellow in color and has a distinct shredded texture when cooked. This can often be a healthier substitute for pasta.
It's very filling so it works great for vegetarian meals. It has a high water content so it's important to take that into consideration when cooking with it so your dish doesn't end up being watery.
Since you end up shredding the contents inside, there is no need to peel a spaghetti squash. Oftentimes the exterior shell is too hard to cut through while it's raw.
**Pro tip: bake it in an oven at 375° for 15 minutes until the shell becomes soft enough to cut through.**
To cook, start by turning the oven up to 425°.
Cut it in half lengthwise after first softening in the oven, and remove the seeds with a spoon or ice cream scoop. Brush the tops and middle with olive oil and sprinkle with salt and pepper.
Turn the pieces upside-down so the flesh is touching the baking sheet and bake for an additional 20-25 minutes or until it's easily shredded.
You can use the shredded squash in the place of pasta, in soups, or in fried fritters. Here are a few recipes for reference:
3. Acorn
Acorn squash is a bit smaller than most of the other winter squash varieties. This makes it a little easier to handle and cut.
There are multiple ways to cook this little guy. You can cut it into two pieces or slice into beautiful horizontal sections.
It's perfect as a sweet or savory side, or you can stuff it for a filling meal.
To cook it, place the squash on an evenly balanced cutting board and slice down the middle. Use a spoon or ice cream scoop to take out the seeds. You can leave it in two pieces at this point or slice it horizontally into ½-inch sections.
Depending on if you want a sweet or savory dish, brush it with butter or olive oil, and from there the variations are endless. You can drizzle the pieces with maple syrup, brown sugar, sprinkle with salt and pepper, coat with an herb blend, or create a filling to place inside the two halves for a beautiful meal.
Take a look at these awesome squash recipes for some inspiration: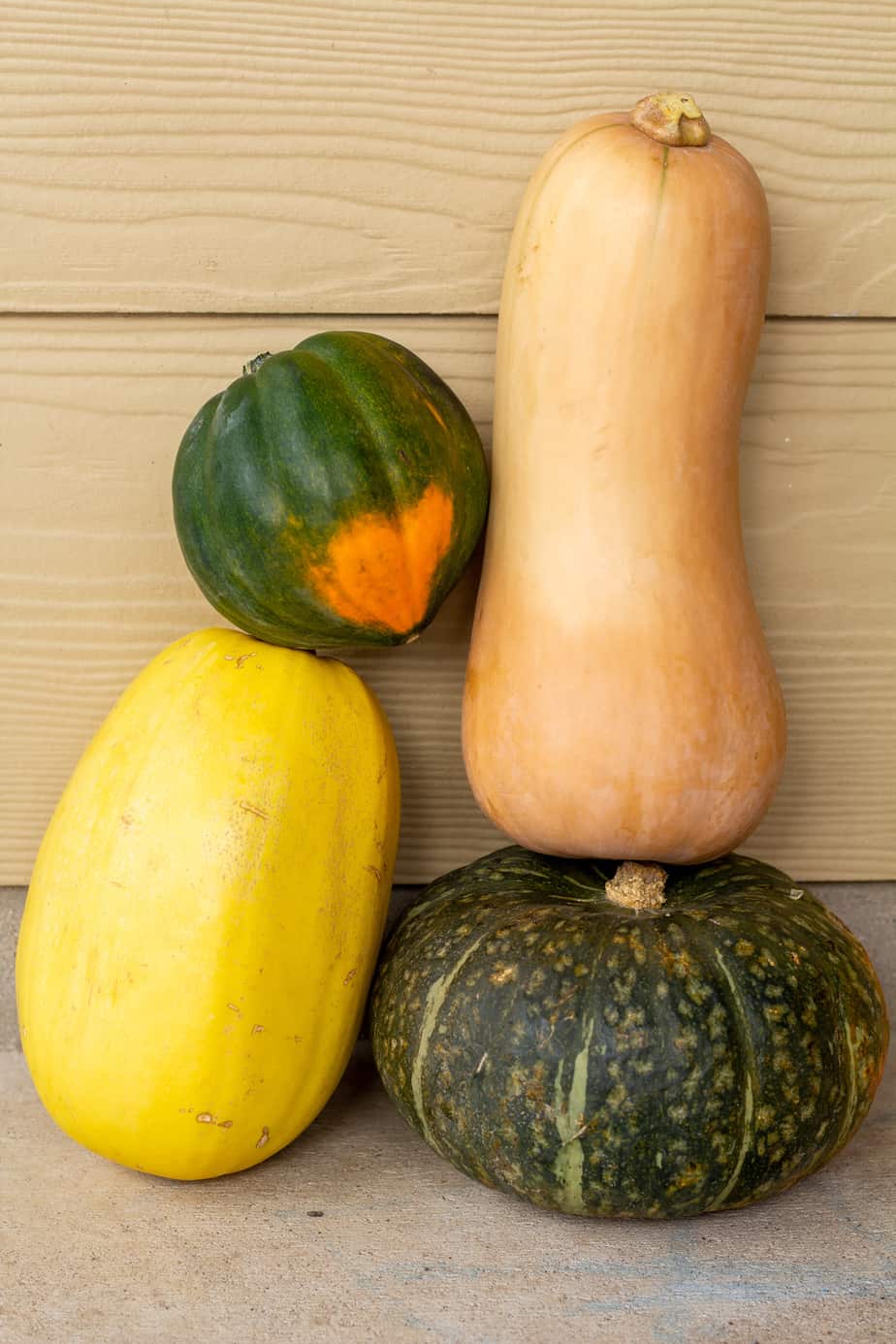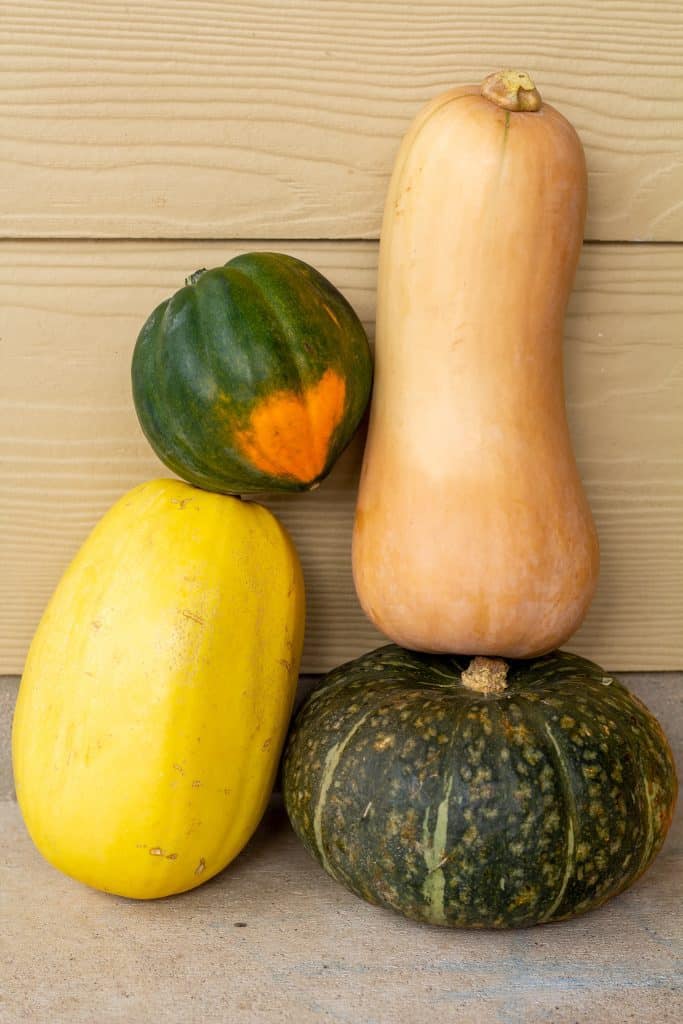 4. Pumpkin
Pumpkin is possibly the most popular squash and is used in so many types of recipes. It can be used for sweet or savory dishes.
One of the most notable uses is pumpkin pie, but can also include chili, cookies, soup, bread, cake, and toasted seeds.
This squash is unique because you can buy it in different forms: whole, purely canned, or as a pre-made pie filling.
In order to cook, cut it in half lengthwise, scoop out the seeds with a spoon or ice cream scoop. Bake in the oven flesh side down on a baking sheet at 400 degrees for about 30 minutes until it's soft enough to scoop out.
You can then use it in a variety of dishes. Buying canned pumpkin is arguably easier, however, you don't get the same fresh flavor. For some dishes, this is necessary, but it's something to keep in mind when choosing your specific recipe.
Ask yourself, "Would this dish benefit from a fresh pumpkin, or will it blend in with other flavors and not matter as much?"
Pumpkin recipes and food you can enjoy all year long:
5. Kabocha
Kabocha squash is a sweeter variety than most others. It has a texture like a Butternut and can be used in a similar fashion. You can peel it and cut it in cubes to be roasted, roast it in halves, slice it like an Acorn, or mash it.
You can find kabocha in most grocery, specialty, and organic grocery stores.
See these recipes for some great Kabocha ideas.
Have more questions? I have more tips and tricks with winter squash!
What is considered a winter squash? Winter squash is harvested in the fall and has a hard exterior skin.
What is the difference between winter squash and summer squash? Winter squash has a hard outside skin and needs to be cooked for a long time in order to eat. Summer squash has a soft skin and can be eaten with little to no cooking.
Can you eat squash raw? You can't eat winter squash raw, it needs to cook first. However, you can eat summer squash raw.
When is winter squash ripe? Winter squash is ripe when the skin and stem have fully hardened.
Cooking with winter squash is easy and so worth the time it takes to prepare. You can use this guide to give you insight on how to cook these specific types of squash and to try new recipes.
All it takes is a little practice to start making beautiful and delicious meals with winter squash that you can be proud to call your own.
If you try it out, let me know how it goes in the comments or on Instagram, Facebook, or Pinterest.
You may also like...