An egg salad sandwich is the perfect way to use up those extra hard-boiled eggs during Easter or really whenever the mood strikes. With eggs, mayo, celery, onion, and a secret ingredient, this is the perfect tangy side or sandwich.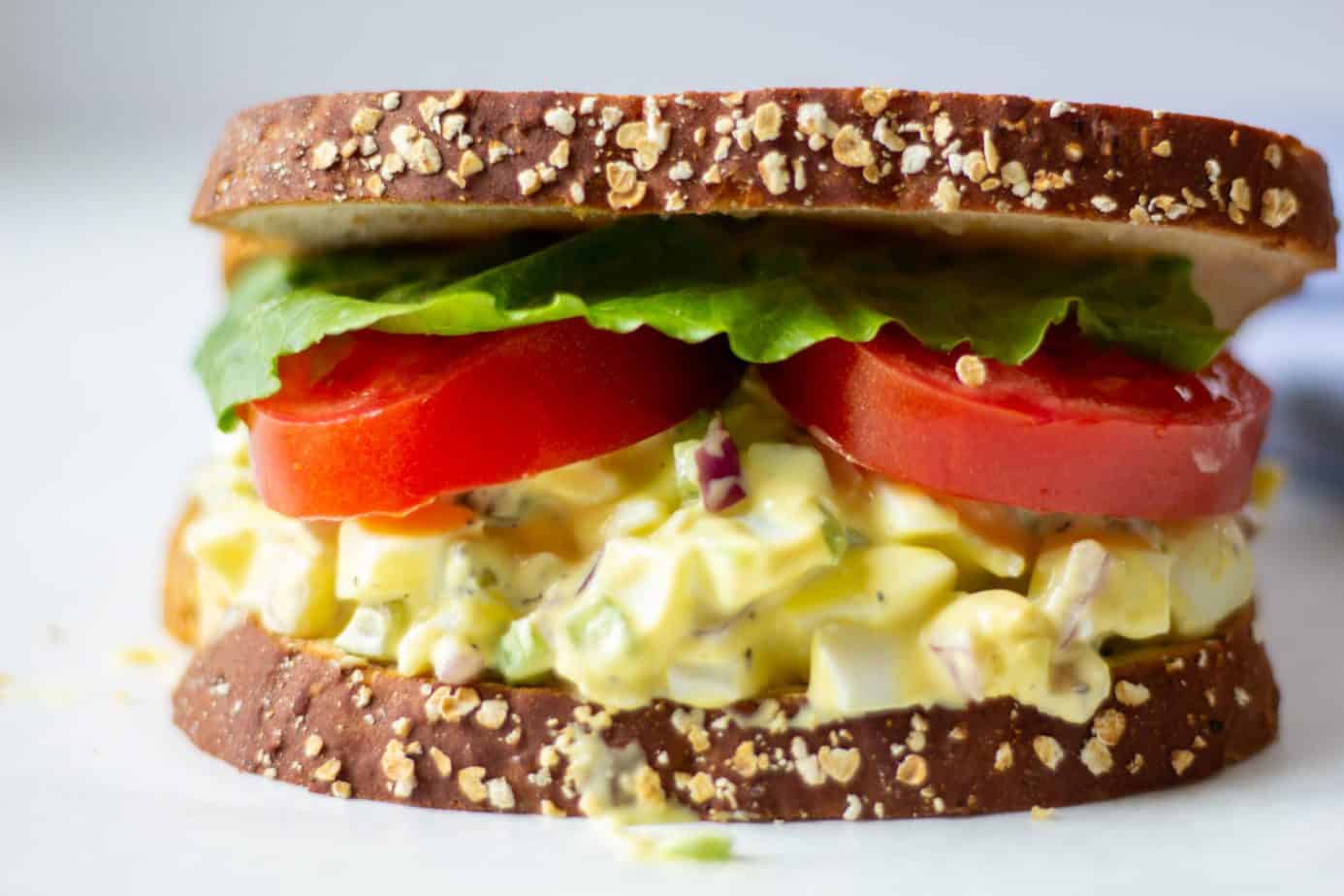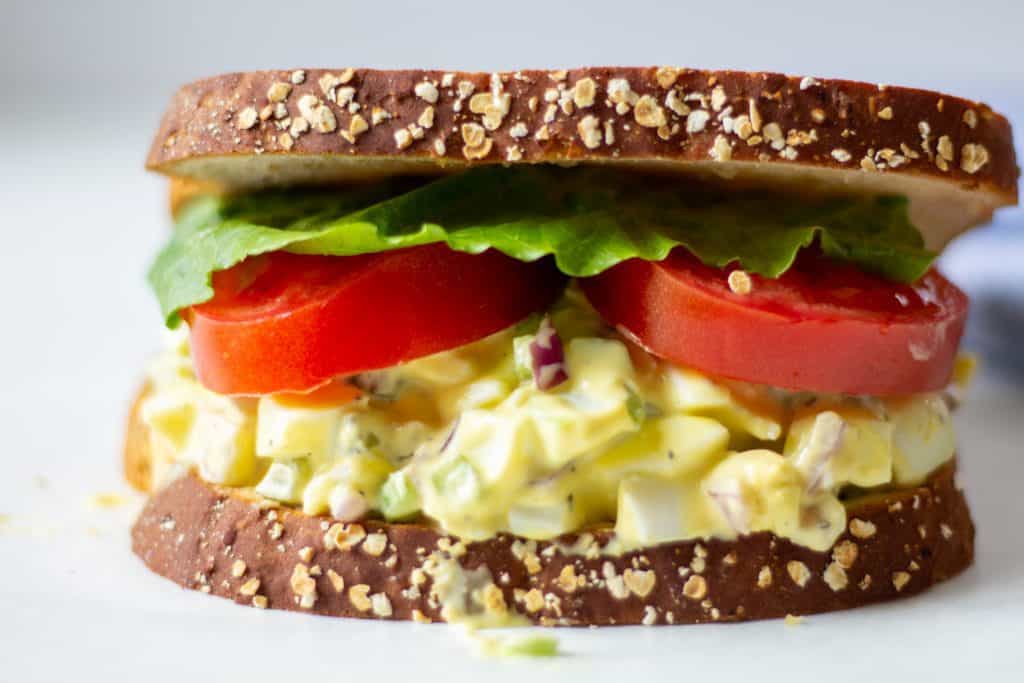 It's easy to make hard-boiled eggs, and a large portion of the population tends to have an excess of them in April every year with the arrival of Easter. The tradition to hide colored eggs for children to find is always fun, but I end up with a bunch of eggs my kids don't want to eat. That's when I whip up a big plate of egg salad sandwiches for the extended family who get together each year.
This particular egg salad sandwich recipe was passed down from my mom and hers before that. Instead of using mustard, like traditional recipes, the secret ingredient in this one is diced pickles and a bit of pickle juice. This gives the salad the same tanginess but with a different flavor that's just to die for. Now, I love mustard probably more than the next person (I collect mustard), but there's just something so good about the pickle flavor as well as that extra bit of crunchiness.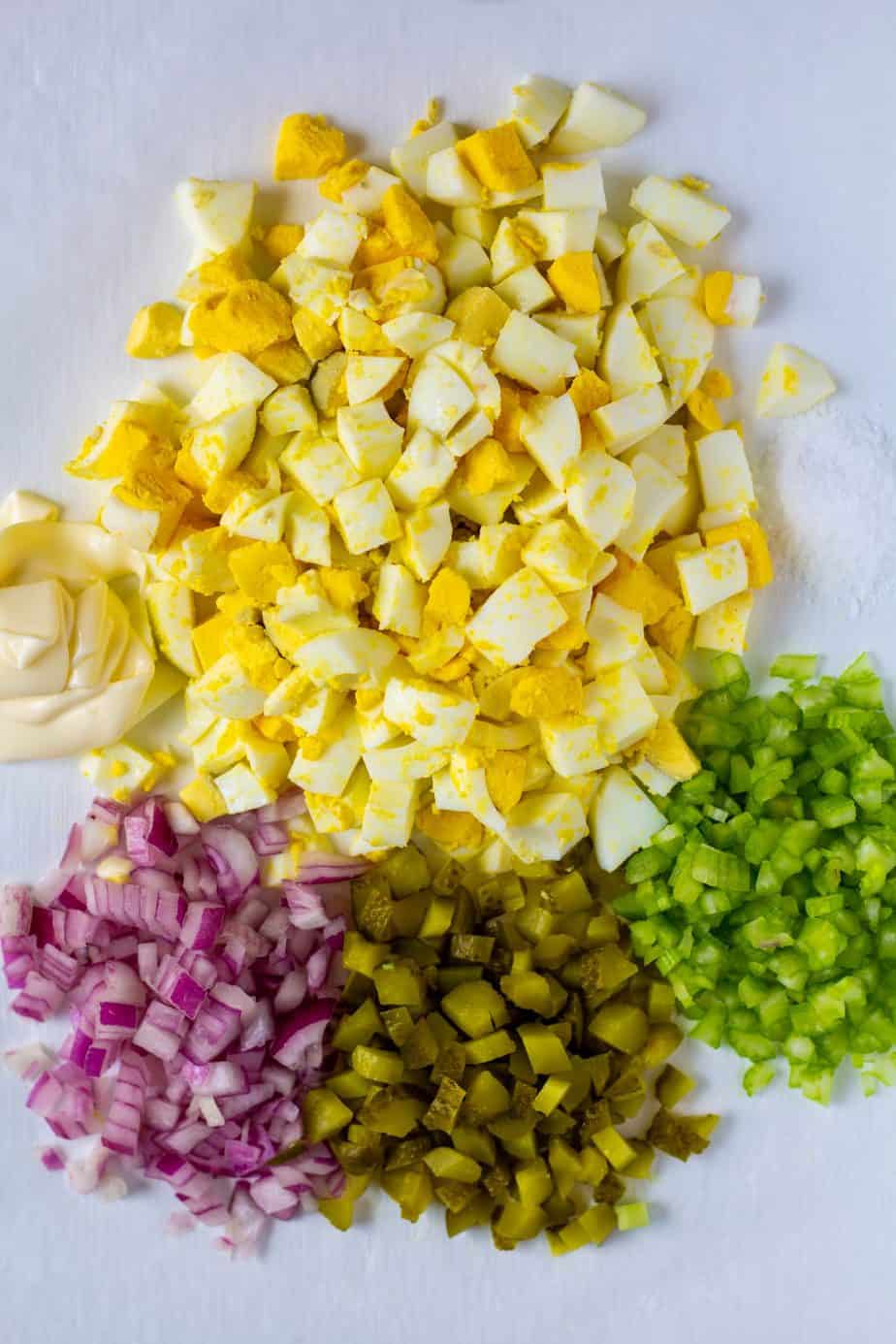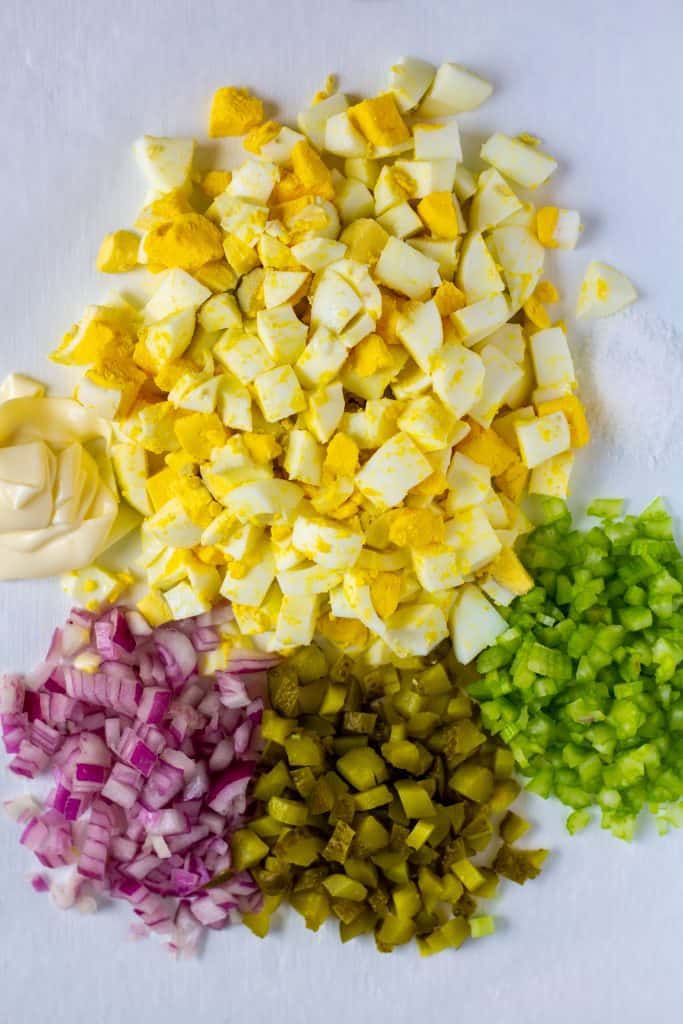 Ingredients:
Eggs
Onion
Celery
Pickles
Mayonaisse
Celery salt
Salt & pepper
Here are some ideas for sandwich toppings too:
How to make egg salad sandwiches
Boil the eggs (if they aren't already boiled and dyed and leftover from Easter.)

Place eggs in a pot and cover them with water. Bring them to a boil and let simmer on low for around 11 minutes. This amount of time will let the yolk cook all the way through but not overcook them. Once they are cool, peel the shell off.

Dice the egg, celery, pickles, and onion.
Mix the eggs, celery, pickles, onion, pickles and juice, celery salt, salt, and pepper, and mayo together in a bowl.
Spread the egg salad over one slice of bread (it's even better toasted), layer with sliced tomato, lettuce, and the top piece of bread. Slice in half to serve.
How to store your leftover egg salad
Keeping your egg salad fresh is important. Store your leftovers in an airtight container in the fridge for up to 3 days. I wouldn't recommend freezing it as it tends to get mushy when thawed.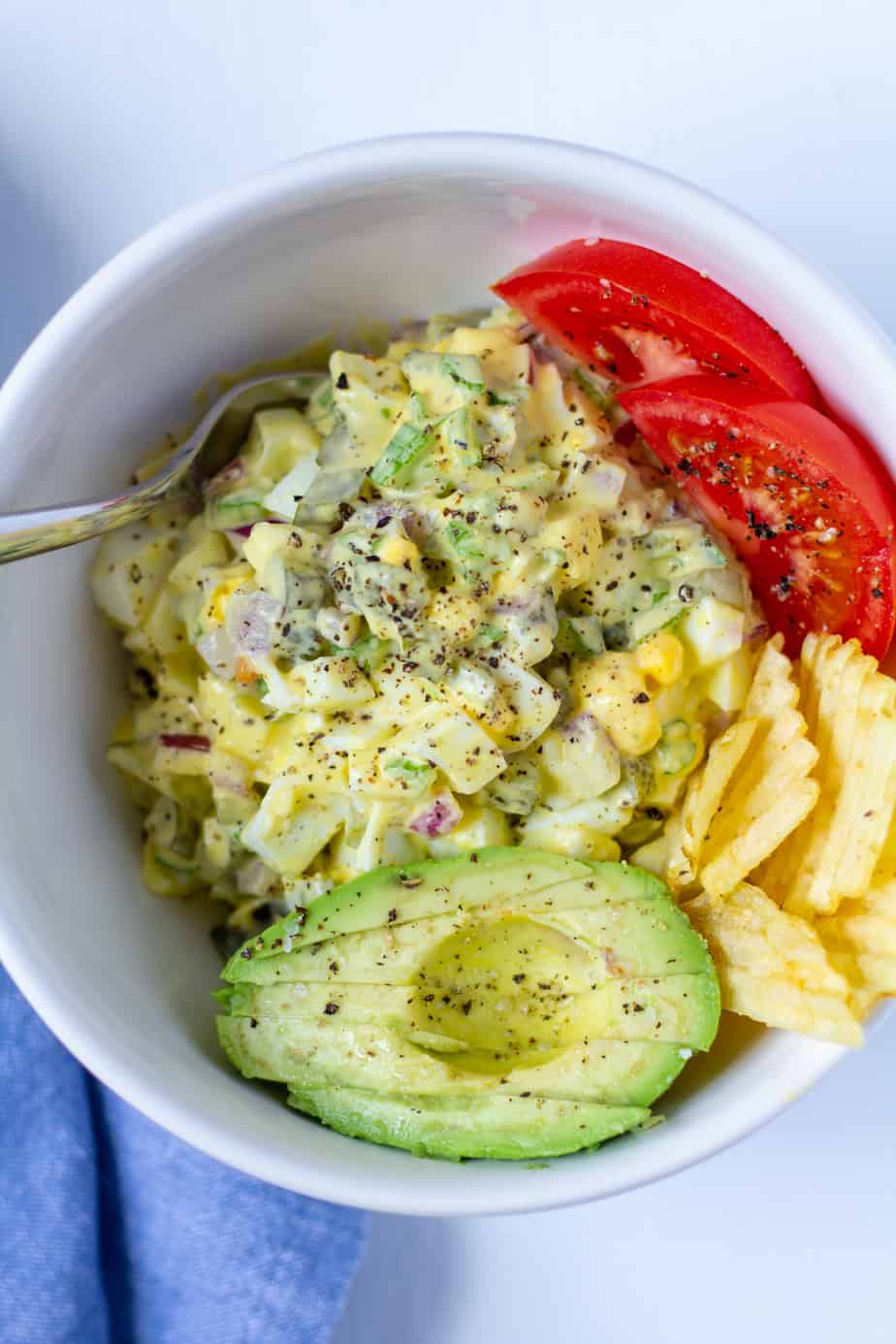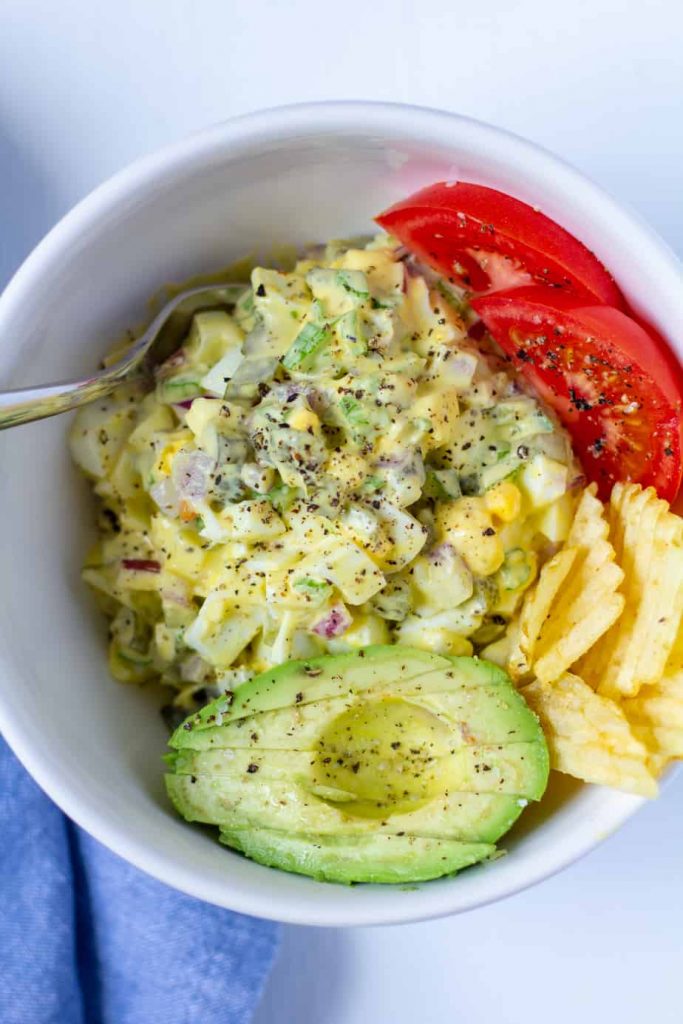 Variations
This is really all about you. Choose what you like and what you'd rather leave out and give it a go. Here are some options if you feel like changing it up:
lemon juice or mustard instead of pickles
diced avocado
chives
green onions
paprika
dill
bacon
crumbled potato chips
What gives this egg salad sandwich the crunchiness you crave?
Texture is so important in a dish like this since eggs and mayo can be a bit of a mushy combination, so it's necessary to include a bit of crunch to even that out. In this salad, it comes by way of celery and pickles, and if I'm feeling particularly plucky, it includes crushed up potato chips on top. This extra addition adds a beautiful crunchy and salty flavor that is just hard to beat. If you're trying to stay on the healthy side, you can leave it out, but if you're looking to live on the wild side, give it a try!
How to use egg salad
Here are some ideas on how to use egg salad:
Sandwiches
Wraps
Topped on salads
Topped on toast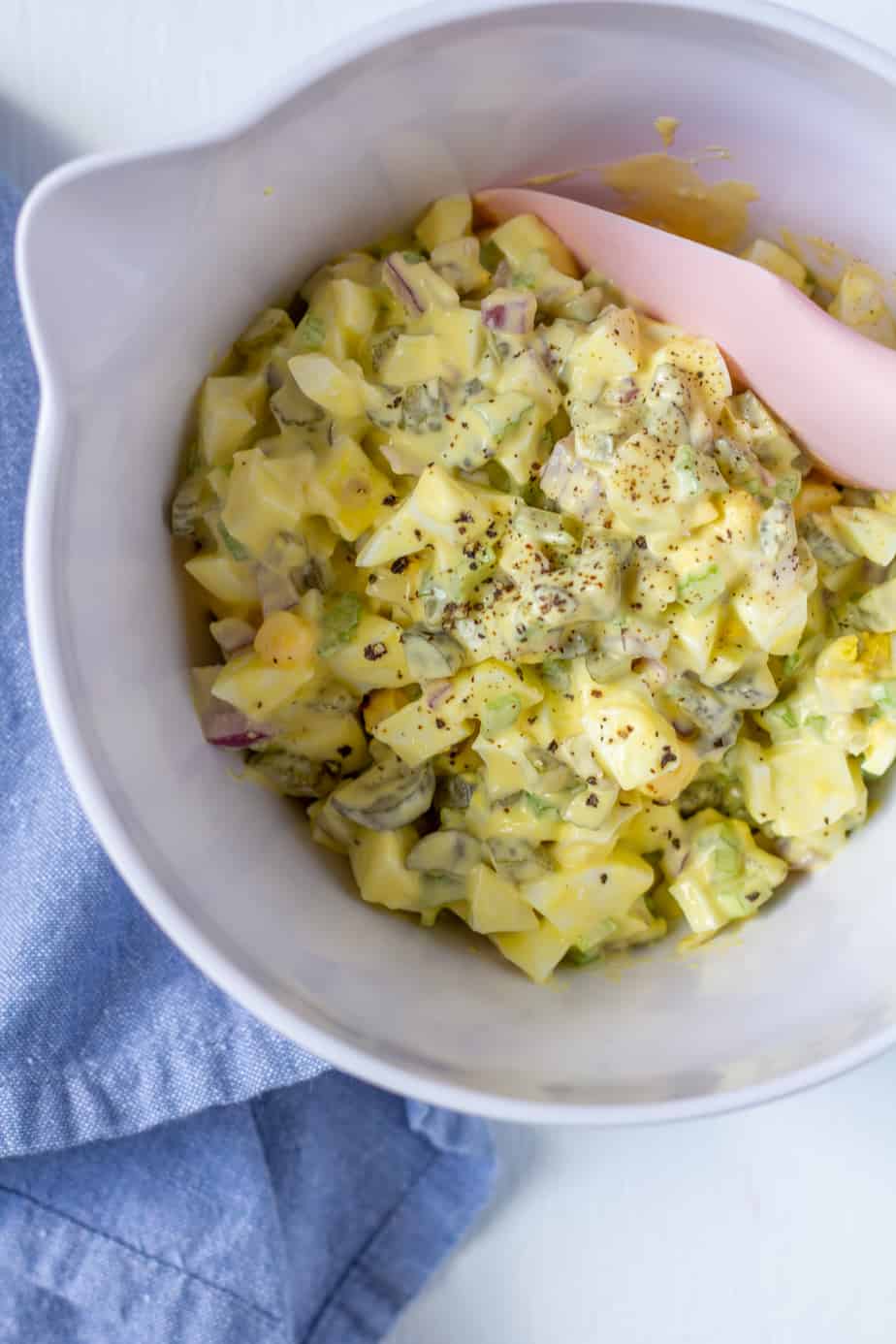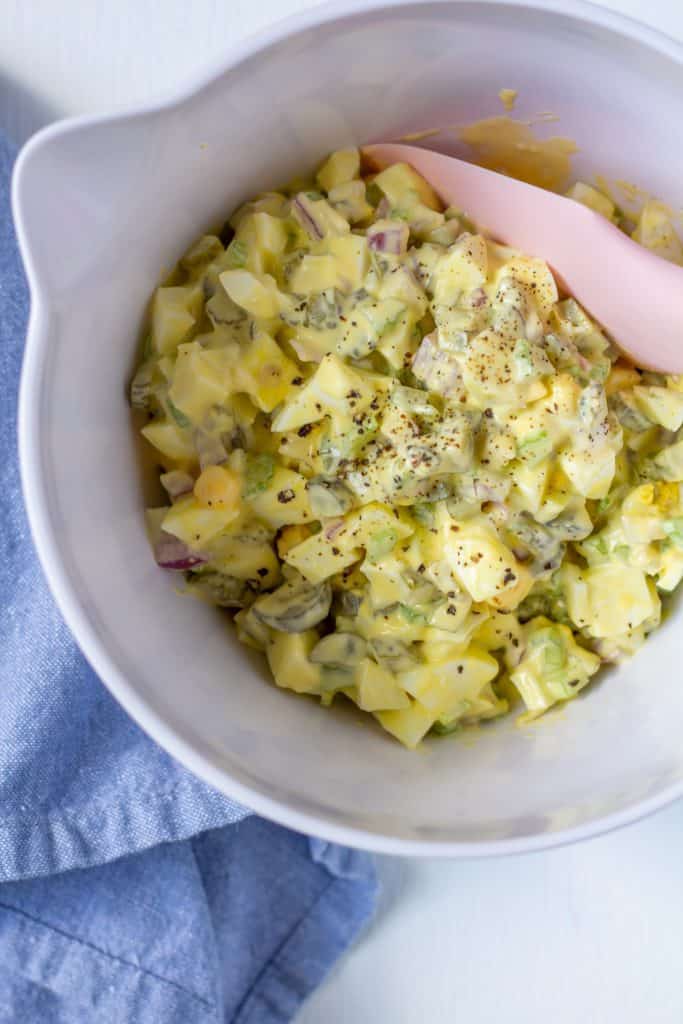 Egg salad sandwiches are the perfect recipe to use for a large gathering since it's so easy to make and is a crowd-pleaser. And for those picky eaters out there, just heap it with crushed potato chips!
If you try it out, let me know how it goes in the comments or on Instagram, Facebook, or Pinterest.
Secret Ingredient Egg Salad Sandwich
An egg salad sandwich is the perfect way to use up those extra hard-boiled eggs with mayo, celery, onion, pickles, and whole-grain bread.
Equipment
Chef's knife

Cutting board

large bowl

Wooden or plastic spoon
Ingredients
6

hard-boiled eggs

shelled

¼

cup

mayonnaise

1

celery stick

diced

1

tablespoon

white onion

minced

3

small dill pickles

diced

2

tablespoons

pickle juice

¼

teaspoon

celery salt

¼

teaspoon

freshly ground black pepper

salt to taste

8

slices of oat bread

toasted

4

large pieces of lettuce

1

large tomato

sliced
Instructions
Shell the hard-boiled eggs and chop them into bite-sized pieces. Small dice the celery and pickles, and mince the white onion.

Combine the eggs, mayonnaise, celery, onion, pickles, pickle juice, celery salt, pepper, and salt to taste.

Toast the bread and put the salad on the bottom piece. On top add a lettuce leaf and tomato slice.
Notes
**Notes**
Add crushed potato chips if you're feeling frisky! 
You may also like...