Perfectly slice carrots, garlic, bell peppers, strawberries, lemons, cheese, and much more into small, medium, and thick slices. Using a mandoline slicer is a great way to save time and effort while cooking.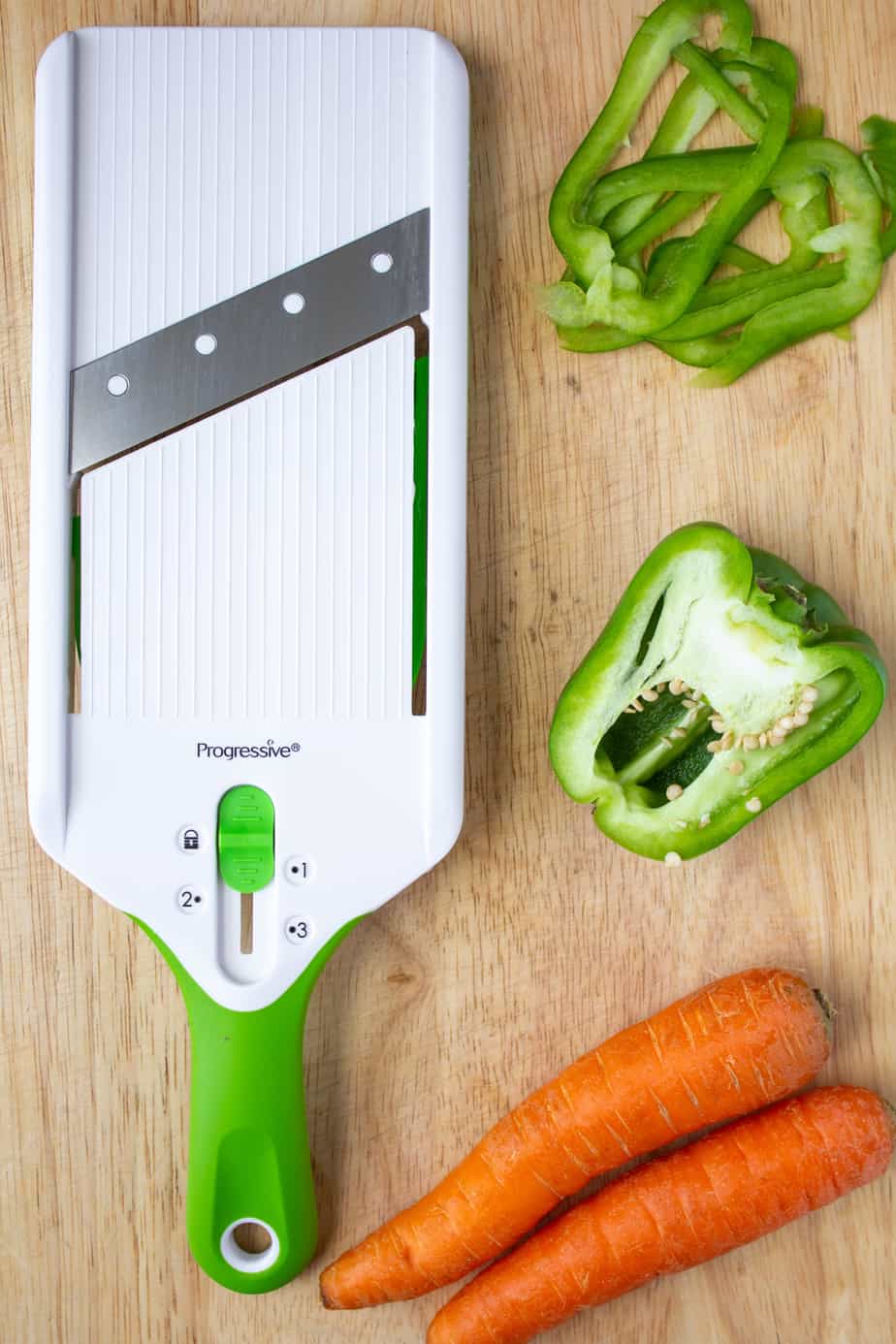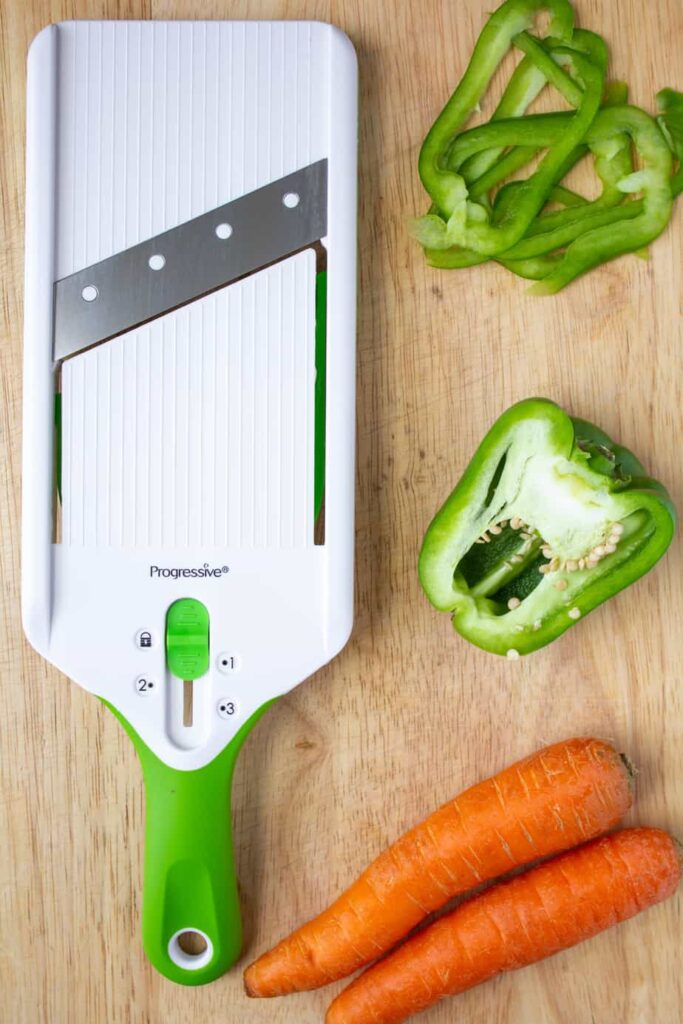 Some of the links below are affiliate links, meaning, at no additional cost to you, I will earn a small commission if you click through and make a purchase.
You may be wondering if getting a mandoline slicer is worth spending that extra cash. You have a knife, right? That works fine just as it is.
I was just as skeptical as you for a long time. "I have enough kitchen gadgets," I thought. "Why buy another when I have a knife that can do the job?"
While using a knife to slice food into small pieces is definitely do-able, using a mandoline is so much quicker and, let's be honest, so much more fun.
I wanted to give it a try, so I purchased the Prepworks by Progressive Adjust-A-Slice Mandoline and put it to the test.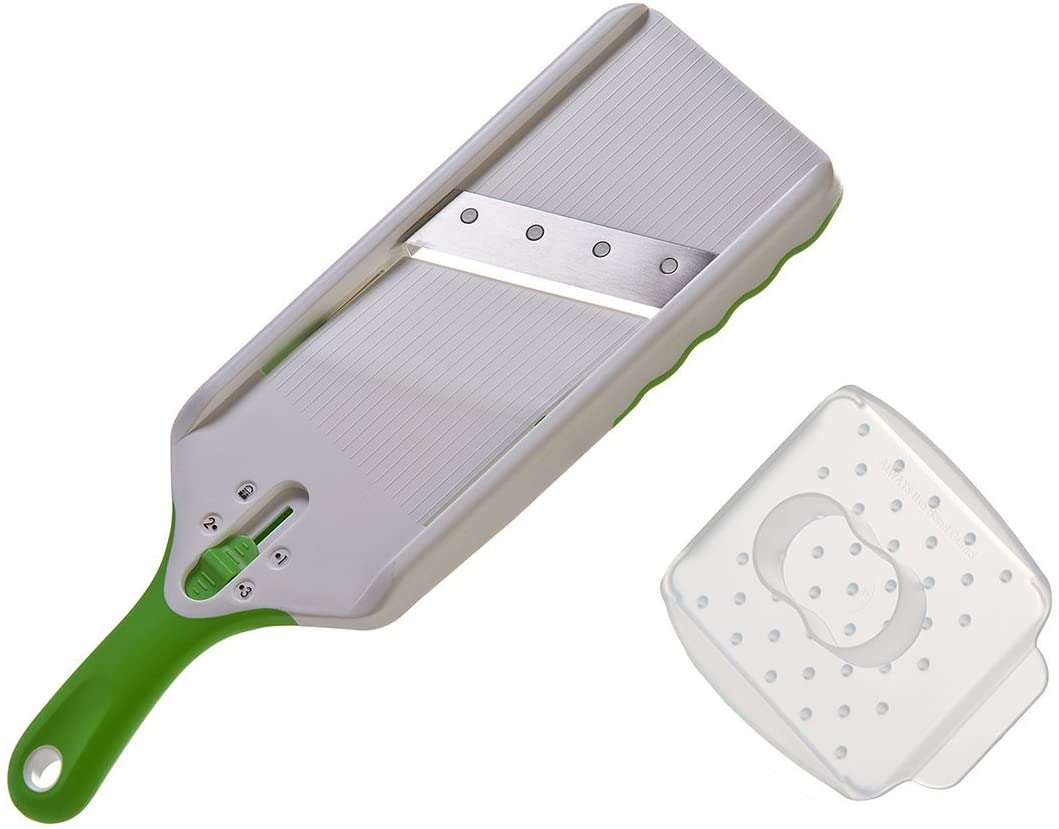 Perfectly slice carrots, garlic, bell peppers, strawberries, lemons, cheese, and much more into small, medium, and thick slices. Using a mandoline slicer is a great way to save time and effort while cooking.
What is a mandoline slicer anyway?
Let's talk for a minute about this. What is a mandoline slicer? This is a tool used for slicing vegetables and fruit to make your work in the kitchen easier.
Here's a video on how to use a mandoline slicer.
Tech Specs
You can purchase this (or any) adjustable mandoline slicer from multiple sites online or in-store. I bought this one from Amazon, but they are frequently sold at Bed Bath & Beyond, Kohl's, Target, and even Home Depot.
They come in all different price ranges starting around $10 and going up to $60. This one is on the lower price end on Amazon, around $12 when I bought it.
They all have different features, like julienne cutting blades, stands, and built-in bowls.
The blade options vary as well with removable, V-shaped, straight-edged, diagonal, and grater.
The blades aren't able to be sharpened, so there is a limited lifetime for them. If they aren't removable, you'll need to buy a whole new unit in order to get them sharp again.
Some other options include the Mueller Austria Premium Quality V-Pro Multi Blade Adjustable Mandoline, Fullstar Vegetable Chopper Dicer Mandoline Slicer, or the DASH Safe Slice Mandoline.
The Pros of the Prepworks by Progressive Mandoline
It makes slicing a breeze
I tested out a few different kinds of foods when doing this mandoline slicer review and I have to say, it's quick! It was actually pretty fun to see how fast all the perfectly cut pieces were coming out.
I started with carrots and worked my way through an assortment of other produce. They slid through that machine with ease and in the end, I had a stack of evenly cut, beautiful food.
Using a knife would have gotten the job done, it's true, but not nearly so effortlessly or quickly.
This particular slicer comes with a plastic piece and others come with a protective glove. This is a nice addition that helps protect your hands when slicing.
The Cons
That sucker is sharp
Most slicers come with some kind of guard that is essential to use when the food gets close enough to the blade to touch your fingers. I suggest you use it.
Think of this like a sideways knife pointing straight at you. You wouldn't put your little fingers that close to the edge of a chef's knife, and you shouldn't with a mandoline either.
I was well aware of how sharp the blade was and was planning on using the guard when the food got too close, and I did, but not before slicing a small piece of skin off my finger.
This thing was so sharp that it only sliced the top layer of skin but didn't break it. I was actually pretty impressed.
This should serve as a warning, however, to pay close attention to what you're doing and not get complacent with it. It's easy to do since it slices through things like the slick ass knife that it is.
How to use a Mandoline Slicer: The Settings
First Setting
I started with carrots and worked my way through different produce on each setting. The lowest one produced tiny shavings.
This would be a good setting for garnishes of parmesan cheese or chocolate or sliced garlic. Anything that you will be alright with crumbling and being super thin.
Second Setting
This setting produces a slightly wider slice of food and is perfect for lemon circles, carrot rounds, bell pepper slices, and meat destined for jerky.
This setting felt the most comfortable and I ended up using it as the default without really thinking about it. It sliced with the most ease and cut the best size for cooking.
Third Setting
This was the thickest setting and would be good for heartier wedges of food that are going in soups or stews. Food that would be cooked longer or that you are alright eating with a bit of an extra bite.
Some examples might be lemons or oranges that go into a Hot Apple Cider or slices of cheese that are stacked with strawberries and Nutella to make fun little snacks.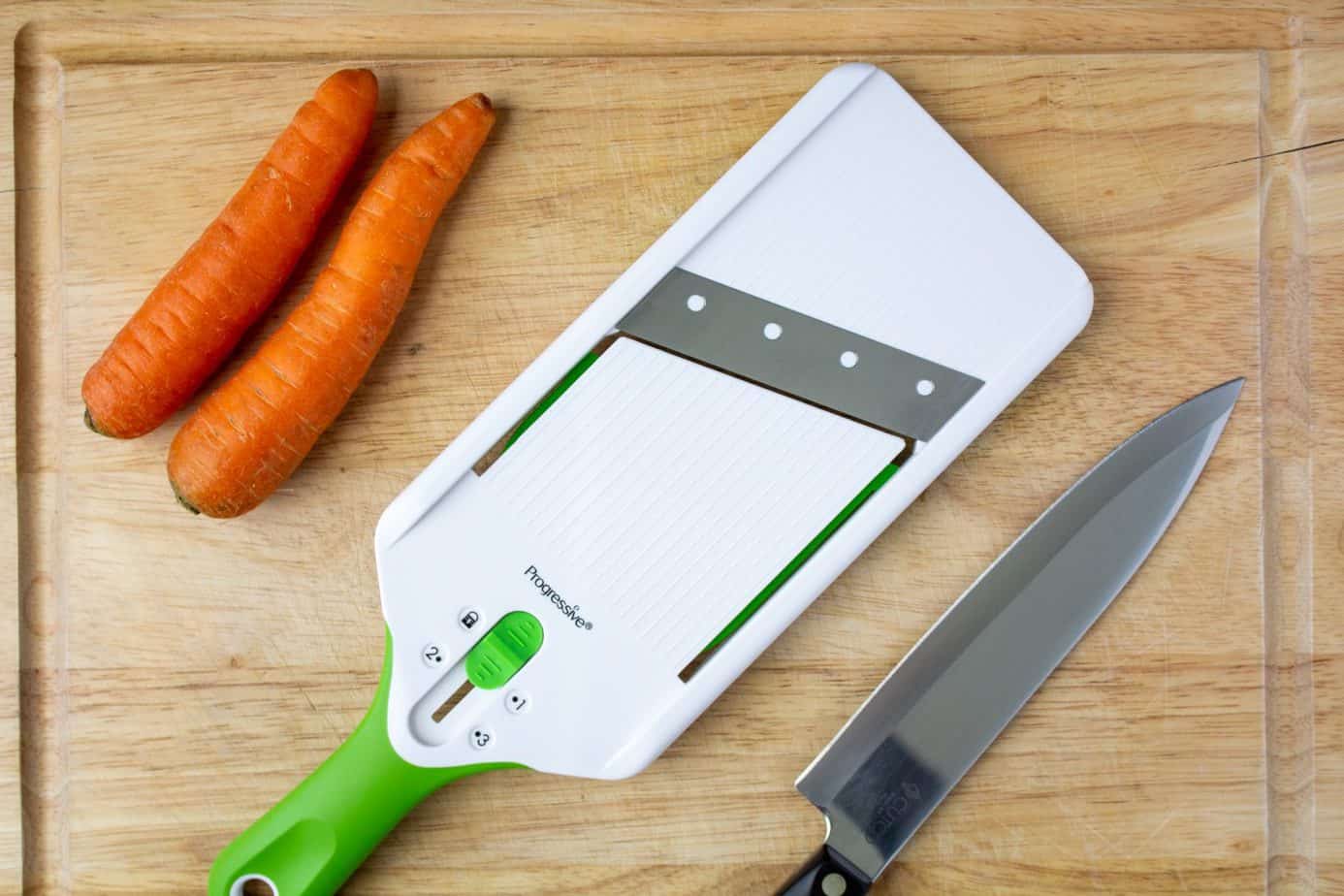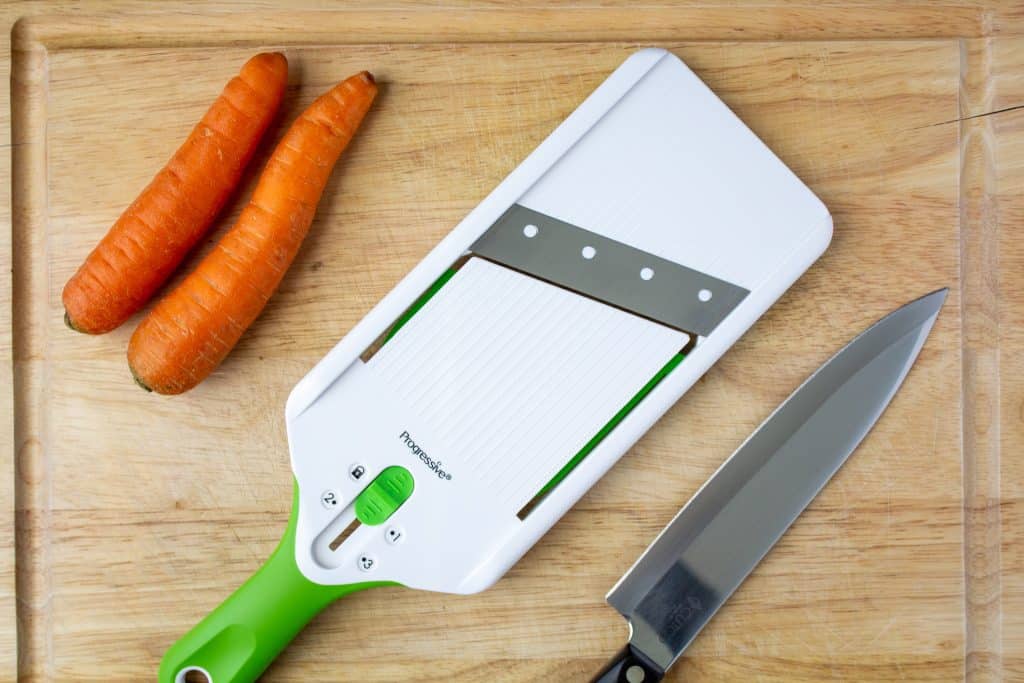 Recipe Ideas
Check out these awesome recipes you can use a mandoline with.
Should you buy one?
Overall, I am impressed with the mandoline slicer in general and especially with the Prepworks by Progressive Mandoline. It slices with ease, is fast, and produces beautifully even pieces of food.
The price is very reasonable with the option to upgrade if you decide that would work best for you.
The one major con is easily dealt with by using the plastic guard or a glove.
This tool is perfect for my kitchen and is hardly "one more thing."
You will be pleased with the results and have fun seeing how quickly your meal comes together when using it.
For more product reviews check these out...